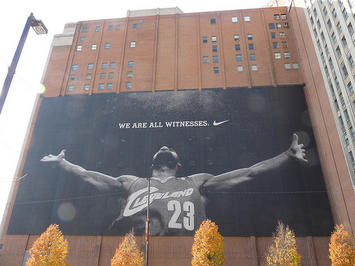 The ten story of mural of LeBron James is coming down in Cleveland. This one hurts. James wasn't just the latest embodiment of Cleveland's hopes, he was a local kid who, unlike so many, had stayed home in Northeast Ohio. His joining of the Cleveland exodus at a time of severe economic distress prompted Cavaliers owner Dan Gilbert to pen a now infamous open letter to fans:
As you now know, our former hero, who grew up in the very region that he deserted this evening, is no longer a Cleveland Cavalier.....The good news is that the ownership team and the rest of the hard-working, loyal, and driven staff over here at your hometown Cavaliers have not betrayed you nor NEVER will betray you....This shocking act of disloyalty from our home grown "chosen one" sends the exact opposite lesson of what we would want our children to learn. And "who" we would want them to grow-up to become....
Forty years of frustration boiled over in that letter. Gilbert is from Detroit, but perhaps that's why he too shares these feelings so viscerally.
Cleveland's "Big Thing Theory"
In a sense though, Cleveland's disappointment was inevitable. LeBron James was never going to turn around the city. No one person or one thing can. Unfortunately, Cleveland has continually pinned its hopes on a never-ending cycle of "next big things" to reverse decline. This will never work. As local economic development guru Ed Morrison put it, "Overwhelmingly, the strategy is now driven by individual projects....This leads to the 'Big Thing Theory' of economic development: Prosperity results from building one more big thing."
These have all failed, now even "King James". The trend lines haven't changed, even where the individual projects have done well. But often even that hasn't happened. For example, the Flats, a once-thriving entertainment district in an old warehouse district, now resembles, as one local comedian put it, a "Scooby Doo ghost town."
Combating "James Drain"
James' departure also fits the narrative of generalized anxiety around "brain drain" and cities losing their best and brightest of each generation. As lots of people really have left Cleveland, this is understandable. But the real story is much more complex. A look at IRS tax return data shows that in reality Cleveland doesn't have especially high out-migration. Its metro out-migration rate* in 2008 was 28.02. Miami's was 40.34 and for even the boomtown of Atlanta it was 38.95. Not only is Cleveland not losing an especially high number of people, you can actually argue it is losing too few. A big part of the problem in Cleveland's economy is that too many people are stuck there.
Conversely, a real migration problem is that too few people are moving in. As local attorney Richard Herman noted, "New York City and Chicago, like most major cities, see significant out-migration of their existing residents each year. What is atypical is that Cleveland does not enjoy the energy of new people moving in." The Cleveland metro in-migration rate was only 22.19. Miami's was 30.36 and Atlanta's a robust 51.91.
Cities need new blood. Cleveland isn't getting it. Its circulatory system is shut down. Cleveland needs more natives to leave and more newcomers to arrive. Both sides win. Those Cleveland departees will move on to be part of the new energy other cities so desperately need. James is going to get to live the high life he wants in South Beach, but somebody else will be fired up to get the opportunity to play in Cleveland.
Selling Cleveland
But that begs the question, what's going to get more people to move to Cleveland? The fact is, James wasn't getting the job done, and never would. Nor will amenities like the Cleveland Orchestra or the Rock and Roll Hall of Fame Museum.
The mistake Cleveland and other Rust Belt cities make is that they are too worried about the likes of LeBron James moving to Miami. For people with the means and the desire to choose a place like South Beach, Cleveland simply can't compete. And let's not forget, James snubbed Chicago, New York, and Los Angeles too.
Rather than trying to take on the Chicagos, Miamis, and New Yorks of this world at their strongest points, Cleveland would be far better served ceding that market and fighting where it can best compete. Believe it or not, not everyone wants to live in a huge global city. There are plenty of people who might choose to live in Cleveland, if the city focused on the basic blocking and tackling of city services, quality of life, and business climate instead of splashy grands projets. As Anthony Bourdain said this week:
I think that troubled cities often tragically misinterpret what's coolest about themselves. They scramble for cure-alls, something that will "attract business", always one convention center, one pedestrian mall or restaurant district away from revival. They miss their biggest, best and probably most marketable asset: their unique and slightly off-center character....Cleveland is one of my favorite cities. I don't arrive there with a smile on my face every time because of the Cleveland Philharmonic.
In short, Cleveland needs less South Beach, less Chicago Loop, and more American Splendor. Ultimately, my bet is Cleveland will end up missing Harvey Pekar a lot more than it will any multi-millionaire sports star.
Shooting the Messenger
Who is going to get that message out about Cleveland? After that sendoff, it sure won't be LeBron James. That's a shame. As Jim Russell has richly illustrated, people make migration – and investment – decisions based on knowledge, not just information. Nobody picks a city to live in by entering reams to statistics into a sixteen tab spreadsheet. They're more likely to move to be near family, friends, or places they know. That knowledge comes from first hand experience – and trusted recommendations.
Until the switch flips on Cleveland's brand, it needs to be out earning that trust of prospective residents. The people who've left aren't Judases, they're your field sales force – or at least they should be. James could have been a missionary "Witness" for Cleveland in a foreign land. Instead, Cleveland blew an enormous opportunity, and left itself with little more than soured memories and a partially demolished mural as an ephemeral reminder of yet another failed Next Big Thing.
* Tax return exemptions migrating per 1000 overall tax return exemptions in the base year.
Aaron M. Renn is an independent writer on urban affairs based in the Midwest. His writings appear at The Urbanophile.
Photo by alexabboud