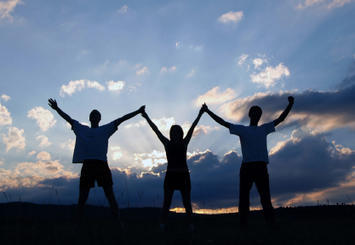 As we head to the unpredictable 2010 elections, many pundits have been left scratching their heads and admitting that they really have no idea how this election is going to turn out. Nate Silver, today's most careful analyst of election statistics and forecasting, examined a variety of indicators and concluded that there were more closely contested and hard-to-predict congressional races this election than ever before.
The biggest reason for this uncertainty lies in the fact that America's electorate is changing as fast as the country's demographic and generational characteristics, and in the process these changes overturn old assumptions about how politics works – and too often doesn't work – in America.
In 1965 the nation was 89% white and 11% black, about the same as it had been during the previous century. Since then, high levels of Asian and Latin immigration have produced an America today which is 66% white and 33% "people of color," a tripling of the minority population in only four decades. Remarkably, 10% of Americans are of Mexican descent and about 5% of the electorate speaks primarily Spanish. For the first time in US history a president of mixed race, although one who considers himself to be African-American, resides in the White House.
The second big demographic change is the emergence of the largest, most diverse generation in American history: the Millenials. Like it or not, this generation will dominate the political and cultural life of 21st century America as much as the Boomers did in the late 20th century. The Millennial Generation, born from 1982-2003, is sometimes condescendingly referred to as the "youth vote," but it should be more accurately recognized as the biggest and most important new voting cohort in America. There are about 95 million Millennials, about half of whom are now of voting age. One out of four eligible voters in 2012 will come from this generation. That will expand to more than one out of three voters by 2020.
This is the fundamental driver of American political change: Every two years the percentage of non-whites and Millennials increases, a trend likely to continue in the decades ahead. Non-whites will grow from 33% of the population today to as much 50% by 2042. There will also be a rapid increase in the "mixed race" population, which might further complicate matters.
As these populations grow, a new political reality will take hold in areas most immediately affected, especially in the Southwest and coastal areas of the country. The power of these population shifts to upend conventional political wisdom was demonstrated by Barack Obama's victories over heavily favored establishment candidates in both the Democratic primary and the general election in 2008
These demographic transformations are changing the political loyalties and beliefs of the American electorate. Democrats now have their largest lead in national party identification since the early 1960s. In the most recent Pew survey, only 15% of Americans claimed to be completely unaffiliated independent voters, while about half (48%) identify with the Democratic Party and 37% with the Republican Party. By contrast, in 1994, the last time in which a newly elected Democratic president faced a midterm election against an aroused GOP, the two parties were tied in party identification at 44% each. This Democratic advantage is due in large part to Millennials and Hispanics who identify as Democrats by a 2:1 margin over Republicans.
Survey data also shows that most Americans continue to favor using government to address their economic concerns and societal challenges. This summer, in a survey conducted for the progressive think tank NDN, a clear majority (54% vs. 31%) of Americans favored a government that actively tries to solve societal and economic problems rather than one that takes a hands-off approach.
These numbers virtually unchanged since Barack Obama's inauguration. More recently, only 29% of those surveyed this fall told Pew they wanted all of the Bush-era tax cuts to remain in place, while a majority (57%) preferred either that those on the wealthy should be allowed to expire or that all of the Bush tax cuts should end. Forty percent of adults told an Associated Press survey they didn't think the new health care law went far enough, while only 20% felt the federal government shouldn't be involved in healthcare at all. These pro-government attitudes are likely to grow as more and more Millennials enter the electorate. By a 60% to 36% margin the generation favors a bigger government providing more services over a smaller government providing fewer services.
Rather than being surprised every two years by the changing politics of a nation altered by a rapidly changing demography, pundits would be wiser to anticipate that American politics is going to keep changing and evolving every two years, and will never again look like the politics of the 20th century. In the shorter run, the operative question in this year's midterm elections is the extent to which the rising elements in the electorate make their presence felt at the polls in November. President Obama, who is concentrating his final campaigning efforts on college campuses and minority neighborhoods, clearly recognizes the challenge—but also the rare opportunity—presented by the 21st century electorate. His success in energizing these newest members of the Democratic Party's base will determine the still uncertain outcome of the midterm elections.
But the longer term direction of American politics will clearly continue to be driven by the demographic and generational changes now sweeping the country. And unless the Republican Party finds a way to appeal to the emerging groups, they may find themselves enjoying only the most fleeting kind of renaissance.
Morley Winograd and Michael D. Hais are fellows of the New Democrat Network and the New Policy Institute and co-authors of Millennial Makeover: MySpace, YouTube, and the Future of American Politics
(Rutgers University Press: 2008), named one of the 10 favorite books by the New York Times in 2008.