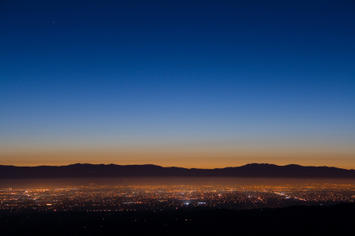 Every year, the top officials, policy wonks, and business managers convene at the annual State of the Valley conference to discuss and debate the health of the region. Over a thousand attendees trekked to San Jose, Calif., on Feb. 18 for the release of this year's report. Published since 1995 by Joint Venture Silicon Valley Network and distributed for free, the new 2011 Index of Silicon Valley reported bleak indicators and a gloomy outlook.
The event provided Valley insiders a moment to reflect on the economic storm, and the mood was darkly optimistic. A persistent phrase tossed out was the "new normal," old Wall Street jargon describing a repressed economic environment. Growth is too slow to bring down the unemployment rate, and government intervenes to save a struggling private sector.
Tally of the Valley
Certainly Silicon Valley has had its share of troubles suffering from poor state finances and severe global competition. Unemployment has hit nearly 10 percent, higher than when the recession started. The region's population of three million, comprised of Santa Clara and San Mateo Counties, has continued to drop as talent leaves for opportunity in cheaper pastures. Foreign immigration, considered a critical factor in the region's entrepreneurship, dropped by 40 percent to its lowest level in the last decade since 2009 and stayed flat through 2010.
Adding to the woe, Silicon Valley towns are facing budget shortfalls and downsizing their public services. San Jose faces a 10th straight year of red ink, adding up to a gap of $110 million in the next fiscal year. Caltrain plans to close up to 16 stations to survive a record $30.3 million deficit – about one-third of the commuter rail's operating budget.
Education has also taken a big hit. The California college system is wheezing from tremendous budget cuts, calculated at $1.4 billion across the state, which hit all three levels of tertiary education. Foothill-De Anza Community College, one of the largest community college districts in the U.S., confronts roughly $10.9 million in cuts on top of drastic budget slashes from previous years.
Further, the local housing market remains stagnant, and 2010 marked, due in part to a tough regulatory environment, the third consecutive year that Silicon Valley was the least affordable California region for first-time home buyers.
In the Eye of the Beholder
It's a dismal state of affairs if you ask the local old guard. Judy Estrin, former chief technology officer of Cisco Systems, grumbled that one problem was outsourcing. Too many startups were adopting the practice in her view, and she told the audience, "Don't automatically go to China."
Others were concerned that jobs were being shipped simply to towns east across the bay. Much ballyhooed and well-subsidized sectors, such as cleantech, would not produce enough jobs to be economically meaningful in the recovery. Attendees were fearful that the Valley has lost its edge.
If those who know Silicon Valley best are somewhat pessimistic, the Valley looks golden for many looking from the outside. The day before the conference, President Obama sought money and advice from the Valley's tech elite, including Steve Jobs of Apple and Mark Zuckerberg of Facebook. Obama's agenda was to push innovation, and aside from escaping the U.S. capital now and then, it is tellingly that he turned first to Silicon Valley.
The Valley has also inspired other city governments. New York City – which once boasted its own "Silicon Alley" was winning over the Valley's decidedly suburban model – recently asked Stanford University to help train its urban talent. As one local reporter put it gleefully, New York is "hoping to replicate our Apple in The Big Apple".
Although financial analysts once considered Apple washed up as a stock less than 10 years ago, the technology company is now lauded for transforming the mobile and entertainment industry and turning Silicon Valley into a mobile mecca. Goaded by Apple, mobile manufacturing giant Sony Ericsson is shifting all its product development from Sweden to Silicon Valley. Nokia, the world's largest mobile phone maker, is also reportedly considering plans to relocate its executives to the Valley.
Growing Regional Value, Not Growth
The prevailing question remains: how will Silicon Valley sustain its lead in innovation. For some the response is to either raise taxes or cut public services as a matter of survival. At the State of the Valley conference, the overriding call to action was to unite 110 local governments through centralized regional leadership. However, the notion of a regional governing body had been introduced before in the 1990s and failed instantly in California state legislation.
So what might the future hold? Last year's report card aside, financial analysts are cheery about the Valley's prospects. Silicon Valley Bank's Financial Group reports that technology spending is expected to grow by more than five percent in 2011. The majority of their clients finished 2010 in better financial shape than the prior year, and median revenues for all early and growth stage technology clients grew 50 percent from the year before.
The IPO market has woken from its slumber. Seven tech IPOs have already occurred this year, raising $700 million in total, with an average return of 26.5%, according to research firm Renaissance Capital. Even the international press is writing about the next boom being led by Silicon Valley.
For all the money being generated, Silicon Valley is not producing more jobs in the local economy. Many startups look to Facebook as a leader in the social media space. Its user base of 600 million has generated a massive population that dwarfs that of the U.S. Yet the company has only about 2000 employees. Facebook presents a conundrum. Is it an innovative global leader that has mastered the art of efficient scaling that is the beginning of a new era in Silicon Valley, or has Facebook become the antithesis of economic growth for the U.S. administration?
Similar to Facebook, Apple is also spurning growth – at least as defined by the conventional measure of new jobs. The company has redefined the tech industry by creating new technologies and new solutions, but not necessarily creating new growth for the region directly. While Apple employs just 30,000 people, the subcontractor that actually assembles its products employs over a million workers, all in China. Developers for Apple's software applications and hardware accessories are scattered around the world. Instead, Apple has fostered an ecosystem whose heart resides in Silicon Valley.
Silicon Valley is changing perceptions and practices once again. Like the proverbial cat with nine lives, Silicon Valley has at least several more transformations ahead.
Tamara Carleton, Ph.D., is a Fellow at the Foundation for Enterprise Development. Her research studies the organizational processes and structures that enable radical technological innovation.