Too much property reporting and media attention is given to our capital cities, and not enough effort is spent analysing our regional towns. 
As a result, too few investors understand Australia's regional potential.  Right now, not only are many of our regional centres at the bottom of their cycle, but larger, long-term trends are at play.  Indeed, regional Australia is on the cusp of some big demographic changes. 
Here's why:  In recent years our capital cities have attracted around two-thirds of Australia's population growth, with many of these new residents settling in the outer suburbs. Our capitals also generated the lion's share of employment.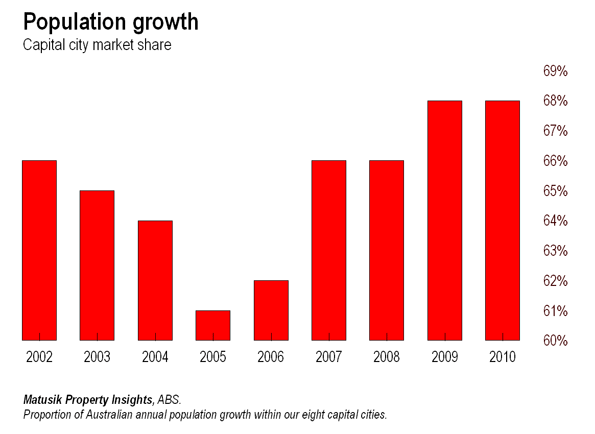 But over the last twelve months or so, this trend has shifted, with close to two-fifths of our new jobs now being created away from our major cities and in regional towns.  Past trends suggest that population growth will follow.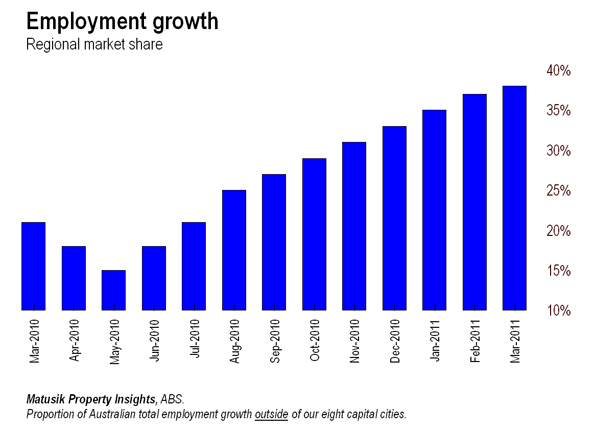 Deteriorating lifestyle (and rising costs) – in our three major capitals, at least – is likely to add further momentum to this new regional push.
It's not too hard to understand why Australia's regional areas are sometimes overlooked.  A quick look at the demographics of Australia reveals a country the same size as mainland USA, or 20 times the size of Japan, with only eight capital cities throughout its eight states and territories.  This is one of the most urbanized countries in the world, where only 15% of the population resides in rural areas and a vast interior.   
This week, regional focus has come under the microscope with the unveiling of the 2011 Federal Budget by Australia's Deputy Prime Minister and Treasurer, Wayne Swan.   The Government plans to flood regional areas with 16,000 skilled migrants via the introduction of new initiatives to encourage skilled migration to regional areas.
Additionally, regional areas are set to receive critical infrastructure upgrades to hospital and health services, and funding to support strategic planning and growth. 
Astute property buyers should start to look beyond the capitals for investment opportunities.  The big winners in this regional resurgence will most likely be the resource towns – the "muscle towns", as Bernard Salt recently called them. 
By this, we don't mean the fly-in-fly out places like Moranbah, but places critical to the delivery of iron ore, gas and coal – like Wollongong, Newcastle, Gladstone, Surat Basin (Toowoomba) and Townsville.  Expect big things in these regions.  Two thirds of the new jobs created across Queensland last year were in the Gladstone region alone.
Regional Australia is to become a whole lot more.