The paper and pulp industry has been good to Wisconsin, the number one papermaking state in the nation. Wisconsin produces more than 5.3 million tons of paper and over a million tons of paperboard annually. The pulp and paper industry employs more than 35,000 people in the state representing roughly eight percent of all manufacturing jobs in Wisconsin. These are good jobs with good benefits. Papermakers earn over 20 percent more than the manufacturing sector average and over 50 percent more than the average wage in the state.
The paper and pulp industry has been a major driver of the economy in the Wisconsin Rapids area – located about 100 miles north of Madison – since the 1800s. The Wisconsin River, whose powerful flow and easy access lured fur traders and loggers from as far away as Quebec, runs through the area. It served both as the "highway" for raw product coming and the energy source for mills.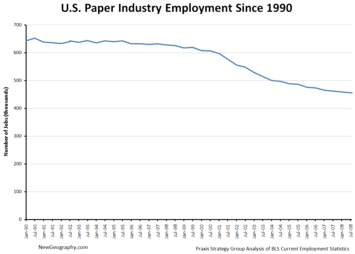 Through the later part of the 19th and the early 20th century, Wisconsin Rapids and neighboring communities of Stevens Point, Nekoosa and Port Edwards all benefited from this access through increased trade and commercial opportunities, concentrated in lumber operations. These locations became part of a series of paper and pulp mills that remain part of the region's economic landscape.
Today, as in many smaller communities, the long-time economic bastion faces major challenges. The paper industry nationally is confronted with reduced demand resulting in plant and machine shutdowns. Globalization plays a factor as foreign competition from other countries such as China, Korea and Malaysia – where production costs are significantly lower and demand for paper is rising – now are seizing larger market share. Consolidation, through mergers and acquisitions by international firms, has played a major role as paper and pulp companies have struggled to gain market share and rationalize assets.
These challenges and obstacles have become a stark reality in the Wisconsin Rapids area. In June of this year, one of the major paper companies – Domtar – closed the mill in Port Edwards putting 500 people out of work. In virtually any community, the loss of an employer this size would be cause for alarm – and particularly so for a small community far from any large metropolitan area.
Although still committed to keeping its leading role in the paper industry, the community needs to diversify and grow its economy. One rising star – often the Holy Grail for rural community economic developers – is information technology, specifically software design and support. Wisconsin Rapids is home to Renaissance Learning Systems a leading provider of reading software for K-12 students in the United States and Canada. The company employs over 700 people and its software products are used in approximately 50,000 classrooms across North America.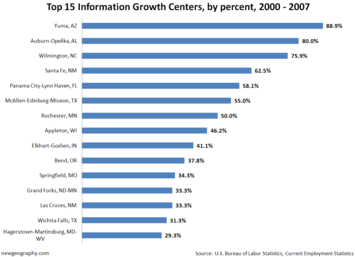 This is a success story that we at Praxis Strategy have encountered in other smaller communities, from Fargo, N.D., to Wenatchee, Wash. Small technology companies – far from the light and luster of Silicon Valley – are finding rural locales ideal for nurturing growth and attracting talent. Instead of being a primary driver, in this case the water and land resources of the region serve as critical amenities for workers seeking a "slower paced" and physically attractive place to raise their families and call home.
Renaissance is not alone. Sami Saydjari, president of Cyber Defense Agency, a virtual company that deals with "defending critical cyberspace," is also headquartered out of Wisconsin Rapids. "(It's) not Ground Zero," Saydjari says, describing one competitive advantage the area offers. It is far away from major population centers and areas prone to natural disasters – key for disaster recovery and conducting mission critical defense work.
It may not have the allure of Silicon Valley or Boston's 128, but for a growing number of nascent knowledge-based IT companies, rural and small town areas are showing surprising appeal. Since 2000 virtually all the fastest growing regions for information jobs have been found among small towns and cities, ranging from Springfield, Mo., to Grand Forks, N.D. It's a trend that could reshape more and more of small town and rural America over the coming decades.
Doug McDonald is a Senior Associate with the Praxis Strategy Group, a development firm specializing in economic development strategies and initiatives for small to medium-sized metropolitan areas and urbanizing rural regions.