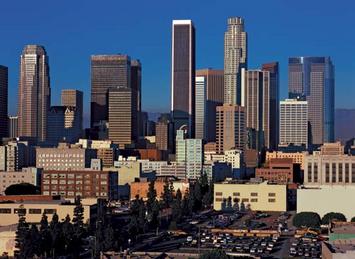 A big going-out-of-business sign on the Rite-Aid store at 7th and Los Angeles streets tells a bigger tale—a story I'll call "Hype Happens."
The Rite-Aid opened a few years ago with fanfare, arriving at just about the high-point of the hype over the "Residential Renaissance" of Downtown. Rite-Aid set up shop in the Santee Village project, an ambitious effort that saw a developer get plenty of help from various government agencies in order to convert a collection of mid-rise buildings from garment shops to residential lofts.
The project won plaudits as the latest in a trend that was bound to remake Downtown into a place where folks with lots of disposable income could "live, work and play," according to boosters.
Rite-Aid's arrival appeared to offer a clear signal that the trend would go on unabated. The new, young, and relatively upscale residents of Downtown would need a proper drugstore, after all. It all seemed quite modern for a section of the city where mom-and-pop corner stores were the only option for aspirin or chewing gum, and pharmacies were still just that—not places that offer shampoo and light bulbs and soda to customers waiting for their prescriptions to be filled.
The hype apparently failed to meet the expectations of the marketplace, though, and now Rite-Aid is leaving.
Get used to it—but also realize that this is a phase, and there can be some benefits to a slowdown.
Also keep in mind that Downtown has, indeed, seen a great deal of change with the latest round of residential redevelopment. Much of it has been good, even with the strains that have come as wealthier newcomers bumped into the many poor folks who called the area home long before its latest star turn. Take some solace in the thought that such strains will likely find room to ease now that the hype fading.
The pending closure of the Rite-Aid, meanwhile, offers lessons to be absorbed by boosters and others. The chain is no stranger to inner-city retail, but you can bet that its executives overlooked a few things on the way to the corner of 7th and Los Angeles, especially in regard to the chances for crowds of upscale loft dwellers filling their aisles. All the gushing press and publicity couldn't change the fact that the location still backs up against Skid Row, one of the toughest precincts of the city. It still takes a walk of several blocks—through territory that can be pretty scary at night—to get to the next section of Downtown where bright lights and activity provide a perception of public security.
Add that up and you'll see that Downtown has not reached the sort of critical mass that matches the "live, work and play" sloganeering. There are pockets of the city's center that have established an active, commercial nightlife. The Old Bank District centered at 4th and Main—a collection of several residential buildings, a few restaurants, a convenience store, and a DVD shop—comes to mind. For the most part, though, many gaps remain and the larger scene just hasn't been knitted together.
Consider the once-a-month Art Walk for a clear illustration of the over-sell of Downtown. The event has inspired an outsized helping of hype even by Downtown standards, getting regular and uncritical boosts from print media, broadcasters and the blogosphere, with reports offering it up as evidence of the success of Downtown's upscale makeover. The Art Walk does draw hundreds of upscale visitors to galleries at 5th and Main and a few adjacent blocks on the second Thursday of each month. That's great, but turn the proposition on its head and think about it this way: The Art Walk imports visitors who account for a vibrant sidewalk scene once a month. That's not "live, work and play." It's more like "drive Downtown, look around, and leave." Check 5th and Main on the other nights of the month and you'll seldom see anything like the Art Walk crowds.
Does this render the boosters' dreams for Downtown dead?
Certainly not—but expect them to go on hold for awhile.
The economic turmoil that's shaking the nation is hitting Downtown, too, and will continue to do so. The city's center is not some chic pocket of creative energy that's somehow able to escape the mess.
So Downtown is in for a tough row to hoe, but there's also a chance to learn some lessons in preparation for its next phase, which will surely start with plenty of hype at some point in the next several years.
Perhaps by then our boosters and builders will have learned enough from the last go-round to ensure that the new corner drugstore will still stand tall when the next hot streak comes to an end.
Jerry Sullivan is the Editor & Publisher of the Los Angeles Garment & Citizen, a weekly community newspaper that covers Downtown Los Angeles and surrounding districts (www.garmentandcitizen.com).