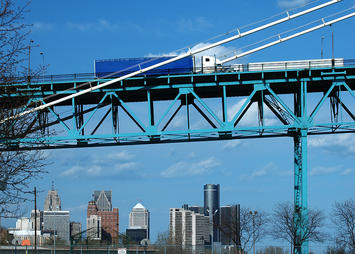 Barack Obama's political base always has been more "creative class" than working class—and his policies have favored that base, seeming to cater to energized issue and identity constituencies including African-Americans, Hispanics, gays, and greens, often at the expense of blue-collar workers.
Yet improving conditions for those workers—particularly in the industrial heartland—could save his flagging presidency.
The industrial zone's four key states—Michigan, Ohio, Wisconsin, and Pennsylvania—constitute the most critically contested territory in this year's contest. Fifty-four electoral votes are at play here, with Pennsylvania's 20 votes alone equaling all those at stake in the much-ballyhooed battleground of the Intermountain West (Colorado, Nevada, and New Mexico).
The Midwest is also home to the two states with the biggest drops in unemployment over the past two years. Michigan leads the way with an almost five percentage point drop, while Ohio comes in second with a nearly three–point decline. Other key Great Lakes battlegrounds—Wisconsin, Indiana and arguably Missouri—have also seen two-point drops in their unemployment numbers.
"Rust Belt" no longer seems like a pejorative, as the northern industrial states now boast unemployment rates well below those in once-booming states including California, Nevada, Florida, and South Carolina.
In the last two years the nation has added more than 400,000 manufacturing jobs, led by states in the upper Midwest. Between 2010 and 2011, Michigan led the nation by creating 25,000 new industrial jobs with a heady 5 percent growth rate second only to Oklahoma. Wisconsin came in second with 15,000 new positions, and a growth rate of more than 3 percent.
These gains may not come to close to making up the losses suffered over the past decade, but the growth is encouraging. Manufacturing employment brings higher wages to regional economies. In the Cincinnati area, the average factory job pays $61,000 a year—$15,000 more than the city's average wage. This creates an outsized impact on the rest of the economy, from housing and retail to demand for business services. There are already significant shortages of skilled workers such as welders and machinists.
Midwestern employers are projecting an 18.5% jump—the largest of any region—in the number of college graduates that will be hired this year.
The new industrial economy creates considerable demand for those who can fill STEM (science, technology, education, and mathematics related jobs). Between 2009 and 2011, Michigan enjoyed the second strongest rate of STEM growth in the nation, just behind Washington, D.C.
Much of what generated the heartland recovery—and much of what could slow or even reverse it—lies outside of the president's control. But if the momentum holds through November, the political winds there will be at Obama's back, helping him sell Great Lakes voters on the idea that the nation is moving in the right direction under his leadership. The key here lies with the revived auto industry.
Obama's "decision to rescue GM and Chrysler was exceedingly popular in auto manufacturing dependent states like Michigan and Ohio," says former Michigan Democratic Party chair Morley Winograd. "The rise in manufacturing employment since has buoyed housing prices, boosted workers' morale, and allowed Obama, in these states anyway, to be able to claim he delivered on the campaign's promise of hope and change. "
Mitt Romney is now effectively even in the polls in Michigan (one of his three "home" states), but he may have trouble explaining his opposition to the auto bailouts if the economic tide is rising.
"Obama will win Michigan in a walk, " predicts Winograd. "Outside of a nostalgic visit to his boyhood home, Romney won't be seen in the state after Labor Day."
One state both candidates are sure to spend time in is Ohio, which has already emerged once again as a bellwether in the race.
Rick Platt, an industrial development official in Newark, an industrial city of 50,000 in the central part of the state, sees the Ohio race as a struggle between "two narratives" about Obama.
The first is the positive one, a reflection of industrial gains of more than 10,000 jobs last year and falling unemployment. The other narrative builds around fear over a second Obama term.
Those concerns are especially pronounced in traditional swing regions like the Utica Shale in the eastern part of Ohio and the coal-producing swaths of western Pennsylvania (nearly half of the businesses in the booming gas and oil extraction field are based in the industrial heartland) that have long been resentful of Washington regulators. Business owners are concerned—as are many of their employees—that a second Obama term could mean the EPA shutting down the nascent natural gas boom that's begun to generate both energy and high-wage industrial jobs. Some businesses have postponed investment due to uncertainty about the election and the prospect of aggressive regulation.
"There's a lot of things in play," says Platt, who has been active in Republican politics. Not surprisingly, he credits much of the region's recovery to the economic policy of Republican governors like John Kasich in Ohio, Michigan's Rick Snyder, and Wisconsin's Scott Walker—all states he notes that are lapping Illinois.  The Land of Lincoln, Obama's Democrat-controlled home state, suffers the region's highest unemployment rate and is competing with California for the nation's worst credit rating. "It's not clear right now which of the two narratives will win out."
The health of the manufacturing economy may prove even more important to the president's reelection than the Dow Jones index. If industrial growth softens or goes into reverse—for instance, if Europe's economic troubles cross the Atlantic—the Midwest will feel the effects first.
And if the Rust Belt suffers, Obama's path to a second term gets that much tougher.
Joel Kotkin is executive editor of NewGeography.com and is a distinguished presidential fellow in urban futures at Chapman University, and contributing editor to the City Journal in New York. He is author of The City: A Global History. His newest book is The Next Hundred Million: America in 2050, released in February, 2010.
This piece originally appeared in The Daily Beast.
Oklahoma City photo by BigStockPhoto.com.