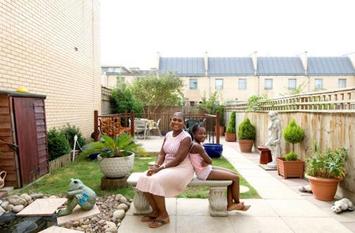 In the US, urban planners talk about the 'redevelopment' of a neighborhood. In the UK, 'regeneration' is heard more often. What is the difference, from both the planner and the resident perspective? Are they both synonyms for 'gentrification'? Angell Town , a UK 'estate' in Brixton — it would be called a 'public housing project' by Americans — provides a good example of how these questions are answered in practice.
In theory, meanwhile, the answers are… yes, and no. They overlap quite a bit, but the terms are not the same. In its simplest form, to redevelop is to develop again, which implies doing it over completely. Regeneration most directly means "rebirth or renewal", implying that the entity remains throughout the process.
The American Planning Association (APA) defines redevelopment as "public actions that are undertaken to stimulate activity when the private market is not providing sufficient capital and economic activity to achieve the desired level of improvement…. such as direct public investment, capital improvements, enhanced public services, technical assistance, promotion, tax benefits, and other stimuli including planning initiatives such as rezoning."
The Royal Town Planning Institute (RTPI) defines regeneration as "a holistic process which aims to reverse the economic, social and physical decline of places where market forces alone will not suffice… balancing community, business, environmental and individual needs… as well as changes to the physical environment."
So — redevelopment focuses on monetary investment and physical changes. Regeneration focuses on the existing community and the "social decline" of a place, as well as economic and physical factors. Even further, it aims to "holistically," address "individual needs." Of course many redevelopment projects address the community, but because the APA distinctly says that "the private sector may initiate redevelopment projects without any active public involvement beyond the government's traditional regulatory role," I would argue that it involves less social investment than regeneration.
Perhaps the distinct difference between the responsibility to act directly on behalf of existing residents versus the responsibility to investors stems from a large English planning system that is more politicized (and therefore receives more federal funding.)
While in America, gentrification might be seen as an inevitable side effect of redevelopment, in England it is seen as a sometimes inevitable and therefore tragic side effect of regeneration.
To illustrate this point, look at a true regeneration project: Angell Town, Brixton, London
Problem (courtesy of Rudi):
• Lack of public space for social interaction – derelict communal areas were unused.
• The garages provided were dark and un-surveyed, and therefore, never used.
• The estate was perceived as crime ridden, as the multiplicity of bridges and walkways provided ideal escape routes for criminals, often from outside the estate itself.
• Litter accumulation resulted from removing the bridges (which gave access to the waste removal pick-up points), in an attempt to reduce crime
• The estate came to epitomize neglect and decline
• The estate became stigmatized a sink estate.
Solution – A summary of simple urban design changes:
• The first main part of the scheme involved re-orientating the existing deck-access housing into a more "normal" street format, based on terraced dwellings which related to the street through individual entrances.
• Each dwelling was given an individual, recognized identity — surveillance on the street was improved, as windows now faced directly out
• Terraced housing replaced the monotonous, unsafe corridors of entrances.
• The pedways, which were perceived as unsafe, were removed so that the houses could be extended to face on to the street.
• New central grassed areas were defined as focal points for the houses. These areas were separated from the new vehicular perimeter roads by railings, enabling children to play, away from the danger of traffic and dogs.
• The unused garages on the ground floors were replaced with shops and community facilities, such as a bar, cafe, workshops, and even a recording studio in one area, to provide the previously, much lacked social amenities. This design measure also helped transform dark and bleak spots into animated facades of street level activity.
Instead of only seeing Angell Town's problems, the urban designer, planners, and architects looked at them as opportunities to build on the strong community that had lived there for decades. The project improvements didn't eradicate every trace of the place that had become their home, but committed a large investment to renovate the buildings they could, and design the new ones to compliment the existing ones so well that you had to look hard to tell the difference between the two.
Members of the community could still see where they came from. In other words, it still felt like home. Most importantly they could look again a little harder and see their bright futures. This might sound like I'm laying it on a little thick, but the success of this regeneration stunned so many, both nationwide and on the European continent, that it provoked intense project documentation. Residents who were interviewed realized what planners so often don't: they looked to their physical environment to define their identity. With the existing bones of the original Angell Town Estate still in existence, they easily identified the physical improvements to be improvements in themselves.
This outstanding result came from an intense and time-consuming community consultation process, a term that is distinctly different than public involvement. The lead urban designer was so involved with the community that he actually lived there on the weekends in a flat. While this is rare in any country, it certainly is to be commended.
Perhaps the most powerful items in Angell Town now are the benches that, poetically, are made from the rubble of demolished parts of the old buildings, caged, with stone seats on top. People can actually sit on the physical representation of what was destroying their community. This was recited by residents often as what made the biggest difference to them. Don't ever underestimate the power of poeticism!
I would love you to share you comments on this story. I'll also suggest: Consider the many similar public housing projects in America that have been completely razed and rebuilt to look like another place. How does it make people feel to have their homes be deemed so worthless that they are torn down and completely replaced, often with architectural rubbish?
So, what will it be — redevelopment or regeneration?
Photo: UK Government Web Archive: Angell Town – "Many residents also have private outdoor space." Building for Life is run by CABE and the Home Builders Federation with Design for Homes.© Commission for Architecture and the Built Environment (CABE)
A different version of this post appeared on Erin Chantry's blog, At the Helm of the Public Realm. Chantry is an Urban Designer in the Urban Design and Community Planning Service Team with Tindale-Oliver & Associates