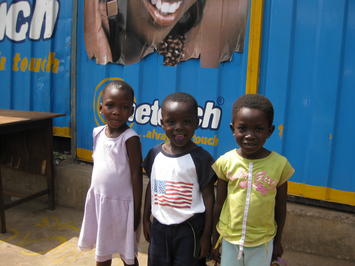 There's another presidential election just around the corner here in Ghana. Current President John Kufuor is stepping down after eight years in office that has seen the gold- and cocoa-exporting West African country expand its economy and solidify its democratic credentials. Another economic stride forward is expected when Ghana begins to pump oil in 2010 or 2011.
Many people I've talked to expect the ruling New Patriotic Party (NPP) to keep a hold on the presidency here in Ghana. The street signs and billboards of NPP Presidential Candidate Nana Akufo Addo appear to significantly outnumber those of National Democratic Congress (NDC) opposition candidate Professor Atta Mills. But the election in Ghana is not the only presidential race that people here are thinking of and talking about in the city and villages.
Accra, Aburi and Akropong are about as far away from the election day swing states in America as you can get. But America's election is more than just another news story on the BBC. Crawling and darting through the hectic traffic of the capital city of Accra one catches an occasional glimpse of an Obama bumper sticker. Traveling with my Ghanaian hosts and meeting with people at restaurants and bars talk about the American election quickly turns to questions about the prospects of Barack Obama.
It becomes readily apparent who is the favored choice between Obama and McCain. People react favorably and with big smiles when I tell them that Obama is leading in the polls. They ask me a second, maybe a third time if I think he will really win. At times some will repeat his name following the conversation – as some kind of hopeful confirmation.
The interest in the US election goes beyond the Obama candidacy; this is one place where America's status has not plummeted . Relations between the two countries are at an all-time high, with President Kufuor meeting with President Bush at least five times in the last three years. A visit by President Bush to the capital city of Accra in February of 2008 created widespread excitement, pride and goodwill as the two presidents talked about development issues, the fight against HIV/AIDS, the Africa Union, regional security, and Millennium Development Goals, humanitarian issues.
The prospects of more international trade and investment for Ghana are certainly part of this equation. A 2007 Pew Global poll shows that, all things considered, people in 47 countries consistently endorse international trade. Favorable views are especially common in sub-Saharan Africa. In all 10 African countries included in the survey, over 80 percent said trade was having a positive impact. My conversations with businessmen and traditional leaders confirm that more trade and development cooperation with the United States is eagerly anticipated.
Lastly, but certainly as important, the interest in the American election is a consequence of the many personal and family ties that bind Ghanaians to the United States. In conversations over the course of several days I've met people who have lived in the Bronx, are proud Kansas Jayhawks, or have spent time in Seattle, Atlanta and Washington DC and the suburbs of northern Virginia. Others have told me of sisters, brothers, sons and daughters who now living throughout the United States.
No matter the eventual outcome of the election – in the US or Ghana - it is clear that the relationship between the two democracies will and should continue to flourish. Ghana, as much of Africa, faces many development challenges and there will continue to be many opportunities for the US to work together with Ghanaian businesses and leaders in continuing to take small steps and big strides forward.
Delore Zimmerman is Publisher of NewGeography.com and President of Praxis Strategy Group, a company that works to improve the futures of communities and regions.