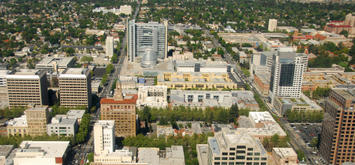 The information industry has long been a darling of the media — no surprise since the media constitutes a major part of this economic sector, which includes publishing, software, entertainment and data processing. Yet until the last few years, it has been a sector in overall decline, with almost 850,000 jobs lost since 2001. The biggest losses have been in telecommunications (half a million jobs gone since 2001) and print publishing (books, newspapers, magazines), which lost 290,000 jobs — 40% of its 2001 job base.
Yet over the past two years, spurred largely by social media and the growing use of data in business, there has been something of a resurgence in the information sector, with strong hiring in software publishing, data processing and other information services. To identify the cities making the biggest gains, we ranked metropolitan statistical areas' employment growth in the sector over the long-term (2001-12), mid-term (2007-12) and the last two years, as well as momentum.
Best Cities for Information Sector Jobs
The Usual Suspects
On our large cities list (the 66 metropolitan statistical areas with more than 450,000 jobs), the top two, perhaps not surprisingly, are San Jose-Sunnyvale-Santa Clara, Calif., aka Silicon Valley, followed by San Francisco-San Mateo-Redwood City. Since 2007, the number of information jobs in the Valley has grown by 25%, although this has not offset the large job losses in manufacturing, construction and government. Overall, San Francisco comes off a bit better: information employment is up less over the same period, 18%, but it has suffered less grievous losses in its smaller industrial and construction sectors. The San Francisco metro area ranks No. 1 on our 2013 list of The Best Cities For Jobs.
Several other of our top performers come from what we might consider the usual suspects of high-tech hype, including Boston (No. 4), where information employment is up over 8% since 2007, and Seattle (15th), which has posted solid if not overwhelming growth of 4% in the sector since 2007, but has a much stronger manufacturing scene than the Bay Area. (See: America's New Manufacturing Boomtowns)
The Rising Stars
But the big story in the information sector may be the emergence of a whole series of smaller metro areas that are usually less expensive. Some of the names here would also not surprise, such as Austin, Texas (fifth), and Raleigh-Cary, N.C. (eighth). They have been pulling information jobs from places like Boston, New York and the Bay Area for almost a generation. For example, Apple decided last year to center its Americas operations division in Austin, which is likely to bring upward of 3,000 information jobs to the Texas capital.
Less well-known has been the growth in other upstart locations. Perhaps the most dramatic player is third-place New Orleans-Metairie-Kenner, where information employment is up 28% since 2009. The information sector in the area, where I am currently working as a consultant to the regional development agency, GNO, Inc., is very broad-based, including companies in digital effects, videogames, software development as well as a burgeoning film and television industry. The recent decision by General Electric to place its new technology center and its 300 new technology jobs in New Orleans is another sign of the Crescent City's emergence as a viable information hub.
GE is representative of a growing trend to place high-tech jobs in a new cadre of low-cost locations. In addition to New Orleans, the conglomerate has announced, over the past year, new technology centers in Detroit; Richmond, Va.; and San Ramon, Calif. While these expansions were not enough to reverse the overall poor showing on our large cities list of Richmond (second to last out of 66) and Detroit (60th), they reflect a growing tendency of businesses to tap relatively low-cost pools of talent.
In many ways, New Orleans' success story in information — the migration of jobs to lower cost, but still attractive, regions — is mirrored in other metro areas in our rankings. This includes No. 6 Atlanta, whose 85,000-strong information sector is now the nation's fourth largest, if you combine Silicon Valley and San Francisco into one region. As in New Orleans, mega-companies also see Atlanta as a major and affordable talent center. General Motors, for example, recently announced plans to set up its new software center in the Atlanta suburbs, bringing more tech jobs.
Several other large but affordable metro areas are also gaining momentum, most of which are in the Sun Belt. These include seventh-place San Antonio, which has experienced strong growth in such fields as cyber-security, and Phoenix (ninth),which traditionally draws talent and companies from California, and has also won a 1,000-person strong GM tech center in suburban Chandler.
Finally, tech and media watchers should look out for 10th-place Nashville-Murfreesboro-Franklin, Tenn. Like New Orleans, the country music capital has a very strong media base and provides newcomers with everything from a hip urban ambiance to bucolic country suburbs. Its information sector is also helped by growth in health and manufacturing in the area.
What About The Big Boys?
New York, with some 174,000 information jobs, and Los Angeles, with over 190,000, retain the largest clusters of information industry jobs, but they are not growing as quickly as our top 10 metros. New York, at No. 13, has enjoyed only modest 3.2% growth in employment in the sector since 2007, and, despite all the renewed hype about "Silicon Alley," growth ground to a halt over the past year. Overall since 2001 New York has lost some 16,000 information jobs, many of them directly tied to a big drop in publishing employment.
But the Big Apple is an information boom town compared to Los Angeles (28th), with information employment there dropping 7.3% since 2007. L.A. today has 25,000 fewer information jobs than in 2001. Things appear to be more stable recently, but the big issue for L.A. lies in the decline of the entertainment industry, which dominates much of the area's information sector. Since 2007, the Big Orange has lost roughly 9,000 jobs connected to the motion picture, television and recording industry, something the region has not found a way to redress.
The only information hub that arguably has done consistently worse is Chicago, which has lost 30,000 information jobs since 2001. Many of those losses came from publishing and telecom, which suffered huge losses early in the last decade. Since then, the information sector decline has slowed and last year the area eked out growth of 0.4%.
Best Cities for Information Sector Jobs
Little Wonders
Information businesses historically cluster in big cities, but there are now several smaller regions whose sectors are now growing rapidly. On our medium-size metro area list (between 150,000 and 450,000 jobs), the top spot goes to Trenton-Ewing, N.J., which enjoyed 9.2% growth in the sector since 2007 and appears to be attracting software development jobs. There's also been considerable growth in Utah, which boasts Provo-Orem (fourth) and Ogden-Clearfield (sixth). Combined with Salt Lake City, a respectable 17th on the large metro area list, the Wasatch Front appears to be a real comer in the information economy.



The mid-sized list, like the rising stars, appears very much to be driven by lifestyle preferences and the proximity of universities to provide raw talent. If there's a more physically attractive metro area than No. 2 Santa Barbara-Santa Maria-Goleta, Calif., we'd like someone to find it for us. Lansing-East Lansing, Mich. (third), and Madison, Wisc. (fifth), may be a lot colder and less spectacularly beautiful than Santa Barbara, but as college towns and state capitals, they boast considerable amenities and a constant flow of recent graduates. Much the same can be said of No. 7 Baton Rouge, La., which also enjoys the benefits of an expanding energy industry. Albuquerque, N.M. (eighth), and Huntsville, Ala. (ninth), while not state capitals, are home to major national science laboratories that also attract a deep pool of local technology talent.
The impact of the modern energy industry on information grows from the need of oil and gas firms to use technology to discover, maintain and expand their operations. This can be seen in our number one small metro for information jobs, Cheyenne, Wyo., as well as the Texas towns of College Station-Bryan (third) and Tyler (fourth). The link between manufacturing and information is evident in some of the small metros, including No. 2 Flint, Mich., and No. 8 Columbus, Ind.
Who's Left Behind?
The information industry's growth has missed many, if not most American metro areas. This includes many large cities in California, including Oakland-Fremont-Hayward (58th on our large cities list), Sacramento-Arden Arcade-Roseville (63rd) and San Bernardino-Riverside (64th). Given its proximity to both Silicon Valley and San Francisco, Oakland's slow recovery is a bit surprising, but remember it was only when growth in Silicon Valley went hyper-critical during the '90s dot-com bubble that Oakland finally surged. Other poor performers include last-place Camden, N.J.; Oklahoma City (62nd), Kansas City, Kan. (61st).
Yet to an extent not well appreciated in the media, a slow-growing or even shrinking information sector isn't necessarily an economic kiss of death. Information remains a relatively small, if highly obsessed over, sector of our economy. Additionally, some of these jobs are being subsumed into the indistinguishable category of business services as more and more firms bring them in-house as part of the normal course of doing business. Nonetheless, while you can certainly thrive without it, given the glitz factor, most metro areas would probably prefer to rank among those that are winning these jobs than missing out on them.
Joel Kotkin is executive editor of NewGeography.com and a distinguished presidential fellow in urban futures at Chapman University, and a member of the editorial board of the Orange County Register. He is author of The City: A Global History and The Next Hundred Million: America in 2050. His most recent study, The Rise of Postfamilialism, has been widely discussed and distributed internationally. He lives in Los Angeles, CA.
Michael Shires, Ph.D. is a professor at Pepperdine University School of Public Policy.
This piece originally appeared at Forbes.com.