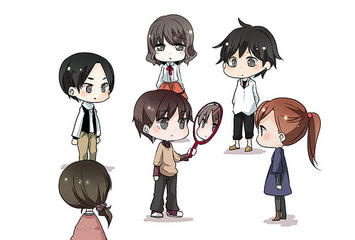 In the 1980s, American commentators and best-selling authors repeatedly sought to convince companies and workers to be more "Japanese." After all, for two generations, the men of Japan, supported by their wives, constituted a fearsome force – first, in the run up to the Second World War, then during the economic "miracle" that drove that small island nation toward the pinnacle of global economic power.
Yet, today, Japan's latest generation of men appears lacking the fierce ambition that drove their fathers, much less their grandfathers. The term commonly used for this new generation of Japanese is "herbivores," a play on the word for plant-eating animals generally known for their docility. And, instead of embracing what the new generation is doing in Japan, we should look at our young people and think: God forbid.
Growing up in a period of tepid economic growth, a declining labor market and a loss of overall competitiveness, Japan's "herbivores" are more interested in comics, computer games and socializing through the Internet than building a career or even seeking out the opposite sex. Among males ages 16-19, 36 percent in one survey expressed no interest in sex, and some even despised it.
Not that women are waiting breathlessly for male stirrings: Disinterest is even higher – 59 percent – for females in the same age category. The percentage of sexually active female university students, according to the Japanese Association for Sex Education, has fallen from 60 percent in 2005 to 47 percent last year. There's a bigger issue here than overly tame libidos, suggests sociologist Mika Toyota. Once-critical interpersonal familial ties are being replaced by more ad hoc relationships based on common interests.
One indication of this breakdown in family ties has been a gradual loss of interest in marriage, among men but at least as much so among women. By 2010, a third of Japanese women entering their 30s were single, as were roughly one in five of those entering their 40s. That's roughly eight times the percentage in 1960, and twice that in 2000. By 2030, according to sociologist Toyota, almost one in three Japanese males may be unmarried by age 50.
Such attitudes, one Osaka blogger observed, indicate that many young people, particularly women, sense "an unwillingness to throw away the freedoms of single life to comply with the strict societal demands accompanying co-habitation or marriage."
Herbivores, it appears, are less likely to marry. Prime Minister Shinzo Abe can do his best imitation of President Obama's loose money policies, pumping trillions of yen into his economy, but bigger civilizational forces appear to be at play. Demographics are more intractable than short-term markets. The herbivorization of Japan can't be good news in a country that suffers from a plunging marriage rate, a declining workforce and a fertility rate so low that adult diapers outsell those for babies.
Could the same process occur here? Are young American males following the path to herbivore pastures? There are some disturbing parallel trends. The onset of the Great Recession has slowed fertility in the United States, the one large high-income country with fertility rates historically above replacement levels, down to the lowest levels in a quarter century. Despite a rise in population of 27 million Americans, there were actually fewer births in 2010 than there were 10 years earlier.
The herbivore effect can be seen in the postponing among younger Americans of both marriage and having children, according to a recent Pew Foundation study. As in Japan, a weak economy plays a role. The recession, and the weak recovery, has had a disproportionate impact on young people: Almost two in five unemployed workers are ages 20-34.
There are other disturbing parallels. Young Americans are increasingly embracing what European scholar Angelique Jansenns described as "the deinstitutionalization of marriage" and "the emancipation of individual members from the family." Although more than 70 percent of U.S. millennials want to get married, nearly half believe the institution is becoming "obsolete." No surprise, then, that a growing proportion of American children born today – and a majority born to women ages 20-24 – are to unwed mothers.
Another apparent casualty here is entrepreneurship, the very thing that characterized boomers and the successor Generation X. Boomers, while now in their 50s and 60s, are still at it, but start-up rates among young people are getting weaker even as boomers continue to start new ventures. No longer can we take as a given that entrepreneurial activity is associated with the young.
"Millennials have been raised in ways that make them feel very pressured by the need to succeed," observe generational chroniclers Morley Winograd and Mike Hais. "They see life as a series of hoops to be jumped through, starting with getting into the right preschool, all the way to graduating from the right college. Such a view of the world makes them very afraid to fail on their own and, therefore, very risk averse."
Some see this age of unambition as a positive. There is a devout "progressive" picture of millennials who don't buy houses, cars or don't fret much about getting on with their lives. Some of this may be attributable to cascading student debt but some see the emergence of a higher generational consciousness.
The environmental magazine Grist sees "a hero generation" that will avoid the pain and suffering that comes with trying to overcome a tough economy. They will transcend the material trap of suburban living and work that engulfed their parents. "We know the financial odds are stacked against us and, instead of trying to beat them, we'd rather give the finger to the whole rigged system," the millennial author concludes.
Anyone over age 40 will tell you how that strategy likely will work out.
Yet, I, for one, have not given up. As the new generation begins to face the realities of growing up, Winograd and Hais suggest, they will begin to move away from the "herbivore" model. After all, despite the claims like those in Grist, most millennials, particularly those entering their 30s, want to own a home, with more than three times as many eyeing the suburbs as their ultimate destination as the big city.
Fortunately, our millennials are not stuck in a narrow, expensive homogeneous country, like Japan. If our native-born young people lack sufficient moxie, newcomers from Mumbai, Mexico City, Seoul or Shanghai will show them the way – or the way to the unemployment office. And when millennials get around to buying homes, there are many places – perhaps not always Southern California – that can accommodate them.
Like their boomer parents – who endured the malaise of the Jimmy Carter years – reality has a way of reawakening the carnivorous spirit of young Americans. This had better happen, anyway, if America is to remain competitive.
Joel Kotkin is executive editor of NewGeography.com and a distinguished presidential fellow in urban futures at Chapman University, and a member of the editorial board of the Orange County Register. He is author of The City: A Global History and The Next Hundred Million: America in 2050. His most recent study, The Rise of Postfamilialism, has been widely discussed and distributed internationally. He lives in Los Angeles, CA.
This piece originally appeared in the Orange County Register.
Illustration by Timothy Takemoto.