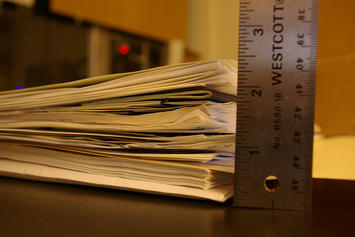 According to recent figures, in the United Kingdom paralegals already make up (as a mean average) 44 percent of all fee earners in solicitors firms, and are on track to outnumber solicitors in firms within a decade. In the US, the Bureau of Labor Statistics projects a 16.7 percent growth in paralegal jobs between 2012 and 2022, adding 46,200 positions. Jobs for attorneys are expected to grow only about 10 percent during that period.
Before the recent economic downturn, paralegals were either employees looking for further work experience, recent graduates working as paralegals for a short period of time to improve their expertise, or those who specifically wished to pursue a long-term careers as paralegals. Now, a new type of candidate is beginning to emerge: that of the accomplished law graduate who cannot secure a permanent job as a lawyer due to the vast number of suitable candidates. Legal firms are motivated to employ these academically gifted candidates as paralegals, because it means they can get employees who will work diligently for a much lower rate than young lawyers.
Employment vacancies at legal firms are scarce in today's economic climate. A vast number of UK legal graduates now leave university without training contracts. These graduates often seek alternative jobs within the legal profession, such as paralegal work. The situation of US law school graduates improved in 2013, but not by much, says The Wall Street Journal, which reports that things are looking up for the class of 2014, too, though finding full-time work remains a challenge.
Many law school graduates have found themselves in this unfortunate employment predicament. For instance, Bar Professional Training Course graduate Georgina Blower described to The Guardian how "After finishing bar school without a pupillage in 2009, I got a paralegal job with a car manufacturer in a town outside London. I was one of the lucky ones, with most people on my course struggling to get any sort of legal-related work". Despite being unable to acquire a training contract, Blower highlighted the benefits of working as a paralegal, describing it as "… good general experience... All you can do is keep stacking things in your favour and hope it all pays off."
Fellow graduate Charlotte Dalley offers a similar viewpoint. She graduated from the University of Chester with a 2.1 Law (LLB) degree and since 2013 has been working as a Trainee Solicitor for Gillhams Solicitors. The position has enabled Dalley to assist seasoned partners and more senior associates "with all aspects of private client work including the preparation of wills, probate and the administration of estates," as well as gain "some valuable experience in dealing with residential and commercial property transactions". In this way, paralegal work offers graduates the opportunity to acquire beneficial legal skills from which they can profit in the future.
Even graduates who are fortunate enough to have secure routes to jobs as lawyers can see the benefits of paralegal work for boosting their long term career prospects. Leontia McArdle started working as a paralegal at international firm DLA Piper, despite having already secured a training contract at the firm. She found that; "When I was doing my application forms for training contracts, I thought it would really help if I had more experience in a law firm... I started applying for paralegal positions to confirm my interest and to show it was definitely the career I wanted".
By drawing on examples such as these, The Institute of Paralegals has been eager to demonstrate the benefits of working as a paralegal for law graduates. Legal firms, they say, prefer training contract candidates who have prior experience, "because the world of full-time, permanent work in a professional environment is something that most trainee solicitors have not previously experienced. They therefore sometimes need a "settling in" as they adjust to life as a worker and not a student. Paralegals have already had gone through that process - at somebody else's expense!".
Ultimately, due to these trends, more legal graduates are seeking paralegal work. So much so that research suggests the number of people working as paralegals may continue to increase in the UK by over 20 percent in the next four years. This is predominantly due to the fact that legal firms are reluctant to hire more junior lawyers, yet the number of law graduates seeking employment continues to increase. In these circumstances, gaining employment as a paralegal permits graduates to work within their chosen field, develop professional relationships with employers and clients, and consolidate their knowledge of various aspects of legal work. All of this can prove beneficial not just while entry-level recruitment is flat, but throughout their long term legal careers.
Bradley Taylor is a freelance writer from Derby, England. He enjoys writing across a variety of topics including law, travel and food. Follow Bradley on Twitter @BradleyTaylor84.
Flickr photo by Stephanie Pakrul.