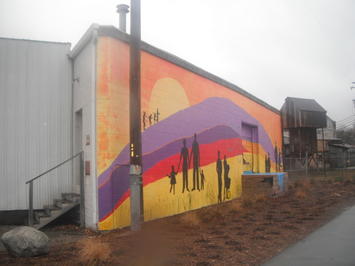 Across the country—but particularly in the heavily industrialized Northeast and Midwest—smaller cities have confronted the grim realities of the unflattering "Rust Belt" moniker, and all of its associated characteristics, with varying degrees of success.  With an aging work force, difficulty in retaining college graduates, and a frequently decaying building stock, the challenges they face are formidable.  Cites from between 30,000 and 80,000 inhabitants typically boomed due to the exponential growth of a single industry, and, in many cases, the bulwark of that industry left the municipality nearly a half century ago, for a location (possibly international) where the cost of doing business is much cheaper. Essentially, everything the smaller Rust Belt cities had to offer is completely tradable in a globalized market; the resources that provided the town's life blood are either depleted or are simply to expensive to cultivate further.
Reinvention is the only condition likely to save many of these cities from persistent economic contraction, but, with an overabundance of retirees and older workers, these towns lack the collective civic will that could be expected in larger communities with more diversified economies.  An absence of young people intensifies (and, to a certain extent, justifies) the low level of civic investment in one's own community; after all, if a resident is six months from retirement, how likely is it that he or she would support public investments intended to improve quality of life for twenty or thirty years into the future? For that matter, how likely will a population of retirees remain engaged to encourage or challenge major private sector investments as well?
By no means am I intending to denigrate needs and ambitions of the senior population; I'm merely observing that a stagnant Rust Belt city with this demographic profile will demonstrate vastly different priorities from a city rife with young families.  While every Rust Belt city large and small must avoid obsolescence that results from the spoils of globalization, the smaller cities—which have tended to be dominated in the past by a single thriving industry—are less likely to claim alternative sectors and labor pools if their primary manufacturing lifeblood fails.  A dying city of 80,000 may not exert the same impact within a region (particularly in the densely populated Midwest and Northeast) that a city of 500,000 would, but it is far more of black eye for the state than a town of 2,000 that has lost its raison d'être.  This conclusion is obvious.  Many of these small cities must reordering of their economies comprehensively; while the state, the county, or private foundations may offer some outside help, the constituents of these cities themselves are typically the best equipped to understand how their city should evolve.  Unfortunately, many of these communities aren't yet even aware of the need for this reinvention, let alone which avenue to pursue in order to achieve it.
It is with no small amount of reassurance that I can assert that Kokomo, Indiana is not one of these latter cities.
No Rust Belt complacency on display here in the City of Firsts.  Though a recently as 2008 it was on Forbes' list of America's Fastest Dying Towns, a recent visit shows much more evidence than I've seen of some comparably sized cities in the region that the civic culture is neither resting on its laurels nor wringing its hands about how much better things used to be.  In fact, one of the Indianapolis Star's leading editorialists, Erika Smith, recently visited the city, and, after receiving a tour from the Mayor, was pleasantly surprised by how proactive it has been in implementing precisely the type of quality-of-life initiatives largely perceived as necessary to help a historically blue-collar city stave off a brain drain or descend into irrelevancy.
I, too, recently received the Kokomo tour, followed by a meeting with Mayor Greg Goodnight, and I can also recognize some of the city's most impressive achievements at shaking off the post-industrial malaise that saddled the city with double-digit unemployment rates as recently as a few years ago.  Since then, the city has introduced a trolley system at no charge to users; prior to this initiative, the city had had no mass transit for decades.  The Mayor pushed successfully to annex 11 square miles in the town's periphery, therefore elevating the population by about 10,000 people.  The Mayor's team worked to convert all one-way streets in Kokomo's downtown to two-ways, recognizing that accommodating high-speed automobile traffic in a pedestrian-oriented environment only detracts from the appeal.  The team has restriped several miles of urban streets to incorporate bike lanes, and it has converted a segment of an abandoned rail line into a rail-with-trail path, branding it by linking it to the city's industrial heritage. They have deflected graffiti from several bridges and buildings through an expansive and growing mural project.  They have upgraded the riverfront park with an amphitheatre and recreational path. They have introduced several sculptural installations, the most prominent of which is the KokoMantis, a giant praying mantis made entirely of repurposed metal and funded privately.  And my personal favorite: with the support of the City, the school superintendent has integrated a prestigious International Baccalaureate (IB) program to the public school system, including an international exchange program for young men from several foreign countries (a girls' program should arrive in the next year or two) who live in a recently restored historic structure in Kokomo's walkable downtown, attending demanding courses that bolster their chances of admittance in a coveted American university.  Most impressively, the City of Kokomo has achieved all of this without incurring any public debt in the past year.
Obviously the individuals offering me this tour are going to make sure their Cinderella is fully dressed for the ball, and I recognize that not a small amount of the securing of certain infrastructural projects and transportation enhancement grants requires a political savvy that the current civic leadership has in abundance.  And I don't want to rehash Ms. Smith's article, which more than effectively chronicles this approach at a macro level.  In addition, Erika Smith recognizes, as do I, that very few of these initiatives (the IB foreign exchange program notwithstanding) are really particularly earth-shattering.  But when most other similarly sized cities in the Midwest seem to be engaged in a race to the bottom, luring new industry through generous tax breaks (often initiated at the state level), Kokomo seems to recognize that a town lacking any amenities outside of low cost of living has to compete with dozens of other cities in Ohio and Michigan and Pennsylvania, and elsewhere in Indiana, that offer the exact same brand.  Whether this investment yields a long-term return remains to be seen, but it certainly demonstrates the right gestures necessary to instill civic stewardship in a place whose decades of job loss have seriously scratched its mirror of self-examination.
What ultimately struck me about Kokomo—which Erika Smith only touched upon—was the level of design sophistication evident in some of these civic projects.  I need only focus on a single location in the city, in which two particularly laudatory techniques are on display.  At the intersection of Markland Avenue and Main Street, just south of downtown, the Industrial Heritage Trail begins its journey southward.  Here's a view as the trail terminates at its junction with those two streets, looking northwestward:
Here is a view in the other direction:
Continuing a bit further in this direction, one encounters this painted wall:
And, pivoting slightly to the left, another mural that is still in progress:
This photo series identifies two amenities that stand out for the astute decision-making that apparently took place during the implementation.  The Industrial Heritage Trail clearly operates a railway corridor, but it is not a rail-trail.  Unlike the more common rail-trail conversion, this Kokomo trail did not incorporate the removal of the original rail infrastructure.  The Rails to Trails Conservancy would label this approach a rail-with-trail, indicating that the trail shares the railway easement, typically separated by fencing.  Rail-trails such as the Monon Trail in metro Indianapolis are still the more common practice. However, a growing number of communities are embracing rail-with-trails, not only because they obviate the need for costly removal of rails, ties, and ballast, but they reserve the rail infrastructure for the possibility that a railroad company may reactivate the line in the future.  If the sponsors of Kokomo's Industrial Heritage Trail had removed the infrastructure, the possibility of ever reintroducing rail along the corridor would be virtually nil.  As it stands, the only conceivable disadvantage to rail-with-trails is that, in the event a rail company reintroduces train service, its close proximity to the path may prove hazardous to bicyclists or pedestrians.  Otherwise, the decision to retain the railway not only helped to diversify options, it most likely saved a considerable amount of money.
The other smart decision was the site selection for those murals.  The ones featured in the photos above are part of a growing mural campaign that the City of Kokomo introduced, and every one that I recall shows real foresight in the locational decisions. What makes them so good?  The murals in the photos above front a public right-of-way, minimizing if not completely precluding the chance that later development will conceal them.  I blogged a few years ago about an excellent mural in Indianapolis that showed wonderful care and craft in the entire implementation process…except where the conceivers chose to locate it.  Not only did they paint on a cheap, cinder-block building that will likely tumble down if market pressures encourage new development in the neighborhood, but the mural also faces a vacant lot which is large enough to host a new structure that would block it completely, no doubt frustrating the community and pitting them against a developer.
Compare this to Kokomo's murals.  Here's one a little further south on the Industrial Heritage Trail:
Again, it fronts the trail itself—not a chance that a developer will try to block it.  And here's another along a bridge underpass for the recently completed trail along the Wildcat Creek: