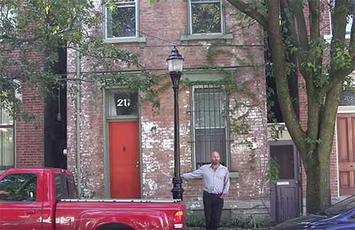 I filmed this story in Cincinnati's Over-the-Rhine neighborhood. As always, my far more talented friend Kirsten Dirksen did the editing. There are also glimpses of other nearby neighborhoods such as East Walnut Hills and some views for the city taken from across the Ohio River in Kentucky. Michael Uhlenhake is an architect and long time resident of the city. The story of his own practice and home renovation follows the trajectory of the city as a whole.
Rust Belt cities like Cincinnati, Pittsburgh, and Buffalo are all much better than many people imagine. I tell folks that if you want Brooklyn, or Portland, or Wicker Park in Chicago, or the Mission in San Francisco, but at 1/10th the price… go to these fabulous, but seriously undervalued smaller cities in the Midwest. Not only will you save a huge amount of money, but waves of cool people have already started to colonize these neighborhoods ahead of you. You won't be a lone pioneer.
I love the magnificent architecture, the cool people, and the gorgeous natural beauty that surrounds the city. And I'm incredibly excited that many of the best historic neighborhoods are coming back to life after a fifty year slumber brought on by middle class exodus to the suburbs, deindustrialization, and general neglect. There's a serious pent up market demand for vibrant, mixed use, walkable neighborhoods all across the country with shockingly little supply. We just haven't built places like this since World War II and there's a hunger for it in the real estate market. After decades of decline and abandonment Cincinnati is being repopulated by a new generation of people who value urban living.
Check out this similar video from Walnut Hills in Cincinnati.
And here's one from Yellow Springs, Ohio if a small college town in the country is more your style.
John Sanphillippo lives in San Francisco and blogs about urbanism, adaptation, and resilience at granolashotgun.com. He's a member of the Congress for New Urbanism, films videos for faircompanies.com, and is a regular contributor to Strongtowns.org. He earns his living by buying, renovating, and renting undervalued proper