As a former airline pricing analyst who once viewed the intercity bus as an inconsequential player in major markets, I am perhaps an unlikely champion of this mode's potential. But since Megabus made its US debut just blocks from my Chicago office in 2006, I have become intrigued with this increasingly popular mode of intercity transportation. I now collect data and write a year-in-review report that summarizes the notable happenings in the sector.
Ever since I began this research, there have been remarkable developments. In 2015, the trend was for fast-growing brands such as BoltBus, Greyhound Express, and megabus.com to pivot from investing in new routes to investing in conveniences for quality-minded travelers, in a bid to woo them from cars and planes. Another major surprise has been the resurgence of Chinatown lines, some of which had been written off as dead after federal safety crackdowns several years ago.
The intercity bus industry's shift from added routes to investments that improve passenger experience stems from three factors.
First, major lines need to allow consumer markets to catch up with previous expansion, which has pushed bus service to regions in which product awareness is relatively low (it often takes three to five years for new service to achieve financial self-sufficiency). The map below illustrates the expansion of hubs by Megabus since it began its US service in 2006 and continued with Florida additions in 2014.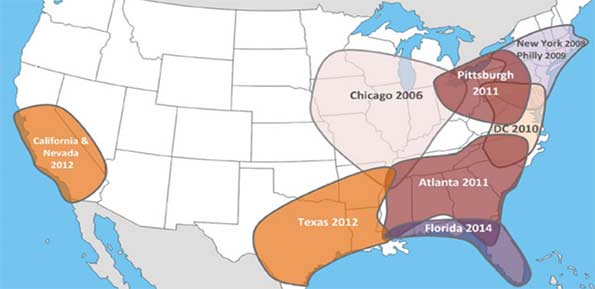 Development of hubs by Megabus with approximate geographic range of service. Chaddick Institute
Secondly, as the map shows, many of the most lucrative markets have already been tapped, giving carriers little choice but to focus their efforts on broadening their appeal among the large segment of the public that has been reluctant to give bus travel a try.
Third, plummeting fuel prices have greatly intensified competition from private vehicles. Average gasoline prices across the US fell from $3.68 a gallon in July 2014 to just over $2 last month, negating some advantages of fuel-efficient modes. Double-decker buses with heavy loads can easily achieve 200 passenger miles per gallon. On a 250 mile round-trip, these falling prices have reduced the relative cost of driving by about $25 per passenger. That's a big change to overcome!
Carriers retained momentum by working to make coach travel more appealing. Greyhound introduced OnTouch©, allowing passengers to surf for information about tourist attractions, theatrical events, and ridesharing services at their destination using the bus' Wi-Fi system. The carrier also launched BusTracker, which provides updates every one to four minutes on a bus's location and expected arrival time.
Megabus created a reserved seating program that allows passengers to select particular seats — including table spots — when buying tickets, generally for $5 or less. As recently as a decade ago, almost all US bus passengers were denied even having a guaranteed seat, much less a particular seat, on a selected departure. This uncertainty compelled many to arrive at the station at least an hour ahead to stand in line. Now, passengers can arrive at the last moment with their preferred seat awaiting them.
New business-class services, meanwhile, popped up, linking New York City to Ithaca (on both Coach USA and the new Big Red Bullet), Maine (C&J), Massachusetts (Concord Coach), and Virginia (Vamoose). Luxury operators like Royal Traveler (New York–Washington) and Vonlane (Texas), that offer posh amenities, also expanded.
Discounters are also growing. A revived Chinatown bus sector now accounts for more than 600 daily schedules and handles upwards of five million annual riders. These carriers, generally Asian- or Asian American-owned lines, operate primarily from Chinatown districts in major cities. There have been concerns over the years that their drivers do not have adequate training and fail to observe regulations on the maximum number of hours behind the wheel. Allegations of improperly maintained buses and threadbare tires also recently attracted attention. These carriers often do not invest in clearly identifiable brand names, and do not interline with major bus companies.
Chinatown operators have apparently found ways to more effectively comply with safety rules following stepped-up federal enforcement in 2012-13 that shut down many of them. These lines are now diversifying into longer-distance routes, including overnight runs from New York to the Midwest and the South, in part due to intense competition from "corporate carriers" in the Northeast. Go Buses, for example, is expanding rapidly in New England, taking on giants like BoltBus and Megabus.
In the South and South Central regions, Latino carriers are adding buses at a rapid pace. We estimate that these services handle more than five million passengers annually, up from about two million five years ago. To defend its turf, Greyhound launched cross-border service from Texan cities to Mexico in 2015.
So how large has the intercity system actually gotten? The truth is, nobody knows for sure, as federal data has not been collected for a generation. We have been able to identify 155 operators and estimate, making a reasonable assumption that they handled 62 million passengers for the year in 2015 — about 35 percent more than in 2008.
Considering all the buzz surrounding bus travel, some are surprised that the number isn't higher. Intercity bus travel is nowhere as large as air travel. But scheduled buses see about twice as many trips as Amtrak, and expansion is occurring with no federal funding on all but a few routes. Moreover, the renaissance is still less than a decade old and our estimates don't include the growing airport shuttle, commuter bus, or charter segments.
In addition, travel and technology companies are taking notice. Wanderu.com and Busbud.com, websites specializing in bus travel, gained nationwide coverage last year. Both have created powerful apps catering to mobile bookings. BoltBus launched an app with Uber, which in turn has applied for a patent to get into the intercity travel business.
Could seamless connections with a single click between ridesharing, intercity buses, and other surface modes be around the corner? That could be a game-changer for a mode considered a last resort only a few years ago.
Joseph P. Schwieterman is director of the Chaddick Institute for Metropolitan Development and Professor of Public Service at DePaul University in Chicago.
Flickr Photo by Richard Masoner / Cyclelicious