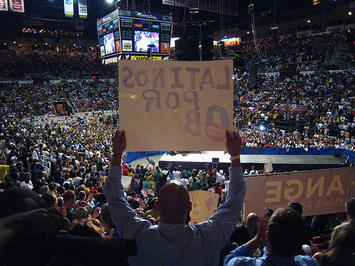 The sad decline in race relations has focused, almost exclusively, on the age-old, and sadly growing, chasm between black and white. Yet this divide may prove far less important, particularly in this election, than the direction of the Latino community.
This may be the first election where Latinos, now the nation's largest minority group, may directly alter the result, courtesy of the race baiting by GOP nominee Donald Trump. If the GOP chooses to follow his nativist pattern, it may be time to write off the Republican Party nationally, much as has already occurred in California.
Today, Latinos represent 17 percent of the nation's population; by 2050, they will account for roughly one in four Americans. Their voting power, as the GOP is likely to learn, to its regret this year, is also growing steadily, to 12 percent of eligible voters this year, and an estimated 18 percent by 2028.
Political geography may prove as critical here as rising numbers. African Americans, for historic reason, are heavily concentrated in deep blue cities, simply padding already existing Democratic supermajorities, or in the deep red South, where they are overwhelmed by a conservative white majority. In contrast, Latinos represent a growing constituency in critical swing states such as Florida, where they constitute one-fifth of the electorate, as well Virginia, Nevada, Colorado and, thanks to the genius of Donald Trump, perhaps even Arizona.
Read the entire piece at The Orange County Register.
Joel Kotkin is executive editor of NewGeography.com. He is the Roger Hobbs Distinguished Fellow in Urban Studies at Chapman University and executive director of the Houston-based Center for Opportunity Urbanism. His newest book, The Human City: Urbanism for the rest of us, will be published in April by Agate. He is also author of The New Class Conflict, The City: A Global History, and The Next Hundred Million: America in 2050. He lives in Orange County, CA.