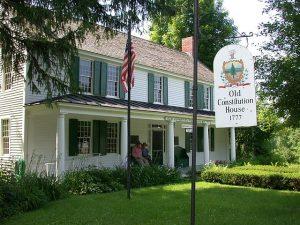 Vermont, like many states, is suffering from demographic challenges. It has the fourth slowest population growth of any state since 2000. It has the lowest share of its population who are children under 18 (if you exclude the District of Columbia, a "city-state" from the figures). Vermont is also impeccably progressive, has many quaint cities and towns, and is known for natural beauty. None of these factors has driven population growth there. Population growth is not the only metric, but the situation in much of New England is not looking healthy to me, especially northern New England.
The state has been making a big push lately to market itself for residents. One of its initiatives is a program that will pay $10,000 to remote workers who move there. CityLab says:
Looking for a raise? If you keep your job, you could pocket an extra $10,000 by moving to Vermont.

A new bill signed into law Wednesday will pay remote workers $5,000 a year for two years to make the Green Mountain State their home, as long as their employer is based somewhere else.

The bill's backers say it's an effort to address a challenge with the state's small, aging population—a 2017 census estimate placed it at just under 630,000, making Vermont less populous than Columbus, Ohio. "We need more people in the state and people participating in the workforce," said Joan Goldstein, the commissioner of Vermont's Department for Economic Development.

It could be easier to convince people to move if they don't have to change jobs, Goldstein said, and the money could help with relocation expenses or renting co-working spaces.
This is a variation on the subsidizing people to move to your state theme that I've criticized elsewhere. What are seeing is states and localities increasingly giving out economic development subsidies to people, as well as businesses. While at some level it's understandable, this is also something of a sign of desperation.
Having said that, the idea of attracting remote workers who can choose to live anywhere is a good one for Vermont. This allows people who might like the Vermont lifestyle but aren't necessarily a good fit for the Vermont employment market to still move there, if they have a location-independent position.
Another possibility to look at is seasonal or part-time residents. Tony Hsieh had an idea I thought was a good one for his Downtown Project. He realized that not everyone would necessarily want to move to Las Vegas. So he came up with the phrase "subscribe to Las Vegas" to talk about people who spend time downtown there on a regular but not permanent basis. He also found a way to engage people who were coming to Vegas anyway, such as for a convention or just to gamble, and grab them to give lectures, etc. to boost the cultural cachet of his city.
Because Vermont is already a seasons vacation destination, this might be difficult to do from an accommodations perspective. But creating a way for people to be able to spend say a month a year there as a working vacation could be another way to inject more people into the state.
Another initiative Vermont undertook is something they call the "Stay to Stay Weekend." I believe the idea is that you vacation there, but tack on some extra time to be sold on the possibilities of the state as a place to live and work. I like this one a lot. It's similar to the Tony Hsieh crash pad initiative in Vegas, where he'd bring in people to stay for free in a block of apartments he owned there. This led to great press for him and allowed people to get exposure to his project they wouldn't otherwise have.
Similarly, it should be a much easier initial sell to get people to vacation in Vermont, and then when they are there you give them the sell.
This piece originally appeared on Urbanophile.
Aaron M. Renn is a senior fellow at the Manhattan Institute, a contributing editor of City Journal, and an economic development columnist for Governing magazine. He focuses on ways to help America's cities thrive in an ever more complex, competitive, globalized, and diverse twenty-first century. During Renn's 15-year career in management and technology consulting, he was a partner at Accenture and held several technology strategy roles and directed multimillion-dollar global technology implementations. He has contributed to The Guardian, Forbes.com, and numerous other publications. Renn holds a B.S. from Indiana University, where he coauthored an early social-networking platform in 1991.