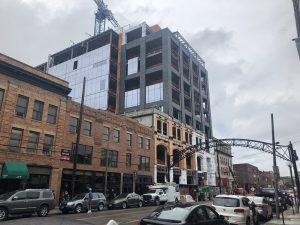 The Chicago Council on Global Affairs is hiring a research associate for their global cities program. If interested, check out the listing.
In 2009 I posted an article that proclaimed Columbus, Ohio "the new Midwestern star," a prediction which proved prescient. I won't go too much into performance right now as I'm planning an article on the subject, but just as one quick stat, Columbus has been the fastest growing major Midwest metro in population since 2010 at 9.0%, with a bit of a gap to the #2 performer Minneapolis at 7.3%.
Columbus is doing very well by Midwest standards but continues to lag the biggest Sunbelt boomtowns like Nashville and Austin. Many other Midwest cities have done pretty well – Indianapolis, Kansas City, and Minneapolis come to mind – but none of broken away to join the nation's major growth champions in either Sunbelt style growth or coastal style high end growth.
Can Columbus do it? I was there Friday and thought about the structural position of the city vs. some others, particularly Indianapolis which I know well. I believe I may have written about these before, but it's worth a refresh. Here are some of the structural factors – not performance indicators – that give Columbus a potential leg up in attempting to break out.
The first is the presence of Ohio State University, the state's flagship school and traditionally the largest college campus by enrollment in the country (though Texas A&M and the University of Central Florida have now passed it). Indiana's major schools are separated into liberal arts and engineering/ag and are located in college towns an hour or so from Indianapolis. Imagine if Indiana University and Purdue University merged and had their flagship campus near where the Children's Museum is on the Indianapolis mid-north side. That's a massive plus for Columbus.
The second is that the affluent streetcar-era suburbs of Columbus are separately incorporated actual or de facto enclaves with their own school districts, notably Bexley, Upper Arlington, Grandview Heights, and Worthington (and maybe others). These are equivalent to say the North Shore suburbs of Chicago in feel. They look pristine, with excellent infrastructure, etc. Indy's equivalent neighborhoods are all in the city proper and part of either the Indianapolis Public Schools or a township-wide system. Resultantly, they show disinvestment, much poorer infrastructure, and diminished property values relative to their architectural quality. The Columbus system can be critiqued on equity grounds, but there's little doubt it has boosted the fortunes of these white collar havens relative to Indianapolis, giving it an edge on recruitment.
The third is that Columbus was less industrial than Indianapolis and more white collar historically. Economic history matters, and this greater white collar orientation vs. the working class dominated Indianapolis is a big asset in the knowledge economy.
The fourth is that while both Indianapolis and Columbus have been thriving by sucking in people from the rest of their states, having comparatively little national draw, Columbus has a much bigger state to drain. This gives it a high potential flow level and longer runway than Indianapolis, which has already seen its demographic performance start to erode, I believe in part because the small towns of Indiana it traditionally drew from are starting to dry up.
The fifth is that Columbus has a better legacy built environment, notably the true urban commercial corridor along High St. I also get the impression that the city's older frame housing is bigger. There are more multi-story farmhouse type buildings and fewer worker cottages. Quality of in-town housing stock that can potentially be renovated is in some respects a limiter on growth. (Having said that, Columbus has plenty of dilapidated in city areas).
Columbus also has a couple of structural disadvantages.
The first is competition from other big cities in the state. Cleveland and Cincinnati were traditionally bigger, and there are many sizable others too.
The second is a related point that Columbus has a fairly small share of the state's population, and thus less heft in state level affairs. Combined with the above it means that the Ohio legislature can take a portfolio view of the world, whereas in Indiana the legislature knows that if Indianapolis fails the state is sunk.
The third is a weak brand stemming from the less distinctive name Columbus. Cities like Chicago, Detroit, Boston just have more distinctive names. Indianapolis is a mouthful, but you know what someone is talking about when they say it. This branding problem even extends to some suburbs like Dublin, an affluent analog to Carmel, Indiana. But whereas Carmel benefits from brand association with Carmel-by-the-Sea, California, Dublin's brand association with Ireland is positive, but working class.
Fortunately for Columbus, the structural disadvantages haven't come to the fore in reality because Cincinnati is essentially an isolate region, and the rest of the state has been in decline. It's not like Ohio has two boomtowns that a farm boy has to chose between.
On the other hand, Minneapolis-St. Paul has most of the same structural advantages of Columbus and they've failed to convert it though obviously have done well. They have the state's flagship school, actually dominate the state demographically, were even more white collar and probably have even better legacy urban building stock. Structural advantages aren't everything but they at least give a city a platform on which to take its shot.
This piece originally appeared on Urbanophile.
Aaron M. Renn is a senior fellow at the Manhattan Institute, a contributing editor of City Journal, and an economic development columnist for Governing magazine. He focuses on ways to help America's cities thrive in an ever more complex, competitive, globalized, and diverse twenty-first century. During Renn's 15-year career in management and technology consulting, he was a partner at Accenture and held several technology strategy roles and directed multimillion-dollar global technology implementations. He has contributed to The Guardian, Forbes.com, and numerous other publications. Renn holds a B.S. from Indiana University, where he coauthored an early social-networking platform in 1991.
Photo: Construction in the Short North, Columbus, Ohio