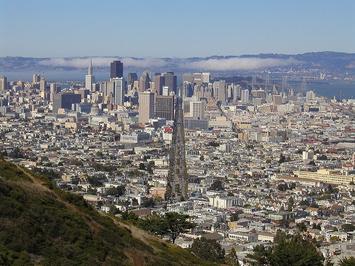 Noah Smith at Bloomberg has a new column where he provides another look at the geographic distribution of venture capital investing. Below is his chart of VC deals by market in 2017.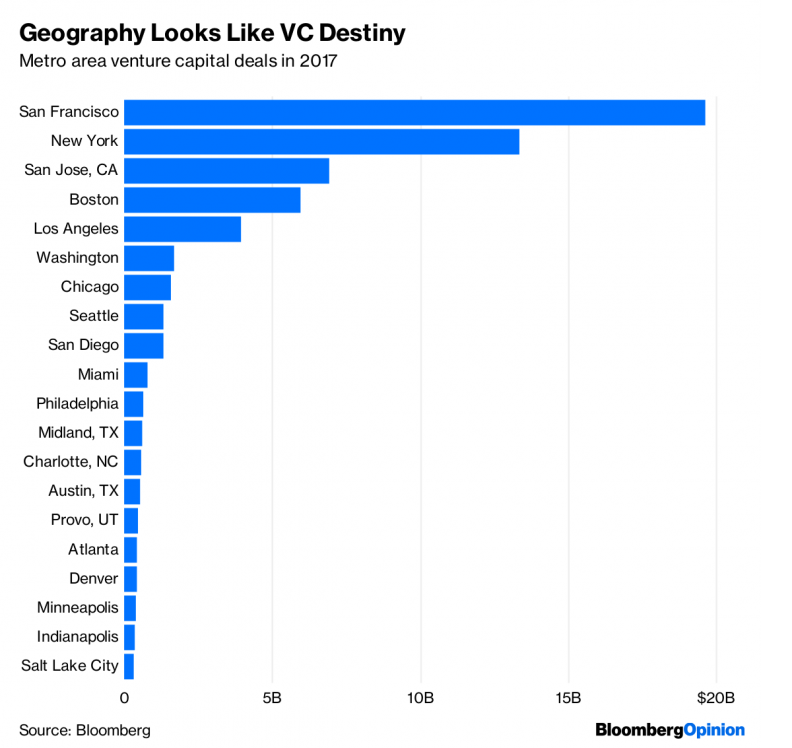 His take:
In 2017, three metro areas — San Francisco, New York and San Jose, California — took about two-thirds of the investment for the top 20 cities. Their share of the top 10 cities has actually increased since 2015, driven in part by super-sized late-stage financing rounds for companies like WeWork Inc., Uber Technologies Inc., and Lyft Inc.

There are a few signs that VC is starting to look beyond the traditional hubs in its quest for returns. In 2015, Bloomberg recorded VC deals in 119 metro areas; by 2017, that number was up to 141. New startup hubs like Columbus and Indianapolis are getting more attention. But more needs to be done to accelerate the spread of venture investment.
…
What can secondary cities do to overcome VC's caution? Carlson and Chakrabarti's interviews suggest five main policies. First, cities and their corresponding state governments should invest in upgrading their local universities, in order to produce a pool of talented engineers and managers. In addition, they should encourage local investors to become angels, creating the nucleus of a local investor community. They should improve access for VCs, with good airports and quality hotels. They should boost quality of life with appealing downtowns, while investing in the arts. And perhaps most importantly, they should focus on narrow clusters — such as biotechnology, robotics or agricultural software — instead of trying to become the next Silicon Valley. This latter approach, which has been used by cities like Pittsburgh, not only harnesses clustering effects, but probably helps with marketing as well.
Click through to read the whole thing.
This piece originally appeared on Urbanophile.
Aaron M. Renn is a senior fellow at the Manhattan Institute, a contributing editor of City Journal, and an economic development columnist for Governing magazine. He focuses on ways to help America's cities thrive in an ever more complex, competitive, globalized, and diverse twenty-first century. During Renn's 15-year career in management and technology consulting, he was a partner at Accenture and held several technology strategy roles and directed multimillion-dollar global technology implementations. He has contributed to The Guardian, Forbes.com, and numerous other publications. Renn holds a B.S. from Indiana University, where he coauthored an early social-networking platform in 1991.
Photo by Vincent Bloch [Public domain], via Wikimedia Commons