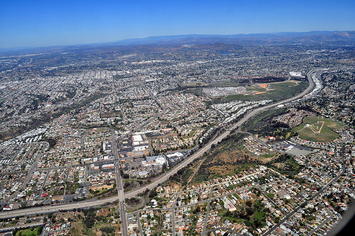 The homeownership rate in California equaled the national rate from 1950 well into the 1960s. Yet, by 2005, California's homeownership rate was 13.3 percent below the national average and the 49th lowest in the nation. In the second quarter of 2018, the homeownership rate in California was 54.3 percent, the third lowest in the nation, and 10 percent below the national average of 64.3 percent.
Yet, 86 percent of California families want to live in a single-family home, according to a 2006 poll.
Housing Affordability
Median single-family home prices in California equaled the national average as late as 1970. The median price is the point where half the homes sell for more and half for less. As more constraints were placed on development in California, median homes prices began to increasingly exceed the national average. In October 2018, the median home price in California was $535,000, compared to the national average of $275,000.
A home is deemed affordable if rent or house payments are 30 percent or less of a household's gross income.
Only 26 percent of California households earning the statewide median income could afford to buy California's median-priced single-family home, in the second quarter of 2018, a 10-year low, and down from 29 percent a year earlier.
California remains among the nation's least affordable markets for housing. California homeowners spent an average of 21.9 percent of their household income on housing costs, the 49th worst in the nation in 2016, while renters spent 32.8 percent, the 48th worst.
Housing affordability is decreasing. For example, families in the Inland Empire with a median income of $61,200 needed to allocate 22.7 percent to pay for principal, interest, and taxes on a median-priced, $293,2000 home in 2016, compared to 12.7 percent in 2009.
Progressivism in Land Use Policies
The widening disparity between California and national homeownership rates and home prices originates from Progressive legislation and court rulings in the 1970s that placed increasing numbers of constraints on new home development in California.
For example, the California Environmental Quality Act (CEQA), was enacted in 1970. The Friends of Mammoth decision by the California Supreme Court in 1972 mandates environmental review of private projects. CEQA was applied to housing developments. This decision compels state and local agencies to consider the possible adverse effects of housing projects on the environment. The decision does not consider the benefits of housing.
CEQA increases the time, cost, and uncertainty involved in getting housing projects approved. California's 10 largest cities averaged 2 ½ years to approve housing projects that required a CEQA Environmental Impact Report, according to a March 2015 report by the state's nonpartisan Legislative Analyst's Office. Only four other states have comparable requirements.
CEQA provides a means for litigation against homebuilders and developers. Growth opponents, often called NIMBYs, an acronym for Not In My Backyard, often use CEQA lawsuits to derail projects. As a result of CEQA lawsuits, many proposed housing projects are abandoned or scaled back, resulting in fewer new homes being built, and higher costs for the homes that are built.
The federal Endangered Species Act, enacted in 1973, has resulted in millions of acres nationwide being removed from the available developable land of growing metropolitan areas, thus restricting home development, and substantially driving up land prices.
Government, beholden to environmental activists, has taken ownership of vast areas, reducing the supply of developable land. California protected areas administered by public agencies and non-profits have a total area of 49,253,020 acres, or 47 percent of the total area of California. More than 3.7 million acres in California have been covered by regional Habitat Conservation Plans, resulting in more than 1.5 million acres of conserved and managed habitats. An additional 29 million acres are in the process of being regulated through regional HCP/NCCPs.
The Petaluma decision by the U.S. Supreme Court in 1975 upheld the state's first growth control measure, and affirmed that local governments can limit new housing construction to a specified number each year.
The California Coastal Act, enacted in 1976, gives State jurisdiction to lands up to five miles inland and mandates development approval by the California Coastal Commission, thus further constraining the supply of new housing. The Act provides yet another barrier to affordable housing.
The California Legislature passed requirements in 1971 that a city's zoning and subdivision approvals must be consistent with an adopted general plan, thereby dictating land use policies. After 1971, the general plan became the "constitution for future development." Within five years, after two decades of relative stability, housing prices doubled. The doubling of prices occurred because, although demand for new housing in California remained constant, supply of new housing was drastically reduced. "This drastic reduction in supply was caused because government began to 'plan' to meet the needs of the citizens of California, instead of allowing those same citizens to arrange with others how to meet those needs," wrote then-State Senator Ray Haynes. The scarcity of land zoned for new housing has caused the cost of land, housing's basic raw material, to skyrocket – a major factor in the cost of producing new housing.
Under California law, each local jurisdiction needs to conduct a Regional Housing Needs Assessment every five to eight years, then zone enough land to ensure there is adequate housing for all income levels. The California Department of Housing and Community Development announced that 526 California cities and counties (98 percent) failed to meet their minimum homebuilding goals in February 2018.
"Without planning, we are told, we would have overcrowded streets and freeways, overcrowded schools, expensive houses and apartments, urban sprawl, a deteriorating inner city, insufficient water and sewer capacity, and few parks or sports fields. We have had planning for more than 25 years in California, and we have overcrowded streets and freeways, overcrowded schools, expensive houses, expensive apartments, urban sprawl, a deteriorating inner city, insufficient water and sewer capacity, and few parks or sports fields. So what has planning given us? Just more government," wrote Ray Haynes.
The result of government's Progressive land use policies is that homebuilding cannot keep up with demand, creating a shortage of homes, which drives prices and rents higher, to the point of being unaffordable. California ranks last in the nation in home construction on a per capita basis. Less affluent homebuyers increasingly face unaffordable housing costs, long commutes, overcrowding, and squalor.
The constraints on homebuilding and the increasing housing costs are resulting in increasing homelessness. Factoring in housing costs, California's poverty rate is the highest in the nation.
Solutions
The solution to California's housing crisis and homeless crisis is to build more homes. The solution to affordable housing is to encourage additional private, market-rate housing construction.
In order to build more homes, California needs to reduce its over-regulation, to make it easier to build. For example: speed up the permitting process by streamlining development reviews. Reduce mandates and related construction costs. Ensure that a sufficient supply of land is zoned to meet a community's housing needs, including single-family homes, condominiums, townhomes, and apartments. Development impact fees, the costs of which are passed along to homebuyers, must pay only for the actual costs of providing services and infrastructure for the project.
California needs to make increased homeownership a priority.
Bruce Colbert, AICP is executive director at Property Owners Association of Riverside County. He can be contacted at (949) 689-4480 or bcolbert@poarc.com.
Photo: Joe Mabel [GFDL or CC BY 3.0 ], via Wikimedia Commons