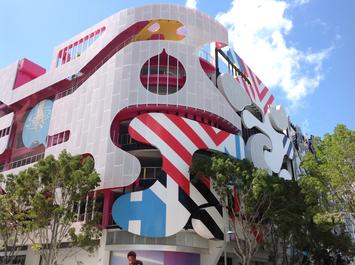 I scratched my head over this one for a while before I eventually came around. Give me a minute to come full circle here.
This is the latest architectural statement in Miami's trendy Wynwood neighborhood. Faulders Studio and Wolfberg Alvarez Partners created an eight story garage meant to be a catalyst for the larger neighborhood. The high design celebrates the building on its own terms and is intended to be a cultural icon in its own right. The skin of the building is made of movable panels that can be swapped out with new art installations over time.
A multi story garage is expensive relative to a surface parking lot. Rigorously engineered steel and concrete come at a premium compared to a thin schmear of asphalt and a couple of curb cuts. Parking decks are justifiable when land values are sufficiently high. But a garage can also boost the value of surrounding real estate in a reciprocal fashion. Not coincidentally many nearby properties are owned and managed by the same small group of influential investors. This particular structure was financed through the sale of a vacant 1.25 acre lot that recently sold for $30M.