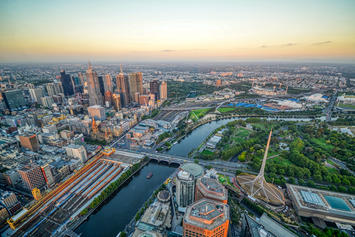 With new forecasts of record population growth across Australia's major capital cities over the next few decades and affordability remaining a challenge, is it time to reconsider the core principles and policies that guide the management of this growth?
The accepted wisdom that we should be simply directing development and people towards higher density living in our major cities, especially Melbourne and Sydney, is increasingly being challenged by many buyers and households who continue to vote with their feet and move to more affordable locations - including greenfield suburbs, peri-urban locations and regional centres – many of whom are seeking the traditional detached house.
Two recent reports have highlighted current and emerging trends about how our cities might evolve in the future and what the opportunities and challenges might be
Recent population projections by the Victorian Government suggest Greater Melbourne could have a population of nine million by 2056 with a full state population of 11.2 million, up from 6.5 million in 2018. Greater Melbourne is expected to grow by 1.6% every year while the rest of Victoria could grow by 1.0% every year.
How do we deal with this growth?
The CSIRO's latest Australian National Outlook 2019 (ANO) suggests the country could face a 'Slow Decline' if we do not take action on our most significant economic, social and environmental challenges.
The report highlights several key shifts that are required to meet these challenges and maintain our high standard of living, including a focus on greater densification of our cities.
"An urban shift will enable well-connected, affordable cities that offer more equal access to quality jobs, lifestyle amenities, education and other services," the report said.
The report notes that the 'shift' could potentially be achieved by planning for higher-density, multi-centre and well-connected capital cities to reduce urban sprawl and congestion, creating mixed land use zones with diverse high-quality housing options and investing in innovative transportation infrastructure.
However, policies that direct most people into higher density housing options in our major cities do not always reflect the needs or aspirations of buyers and households.
Affordability constraints and the fact that many households, especially young and established families, prefer a detached house should be carefully considered when advocating for increased density as a 'one size fits all' policy.
While increased densities in our major cities are one way of coping with rapid (and often unexpected) population growth it is worthwhile considering what buyers, families and households want and what the alternatives might be.
Young people are increasingly abandoning expensive coastal cities (where apartments are the main housing option for new property market entrants) in favour of more affordable locations where they can purchase single-family homes.
The reason is simple. Although many younger people who want to live and work in wealthy coastal capital cities, they often have little choice but to become permanent renters, usually in smaller apartments. They are keenly aware that home ownership is critical to long-term financial security and family formation.
In response, four-fifths of home buyers under 35 in America choose to purchase single-family detached houses in the suburbs. Since 2010, around 1.8 million Americans have moved away from the urban core of major metropolitan areas. They have opted, instead, to move to lower-density areas where single-family houses are the norm.
Some commentators have argued that the push for densification of our cities is not the result of market conditions but the concerted efforts by some who want to fundamentally alter the way cities are built.
Arguably, responding to actual market needs and addressing key issues like affordability and declining home ownership figure less prominently.
While not often highlighted, we see a similar phenomenon in Australia where our greenfield and other outer suburbs and peri-urban areas are popular with many buyers and households. However, in these markets, supply falls short of demand.
We are also seeing many regional centres across the country experience rapid population growth.
While increasing density across our urban areas represents one important tool for accommodating a burgeoning population, it cannot be the only strategy when we are dealing with a complex range of issues especially those that relate to how and where people want to live and raise a family.
Rather than looking to simply transform Australian cities and urban areas into densely populated metropolises, we should be more nuanced about how we will build the cities of the future with individual and family choice and market aspirations taking a key role in our thinking.
George Bougias is an economist, adviser and strategist specialising in real estate. He is the National Head of Research for Oliver Hume Corporation, one of Australia's leading residential property funds and real estate services groups, and leads the firm's in-house strategic research team. George has extensive experience across both private and public sectors, analysing and advising on Australia's diverse property markets for government, private real estate developers and corporate and institutional clients. During his time in government George served as an advisor to the Innovation Economy Advisory Board (the Victorian State Government's highest economic advisory body) and as an economist in the Department of Treasury and Finance and Department of State Development (Victorian State Government). He is a graduate of the University of Melbourne with a Bachelor of Commerce (Honours), majoring in economics, and a Bachelor of Arts, majoring in political science.
Photo credit: Jorge Láscar, via Flickr, using CC License.