By Richard Reep
As in many places, the poor economy is forcing many families in affluent Winter Park, Florida to make some necessary adjustments. One of the most basic adjustments relates to shopping for food and staples. In better times, Winter Park was ruled by two Publix supermarkets and a Whole Foods. Grocery-cart conversation among friends became a common event; now this smooth, middle-class lifestyle pattern has been disrupted.
Hard times are driving people to less intimate settings, largely to Wal-Mart and other discount stores, whose offerings and management are largely interchangeable between places. In this way hard times could be shifting the pendulum swing away from localism and towards globalism. For now, Wal-Mart's globalism offers the advantage of low prices, overcoming the disdain that many in Winter Park expressed at this store; for it is the antithesis of Winter Park's treasured shopping culture epitomized by Park Avenue, a quaint strip of unique boutiques. Even if you did buy those steaks at Wal-Mart, you didn't exactly advertise the fact at your dinner party.
Winter Parkers had thought that their basic food needs had been comfortably institutionalized. As neighborhood touchstones go, Publix is Florida's gold standard. Winn-Dixie, Albertson's, and other competition paled in comparison to the customer loyalty that Publix brought. Their brands weren't much different, and neither were their prices. There was just something about that kelly green logo that inspired people to integrate Publix into their own personal culture and lexicon.
For years, this chain has built a loyal following in Florida. Good customer service, great store brands, convenient and quality stores all contributed to their preeminence in the grocery market, and allowed them to expand in the Southeast. Today, however, Publix is challenged by its own reputation, and has become vulnerable to competition as local shoppers tighten their pocketbooks.
Winter Parkers had two choices between their Publix: Hollyanna and Lakemont. The brand veneer, both in content and in form, was subtly bent to suit local tastes. People referred to their favorite as "my Publix", and even when the Baldwin Park Publix opened in 2003 closer to many folks, their loyalty with their particular store kept them from going to the Baldwin Park store. (Its architecture doesn't help; this storefront might have been designed by Albert Speer).
Suddenly, however, Publix faces real competition from stores that traditionally do not overlap with its market share. This Lakeland-based company, which boasts an excellent reputation, finds itself now with both emptier parking lots and smaller cash register totals. What's going on here?
At the Lakemont Publix, the organic produce area has grown, in direct response to hip, organic Whole Foods up the street. Whole Foods, however, is suffering mightily in this economy – who needs $8.00 strawberries? If you are skeptical about this, a tour of their largely deserted parking lots and front entry areas on Sunday afternoon, when grocery shopping is near-peak, can be quite telling.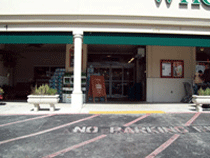 Whole Foods has some great parking spaces right near the front door, and the entry area, usually clogged with shoppers, seemed to be nearly desolate. A few students sat at the bistro tables tapping on laptops; not the usual rich scene for this upscale store.
Publix at Lakemont also had some great parking spaces right near the front door, and an even more desolate entry area. In fact, where are the Girl Scouts?

Where have all these people gone? The answer lies up State Road 436 to the left, ladies and gentlemen - Wal-Mart! Parking near the front...forget it. At the entry, a line of people going in and full shopping carts coming out! And the Girl Scouts are smart enough to realize that this is where the local culture is going these days! Is Wal-Mart the new Publix?
As everyone is frantically re-tooling their own personal economy, Wal-Mart has become the grocer of choice for more and more of Winter Park. Are the prices really lower? A little bit. Will Publix adapt to the new, changing times to meet this challenge? For this 79-year-old Florida-based grocery store chain, and all its loyal (but more loyal to their checkbooks) customers, we certainly hope so.
The buying power of globalism continues to disrupt and shift local patterns. As Wal-Mart, Costco, and others compete in this New Economy, local and regional chains need to react quickly to gain back their customer base, or they will find themselves in for a difficult struggle to regain lost ground.
Richard Reep is an Architect and artist living in Winter Park, Florida. His practice has centered around hospitality-driven mixed use, and has contributed in various capacities to urban mixed-use projects, both nationally and internationally, for the last 25 years.