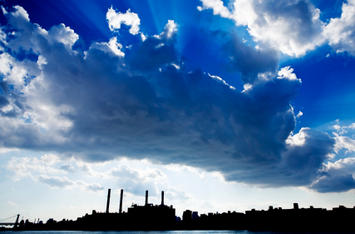 The answer may surprise you.
Ever since we started ranking the Best Cities for Doing Business in 2004, the bottom rung of the rankings has been largely dominated by older industrial cities where factories have long been abandoned and once booming economies have dried up. The 2008 list bears this sobering fact; among the largest regions surveyed, Detroit sits on the bottom at No. 66, with Warren Troy-Farmington Hills, Mich., Cleveland, Providence, R.I., Philadelphia, and the New York twins -- Rochester and Buffalo -- doing only slightly better.
The same pattern can be seen on the lists of midsize and small cities, where the bottom rankings consist largely of former industrial towns along the Great Lakes belt, including Ohio, Michigan, and Indiana. Dayton, Ohio, falls last at No. 96, lying at the bottom of the midsize list of cities. Among the small metros, Battle Creek, Mich., languishes at No. 173, with Michigan cities Saginaw and Flint doing only slightly better.
So given this persistent underperformance, is manufacturing weighing down the U.S. economy? The answer may surprise you. Even though the industrial towns dominated by what used to be called the Big Three automakers (General Motors, Ford, and Chrysler) and their suppliers have been devastated by slumping sales, a host of other manufacturing regions have emerged as strong performers. For the most part, the largest beneficiaries of these changes are located either in the Intermountain West -- the region between the Rocky Mountains and the Sierra Nevada, and the Sun Belt region stretching across the southern bottom of the country. Here, U.S. car makers are not well represented and smaller communities with a host of specialized industrial companies have expanded in the face of tough times.
For example, large metros, such as Las Vegas (No. 8), Houston (No. 3) and Salt Lake City (No. 4), have attracted specialized industrial companies from high-cost, high-regulation locales like California, including aerospace, electronics, and industrial equipment. All these areas have experienced industrial job growth since 2000; Las Vegas alone has seen its number of manufacturing jobs grow by more than 30 percent.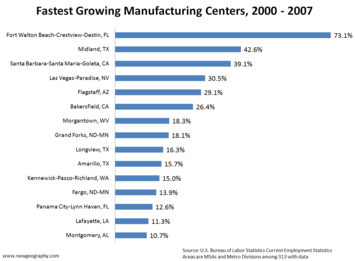 But much of the action is in smaller areas. Many of them, like Midland, Texas, (No. 1); Longview, Texas, (No. 11); and Morgantown, W.Va., (No. 15), are tied to energy production. Such places have experienced 15 percent or more industrial job growth since 2000.
Another hot spot is in the Great Plains. Many cities in the region have attracted sophisticated manufacturing firms in technology, farm machinery, and electronics as well as an expanding number of energy-based companies ranging from oil, gas, and coal to wind power. Grand Forks and Fargo, N.D., No. 56 and No. 28 respectively, have experienced a quiet industrial boom, increasing their manufacturing jobs by more than 14 percent since 2000.
Already home to numerous agricultural implement firms, the largest manufacturer in Grand Forks is LM Glasfiber, a Danish manufacturer of propeller blades for windmills. Since the North Dakota office opened in 1999, it has expanded from 20 to 900 employees. Plant Manager Ralph Sperrazza says he appreciates the loyalty and dedication of the employee base, many of whom are returnees from larger metropolitan areas such as Minneapolis.
One effect of LM, local economic development officials reveal, has been a notable tightening of the labor market and an increase in wages in Grand Forks. The same result, notes North Dakota State Economist Larry Leistritz, is occurring elsewhere in the region as other core industries, ranging from energy and office furniture to farm equipment, have enjoyed rapid growth.
"These are the best times we've seen in many decades," Leistritz beams. "And it is being felt broadly across the entire society."