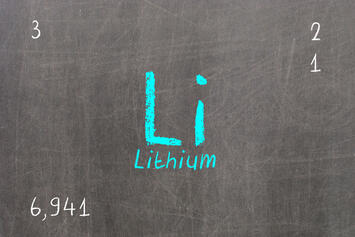 After his mandate to transition to electric vehicles (EVs), President Joe Biden then signed The Inflation Reduction Act (IRA) that requires EVs to contain a battery pack and other parts built in North America with minerals mined or recycled in America. With the chance of strip mining for lithium in America being slim to nil, no EVs will qualify for the tax credits in the IRA.
Biden's goal of 50% EV sales by 2030 will test lithium supply chains and the economic strength of the American society to meet those projections without any subsidies to procure those vehicles.
While the race is on to produce more lithium in the United States as the supply chain for the major component of EV batteries, lithium, is already being compromised internationally. The following international dark clouds on the lithium supply chain may be a prelude to an American rejection of strip mining in the most environmentally regulated and controlled communities in the world:
A proposal by the European Chemicals Agency's (ECHA) risk assessment committee is aimed at labelling three lithium compounds as dangerous for human health. The compounds include lithium carbonate, chloride, and hydroxide. The final decision is expected to be made in late 2022 or early 2023.
Earlier in 2022, Chinese EV giant BYD Co. won a government contract to mine lithium in Salar de Atacama, Chile – a huge chunk of terrain that holds 55% of the world's known deposits of lithium. But before the company could tap into that resource, indigenous residents took to the streets and demanded the tender to be canceled over concerns about the impact on local water supplies. In June, the Chilean Supreme Court threw out the award, saying the government failed to consult with indigenous people first. In America, we call these local and environmentalist folks, NIMBY's (Not-In-My-Back-Yard).
Initiatives to open mines and ore processing plants such as the ones in Serbia and Portugal have caused a public uproar as environmentalists and the local population are fearful about the impact on nature and people's livelihoods. In other projects, engineers are trying to make the extraction of lithium from geothermal waters cost effective and harmless, without any mining. Currently, Portugal has called off a lithium project amid EU's scramble for battery materials.
Due to potential fires, the Federal Aviation Administration (FAA) prohibits in checked baggage, spare (uninstalled) lithium metal batteries and lithium-ion batteries, electronic cigarettes and vaping devices. They must be carried with the passenger in carry-on baggage. Smoke and fire incidents involving lithium batteries can be mitigated by the cabin crew and passengers inside the aircraft cabin.
Since you've probably read about EV fires, here's a site that keeps tabs just on TESLA EV fires, Tesla Fires as of 8/19/2022 were 97 confirmed cases and Fatalities Involving a Tesla Car Fire count were 38. Shockingly, while the Feds are banning lithium batteries in checked luggage on planes due to potential fires, Biden is pushing them for vehicles.
The actions of the Biden government and the Environmental, Social and Governance (ESG) divesting in fossil fuels movement are currently supportive of jumping onto the EV train, but Biden and the "ESG-ers" may be oblivious that EV's have a very dark side of environmental atrocities, and the non-existing transparency of human rights abuses occurring in other countries. Both are directly connected to the mining for the exotic minerals and metals that are required to manufacture wind turbines, solar panels, and EV batteries.
Read the rest of this piece at CFACT.org.
---
Ron Stein is an engineer who, drawing upon 25 years of project management and business development experience, launched PTS Advance in 1995. He is an author, engineer, and energy expert who writes frequently on issues of energy and economics.
Photo: Courtesy CFACT.