In a recent YouTube video Avoid These Cities (Housing Crash 2022) EPB Research provides an analysis of the national market. In general, West Coast is bad and East Coast is OK, especially the southeast. The overly regulated western states with higher raw land prices and huge city fees result in higher home prices. The 25% rule: Historically the financial model is 25% (or less) of a final home price is a 'finished' lot.
For those interested in developing land you could derive that it might be a wise move to move the operation in the better performing areas.
However, there is a larger problem the study does not address – the lack of character of both the home and neighborhood.
As costs rise and homes must be competitive – developers often think the quality of their offerings must be reduced to make up for rising costs (and interest rates). In other words, the home as a product can become far less desirable, thus home sales plummet.
This would be a typical new major builder example (above). An 1,800 square foot home in a cookie-cutter California project, for just over $500,000. It's essentially a garage door and a door. A characterless 30' wide and deep box on a narrow lot with little space to view.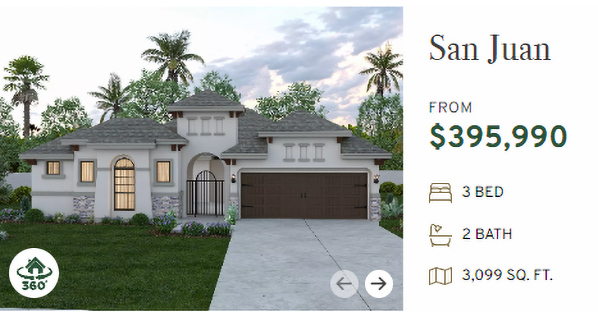 Compare the above to a home in Aqualina at Tres Lagos in McAllen, Texas, a spacious neighborhood within an incredible Master Planned Community with lake views.
Let's look at the Minneapolis (Twin Cities) market. Unlike other major markets, the Twin Cities is facing problems larger than the rising interest rates – post George Floyd dislocation combined with Minneapolis social engineering changes to punish car traffic and promote biking (in 20 below zero weather) the once vibrant city is in shambles.
More than 1,400 businesses have fled the core city in the past two years. We can assume many if not most have either closed for good or moved to the safer suburbs. Some may have left the State for regions less taxed and with less social engineering policies (the ability for customers park near the business). So, in the Twin Cities, unlike the other major markets there are many other factors in play that would likely impact new home sales.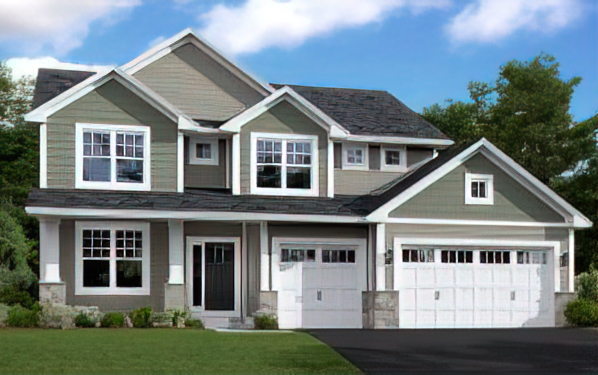 This is what that $500,000 budget ($527K) will buy in the suburban Twin City market by a major builder. It's a nice looking 4 bedroom, 2,700 sq.ft. home with a 3-car garage and full front porch. A nice home and a good value.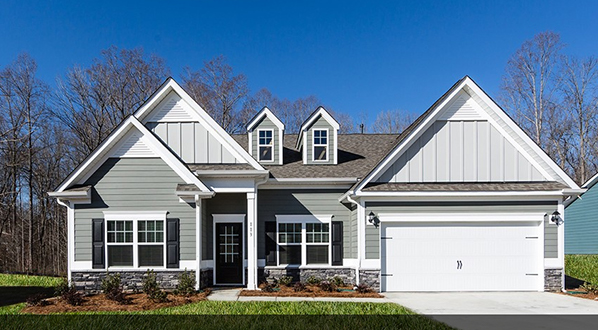 The EPB Research study indicates the eastern coast is doing quite OK. Let's look at a new home in Charlotte area in North Carolina by a Major Builder. For $450,000 this 2,300 sq.ft. home could be yours. We can only assume that raw land values are less east coast states than west coast states.
EPB Research study creates an accurate snapshot of what the market trends have recently done, but there are other factors that may be at play here. Developing in a downward trending region may not be the best idea.
As part owner of Noble Development, a few years ago (before increased interest rates) we were seeking land in Texas or the Carolina's avoiding the Twin City market for the above reasons.
Two years ago, we tied up a 520-acre tract in Rochester, Minnesota with city services 10 minutes from the world famous Mayo Clinic. Today, Phase One of The Ponds at Highland Hills, is open for lot sales.
We turned down many sites in many locations before this one came up that checked all of the right boxes:

Is the site in an economically growing area? (YES)

Is that area likely to continue to grow? (YES)

Was the cost of the raw land realistic? (YES)

Is there a need for the home types being proposed? (YES)

Does the site have immediate services? (YES)

Are cost of city fees reasonable? (YES)
The above are criteria we used to determine moving forward with a development. If the site had checked NO on the above criteria we would have passed.
In a generally downward market, status quo no longer applies, to succeed the end product has to be more competitive. These are the steps we took to accomplish it:
All other regional development utilizes standard suburban land use transitions. They all place the highest density and lowest cost products at the entrance to their projects. We placed the lower priced housing at the back of the neighborhood. This showcases the neighborhood better.
All other Rochester projects have homes that 'rear' the arterial streets which places main living spaces and bedrooms along noisy corridors. Our neighborhood showcases home fronts – a far more attractive and inviting solution, while providing more serene places for the residents.
All other projects have homes aligned at the exact same setback. Ours have an open and spacious park-like streetscape that eliminates monotony, provides expanded viewsheds from within the homes, and invites a stroll along beautiful meandering walkways connected to all home porches.
In our neighborhood, a full front porch can be built within the front yard setback so that the builder does not have to sacrifice home interior space.
The main trail system was designed first –guaranteeing better pedestrian connectivity when the full 520 acres is fully developed.
For maintenance free living we offer Garden Villas (also known as BayHomes) that obsolete luxury townhome alternatives.
All lots are sold with advisory services to make sure the builder's architect is taking full advantage of the expanded views each home setting offers.
The above 'value-added' elements can be typical of any development, but are 'typically' never included. Instead without innovative alternatives, as price pressures increase, home 'value' can decrease.
Let's revisit that narrow home in California
This type of product is a direct result of either extremely high land prices or overly jealous developers seeking maximum profits – or a combination of both.
Developing land is not an instant product. This EPB Research study is a snapshot of 'now'. If someone wanted to tie up a tract of land, design a development, submit the layout, engineer the project, get it approved, and ultimately built to sell lots to builders, in a perfect world it takes a few years, more than likely quite a few years. Certainly, that EPB Research study snapshot of trends will change in some areas for the better – others perhaps worse.
What will not change is that a bland development lacking character has less chance in a down market to succeed.
When the cost of raw land (i.e. West Coast) rises so high that the 25% rule mandates extreme density, this reduces money that could be applied to architectural character to maintain some level of affordability the market ultimately responds.
In the more attainable areas with beautiful housing – it's the more reasonable priced raw land that allows more funds to be applied to delivering 'more house'. This also influences the flow of population to other areas.
It's not only a case of costs that will drive housing growth, but the degree of comfort, safety and functionality offered to the buyer.
---
Richard Harrison is president of Rick Harrison Site Design Studio & Neighborhood Innovations, LLC. Rick is known for his innovations in methods and technologies for the design & construction of sustainable land development and architecture that have economic, social and ecologic benefits over conventional design. Harrison's career spans 53 years in Land Planning, Civil Engineering, Land Surveying, Land Development, and over 43 years in Computer Software Development. His book Prefurbia: Reinventing Land Development: From Disdainable to Sustainable, has received many favorable reviews, and has been updated for Post-recession economy.