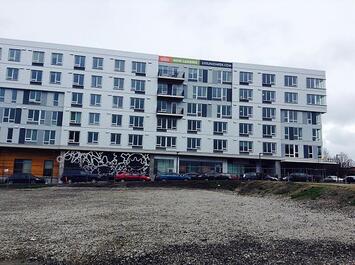 Oregon's new governor, Tina Kotek, has made housing her top priority and has proposed a number of unrealistic and idiotic remedies to high housing costs and homelessness. For one, she wants spend $54 million to house 1,200 people for one year. That's $4,000 a month per person. Of course, a lot of that is probably going to go into various housing bureaucracies.
Kotek's long-term goal is to see 36,000 housing units built per year in Oregon, which five times more than has recently been built. The state has not built 36,000 housing units for 50 years, which by an extraordinary coincidence is when the legislature created the state's land-use planning process that restricts rural development.
I don't believe in conspiracy theories because the democratic societies are too complicated for anyone to take control behind the scenes. But I can't help but feel this is all part of a plot to force low-income people — you know, the "deplorables" — into crowded housing where the rest of society won't have to deal with them any more, except as servants.
First, use urban-growth boundaries to drive up housing prices. Second, use tax dollars to build high-density housing that few people want to live in. Third, profit from that construction and funnel some of the profits into the political campaigns of the party that claims to be on the side of the working people.
Meanwhile, earlier this week, a bunch of market urbanists went to Helena, Montana to promote their ideas of density as a solution to high housing prices. The 2010 and 2020 census both found that all the urban areas in the state covered a whopping 0.2 percent of Montana land. But the market urbanist message is that single-family zoning is the cause of the state's high housing prices.
Housing is actually pretty affordable in Billings, Great Falls, and Helena, but it's more expensive in Bozeman, Kalispell, and Missoula. All six cities have single-family zoning, but the last three are in counties that have put pretty severe restrictions on new development.
The main speaker at this conference was Nolan Gray, formerly with the supposedly free-market Mercatus Center and now with California YIMBY. When someone in the audience asked why the state needed density when so much of the land was rural, Gray praised the rural land-use restrictions, saying they helped to protect the environment.
Other speakers included Emily Hamilton, who is also with Mercatus, and Kendall Cotton, of the supposedly free-market Frontier Center, a state think tank. I've debated Hamilton in the past; she pretended that the San Francisco Bay Area was out of land because it bordered the Pacific Ocean, as if north, east, and south no longer existed. When I pointed out that nearly 70 percent of Bay Area counties was rural open space, she ignored me.
All of which convinces me even more that the market urbanists are really just new urbanists who have infiltrated the free-market movement. If free marketeers aren't going to defend American's right to live in the kind of homes they choose, who will?
This piece first appeared at The Antiplanner.
---
Randal O'Toole, the Antiplanner, is a policy analyst with nearly 50 years of experience reviewing transportation and land-use plans and the author of The Best-Laid Plans: How Government Planning Harms Your Quality of Life, Your Pocketbook, and Your Future.
Photo: Someone's idea of affordable housing Portland, because everyone knows that people move out West so they can live in a cramped apartment. Courtesy The Antiplanner.