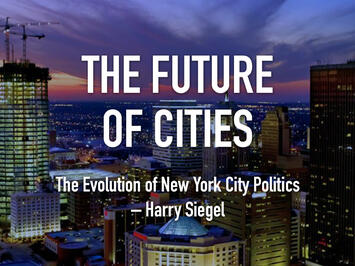 It's always been a mug's fame to best against New York City, which was counted out only to quickly bounce back after 9/11 and again in 2008 after the financial system nearly collapsed and took the world economy with it. But too many New Yorkers, caught in a wave of optimism after getting through the worst of the pandemic, haven't realized how challenging the years ahead will likely be, how far behind the national recovery the city already is, and how much deeper the problems go than those COVID-19 exposed and exacerbated.
This book is being published as a series, with permission of the American Enterprise Institute. Each week a new chapter will be published, with links to each chapter.
Click or tap a link below to read or download each chapter. (PDFs open in new tab or window)
The Evolution of New York City Politics – Harry Siegel (new this week)
---
Harry Siegel is a columnist for the New York Daily News and the creator and cohost of the FAQ NYC podcast.
Read the Series:
Introduction: Welcome to the Urban Future – Joel Kotkin
I. The Big Picture for Global Geography
American Aspiration is Metropolitan – Ryan Streeter
The Urban Future: The Great Dispersion – Wendell Cox
The Future of the Big American City is Not Bright – Samuel J. Abrams
II. The Variety of Urban Experiences
The Future of Chinese Cities – Li Sun
Africa's Urban Future – Hügo Krüger and Bheki Mahlobo
Recalibrating Expectations: Lessons from Youngstown, Ohio – Sherry Lee Linkon and John Russo
The Texas Triangle: An Emerging Metropolitan Model in the Lone Star State – J. H. Cullum Clark