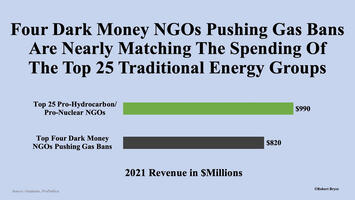 Last Tuesday, Rewiring America announced that it has hired Georgia politician Stacey Abrams to help the group "launch and scale a national awareness campaign and a network of large and small communities working to help Americans go electric."
In a press release, Abrams, who will hold the title of "senior counsel" said she is "excited to join Rewiring America to share the benefits of electrification and ensure families get their fair share. I look forward to working together as we build the tools that will transform everyday Americans from energy consumers to energy moguls."
Abrams, a Democrat who served in the Georgia House of Representatives for 11 years, ran for governor of Georgia two times but failed in both attempts against Republican Brian Kemp. Abrams famously refused to concede in the 2018 race and claimed the election was "stolen."
Rewiring America is part of the NGO-industrial-corporate-climate complex that, as I reported here last month, is now spending some $4.5 billion per year to promote anti-industry policies. While their agendas vary, the anti-industry NGOs are generally trying to mandate increased use of weather-dependent renewables, hinder (or stop) hydrocarbon production, prevent the construction of new hydrocarbon infrastructure, mandate building electrification, and of course, ban the use of natural gas in homes and businesses.
As I explained in January, Rewiring America's mission to electrify everything, ban the use of natural gas in homes and businesses, (and gas stoves), is part of a years-long, lavishly funded campaign that is being bankrolled by some of the world's richest people. But here's the pernicious part: the big-money donors backing Rewiring America, and other groups pushing the gas bans, are hiding their identities behind a dark money network of NGOs that are purposely obscuring their funding and the groups they are bankrolling.
Since last month, when I published "The Anti-Industry Industry," I have been delving into the myriad interconnected NGOs that are pushing for bans on natural gas. This dark money network has a skein of overlapping funders, directors, and employees. Rewiring America, which has about 40 employees, is among the most prominent members of this dark money network. The group doesn't publish its budget or file a Form 990. Instead, it is a sponsored project of the Windward Fund, a 501c3 non-profit that does not disclose its donors. Nor does it reveal how much it is giving to Rewiring America.
Read the rest of this piece at Robert Bryce Substack.
---
Robert Bryce is a Texas-based author, journalist, film producer, and podcaster. His articles have appeared in a myriad of publications including the Wall Street Journal, New York Times, Forbes, Time, Austin Chronicle, and Sydney Morning Herald.
Chart: courtesy Robert Bryce Substack