Beyond the cacophony currently surrounding the highly combustible subject of overseas migration, there is an evolving sub-plot in which the narrative reveals a less substantial, but meaningful migratory phenomenon. Understanding it is critical if we are serious about addressing Australia's worsening housing woes.
While the current rhetoric is focused on the exaggerated potential of the so-called 'Missing Middle' and Build to Rent model to fix the housing crisis, a growing number of young Australians are increasingly trading off location in pursuit of home ownership.
Internal Migration on the Rise
Commencing with the onset of the pandemic, recent changes in patterns of internal migration signify emerging behavioural shifts influenced by life stage and aspiration, against a backdrop of diminishing affordability, especially in the nation's largest cities. These shifts are evident in both the rate and the destination of movers, most likely to be in the 20–35-year-old age cohort. New research commissioned by the Regional Australia Institute suggests this is likely to continue, with one in five metropolitan Australians wanting to relocate to regional Australia to reduce their cost of living, avoid traffic, and minimise stress.
Shifting Patterns
While international arrivals continue to flood into Victoria and New South Wales, both states lose more people interstate than they gain. For NSW, this is the continuation of an established long-term pattern, the result of Sydney's exorbitant house prices.
Commencing with the onset of the pandemic, Victoria, on the other hand, is now three years into reversing a ten-year-long trend in which it gained more people from interstate than it lost. For seven years, Melbourne was considered the 'most liveable city' on the planet. Despite its median house price increasing by 60% over this time, it remained less expensive than Sydney but with broadly equivalent job opportunities.
Enticing Millennials from far and wide, Melbourne's ability to accommodate an influx of interstate twenty-somethings was enabled by the development of an unprecedented volume of rental properties in the form of CBD apartments. Such was its allure, that between 2013 and 2016, Victoria attracted more interstate migrants than Queensland for the first time since at least 1981.
Following the onset of the pandemic, Victoria quickly lost its appeal while Queensland absorbed record numbers of interstate arrivals, reaffirming its long-held reputation as the nation's destination of choice for domestic migrants.
A net loser of people to interstate since 2014, COVID brought about a change in fortune for Western Australia, which is continuing to draw more people than it did at the height of the mining boom.
Perhaps the most notable change in interstate migration is the turnaround of a 30-year trend whereby South Australia is now attracting more people than it loses, albeit in small numbers. That one of the nation's most entrenched patterns of interstate migration went into reverse soon after Victorian Premier Daniel Andrews remarked, "I don't want to be offensive to South Australians, but why would you want to go there?" has been the ultimate reprisal.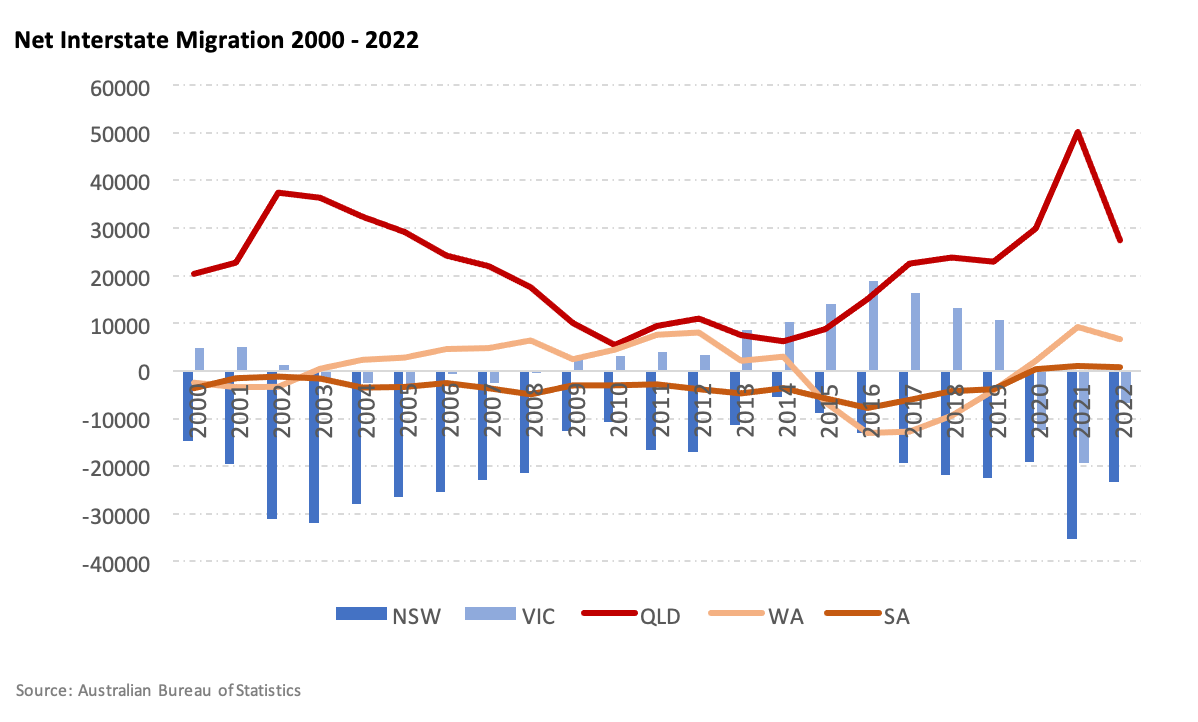 Big City Outflows: A Global Phenomenon
The dichotomous pattern of migration now characterising Australia's two most populous cities is not unique. A feature of many major cities across the globe, high costs of living, housing unaffordability, overcrowding, congestion, and socioeconomic inequality, perpetually underwrite constant outward flows. London perennially experiences a net loss of people, as does Los Angeles, San Francisco, and New York, all while continuing to attract overseas migrants.
In the post-COVID environment, all indications are that this trend is only gathering momentum.
Long the epicentre of population growth in the United States, movement out of California's major cities continues to accelerate. In 2021/22, an unprecedented 407,000 people left the state. With housing roughly 30% to 50% of the price of its west coast equivalents, Texas and Florida now occupy the top two positions for net domestic migration. New York and California rank 49th and 50th respectively.
On the other side of the Atlantic, UK home buyers are increasingly moving out of cities, attracted by more affordable and larger homes in rural areas. Over the last decade, the proportion of those buying a detached dwelling in the UK has increased from 25% to 32%.
Seeking Affordable Horizons
The rapidly declining ability to buy a home in Sydney and Melbourne is increasingly forcing those who want to do so, to move. It is entirely logical, therefore, that Brisbane, Perth, and Adelaide - all markets which continue to be dominated by detached dwellings – should continue to be attractive destinations for a growing segment of the population, especially the young.
To the extent that they provide more affordable housing alternatives, Brisbane, Perth, and Adelaide currently perform an important role in the national context, albeit by accident rather than design. Alas, each has recently become less affordable, worsened by continued price increases and multiple interest rate rises. As aspirational Australians scour the country looking to gain a foothold in the housing market, the pool of opportunity is fast becoming shallower.
Enabling Trade-Offs
Large cities persist because the apparent benefits outweigh the drawbacks, expensive housing being one of them. In line with Thomas Sowell's assertion that "there are no solutions, only trade-offs", continued attempts to find a structural solution to the affordability crisis gripping Sydney and Melbourne, begs the question, at what cost?
Currently ranked the 2nd and 9th least affordable housing markets in the world, the harsh reality is Sydney and Melbourne are confronted with a worsening of the already dire demand and supply imbalance that contributed to the affordability crisis in the first place.
Recent internal migration patterns reflect the aggregate effect of changing individual behaviour, in what has become a trade-off between location and home ownership. Understanding the reasons for this is perhaps the most pressing housing policy question facing the nation. Enabling it is the greatest opportunity.
---
Rob Burgess is a town planner with over 25 years of experience, having worked in both the public and private sectors. Applying evidence-based insights, Rob's expertise lies at the intersection of population dynamics, town planning, and property markets. He is regularly engaged to undertake market research, provide strategic advice to clients, and sharing his thoughts on current and future trends. Rob is a Principal with Quantify Strategic Insights.
Photo: Richard Ricciardi via Flickr under CC 2.0 License.