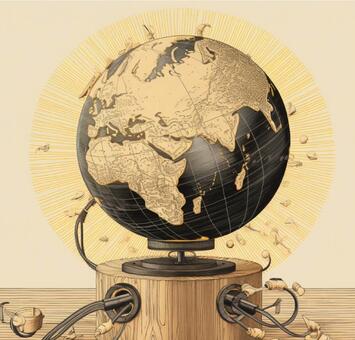 I'm pleased to announce that yesterday, the Alliance For Responsible Citizenship published my new paper on how to bring more electricity to developing countries. It's called "Powering The Unplugged: Overcoming the Barriers to Electrification in the Developing World." On October 30, I will be in London attending the inaugural conference of the ARC to present my paper and moderate a pair of panels on energy. (The conference is sold out.) I will also be doing podcasts from the conference.
The ARC, created by Jordan Peterson, Dan Crenshaw, Bjorn Lomborg, Philippa Stroud, Arthur Brooks, Alan McCormick, Michael Shellenberger, and several others, is "an international community with a vision for a better world where every citizen can prosper, contribute and flourish. We are inviting you to join us in developing a better narrative in response to life's most fundamental social, economic, philosophical and cultural questions. We reject the inevitability of decline and instead are seeking solutions which draw on humanity's highest virtues and extraordinary capacity for innovation and ingenuity."
In April, the ARC commissioned me to write a paper on the challenge of bringing more electricity to developing countries. It's an issue I have been writing about for many years. It's a focal point of my first documentary, Juice: How Electricity Explains The World (which was directed by my friend and colleague, Tyson Culver.) It's also a theme of my sixth book, A Question of Power: Electricity and the Wealth of Nations. I'm proud of the paper and am pleased to publish the first section of it here on Substack. If you want to read the entire report, it's available here. I will be publishing additional sections over the next few days.
Now to "Powering The Unplugged":
Electricity is the world's most important and fastest-growing form of energy. It is also the most difficult form of energy to supply reliably.
Many of the world's most pressing challenges are tied directly to electricity, including carbon dioxide emissions, women's rights, and poverty reduction. The electricity sector matters to climate change efforts because it is the single biggest source of global CO2 emissions. Electricity matters because it is one of the world's biggest industries. Global electricity sales exceed $4.5 trillion per year.That means that the electricity sector generates more revenue per year than global automobile manufacturing, which generated about $3 trillion in 2022. Furthermore, electricity-related investment is the biggest portion of global energy spending. This year, the International Energy Agency ("IEA") expects that global spending on the power sector, including investment in renewables, nuclear, hydrocarbons, grids, and batteries, will total $1.2 trillion. By comparison, spending on hydrocarbons—coal, oil, and natural gas—will total about $950 billion.
Electricity matters because it is the ultimate poverty killer. No matter where you look, as electricity use has increased, so has economic growth. Having electricity does not guarantee wealth. But its absence almost always means poverty. Indeed, electricity and economic growth go hand in hand. Electricity spurs economic activity, and economic growth spurs electricity use. Westerners take electricity for granted. But nearly everything we touch—almost everything we read, eat, or wear—has in one way or another been electrified.
Read the rest of this piece at Robert Bryce Substack.
---
Robert Bryce is a Texas-based author, journalist, film producer, and podcaster. His articles have appeared in a myriad of publications including the Wall Street Journal, New York Times, Forbes, Time, Austin Chronicle, and Sydney Morning Herald.