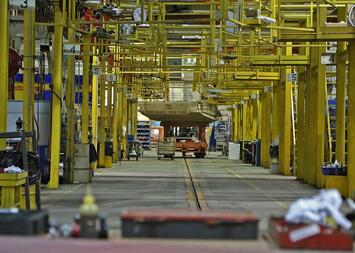 In case you missed the memo, we are apparently entering the first phases of World War 3. Or, if you count the Cold War, World War 4. All of these previous struggles were won not only thanks to good political and military leadership, but also by the sheer force of industrial power and ample natural resources. Does the West have what it takes to win out again today?
A 21st-century world war would pit the West and its Asian allies – notably Japan, South Korea and India – against a modern-day version of the 1940s 'pact of steel'. This time, however, the alliance is between China, Russia and Iran. In facing this threat, military preparedness is essential. But so too is boosting the West's economic power, and rapidly.
To counter China, Russia, Iran and their accessories, the West needs not a 'Green New Deal' (parts of which Joe Biden has slipped into his poorly named Inflation Reduction Act), but something closer to the original New Deal of the 1930s – a programme which, as Robert Gordon has pointed out, enhanced infrastructure, energy generation and industrial productivity. These policies laid the basis for allowing America and its allies to transform themselves into what Franklin D Roosevelt labelled an 'Arsenal of Democracy' – turning the US into an industrial hub to support the fight against fascism.
Of course, any attempt to re-industrialise will face opposition from much of the American establishment. This includes financial firms like BlackRock, whose largely unprofitable 'Environmental, Social and Corporate Governance' (ESG) policies seek to promote investments in firms that purport to meet their Net Zero obsessions. In practice, these policies perpetuate China's industrial hegemony by hamstringing Western industry. Meanwhile, BlackRock happily expands its business in China, the world's dominant polluter and autocracy par excellence.
Free-market dogmatists have played a part in the deindustrialisation of the West as well. Consultants and investors pushed businesses to look offshore for virtually every critical production input. Between 2004 and 2017, the US share of world manufacturing shrank from 15 per cent to 10 per cent. Our reliance on Chinese inputs doubled. The trade deficit with China, according to the Economic Policy Institute, has cost as many as 3.7million American jobs since 2000. Overall, the US and the EU have seen their share of value-added manufacturing drop from 65 per cent in the 1960s to barely half that today.
Our enemies are not likely to make the same mistakes. They are attacking on several fronts – the Russians pushing against Ukraine, the Arabs against the West's Israeli outpost, while China prepares to take over Taiwan. The West is pitifully ill-equipped to meet these challenges. A recent study by Cynthia Cook of the Centre for Strategic and International Studies found that even before the Hamas attack, the need to supply Ukraine with weapons 'triggered concerns as to whether there are sufficient residual inventories for training and to execute war plans'.
The US's military shortfalls are made worse by the unravelling of the industrial base. During the Covid-19 pandemic, the US was forced to lean on its leading geopolitical rival, China, to address a health emergency that originated there.
The claim that the US can make up for import dependence due to our technological brilliance is a cruel obfuscation. The US net deficit in high-tech trade was $242 billion last year, and it seems to be following a similar track this year.
Read the rest of this piece at Spiked.
---
Joel Kotkin is the author of The Coming of Neo-Feudalism: A Warning to the Global Middle Class. He is the Roger Hobbs Presidential Fellow in Urban Futures at Chapman University and Executive Director for Urban Reform Institute. Learn more at joelkotkin.com and follow him on Twitter @joelkotkin.
Photo: NARA, in Public Domain.