A few weeks ago, Eamon Moynihan reviewed economic research on cost of living by state in a newgeography.com article. The results may seem surprising, given that some of the states with the highest median incomes rated far lower once prices were taken into consideration. The dynamic extends to the nation's 51 metropolitan areas with more than 1,000,000 population (See Table).
There is a general perception that the most affluent metropolitan areas are on the east coast and the west coast. Indeed, 8 of the 10 metropolitan areas with the highest nominal per capita income in 2006 were on the two coasts. These included San Francisco, San Jose and Seattle on the west coast and Washington, Boston, New York, Hartford and Philadelphia on the east coast. Middle-America is represented by Denver and Minneapolis-St. Paul. However, as anyone who has lived on the coasts and Middle America knows, a dollar in New York or San Francisco does not buy nearly as much as a dollar in Dallas-Fort Worth or Cincinnati.





Per Capita Income: Purchasing Power Parity
US Metropolitan Areas over 1,000,000 Population
2006 Per Capita Income
Rank
Metroplitan Area
Purchasing Power Adjusted
Nominal
Nominal Rank
1
San Francisco
$46,287
$57,747
1
2
Washington
$45,178
$51,868
3
3
Denver
$44,798
$44,691
8
4
Minneapolis-St. Paul
$44,326
$44,237
9
5
Houston
$42,815
$43,174
11
6
Boston
$42,571
$50,542
4
7
Pittsburgh
$41,716
$38,550
20
8
St. Louis
$41,613
$37,652
27
9
Milwaukee
$41,572
$39,536
19
10
Baltimore
$41,451
$43,026
12
11
Seattle
$41,448
$45,369
6
12
Kansas City
$41,329
$37,566
28
13
Hartford
$41,104
$44,835
7
14
New Orleans
$40,935
$40,211
16
15
Philadelphia
$40,725
$43,364
10
16
Dallas-Fort Worth
$40,643
$39,924
17
17
Cleveland
$39,997
$37,406
30
18
Indianapolis
$39,843
$37,735
26
19
Chicago
$39,752
$41,591
14
20
Richmond
$39,282
$38,233
22
21
New York
$39,201
$49,789
5
22
Birmingham
$39,057
$37,331
31
23
Cincinnati
$38,691
$36,650
36
24
Nashville
$38,680
$37,758
25
25
Detroit
$38,670
$38,119
24
26
Charlotte
$38,632
$38,164
23
27
Miami
$38,555
$40,737
15
28
San Jose
$38,505
$55,020
2
29
Jacksonville
$38,413
$37,519
29
30
Louisville
$38,262
$36,000
41
31
Oklahoma City
$38,156
$35,637
42
32
Las Vegas
$37,691
$38,281
21
33
Salt Lake City
$37,381
$35,145
45
34
San Diego
$37,358
$42,801
13
35
Rochester
$37,066
$36,179
38
36
Columbus
$37,058
$36,110
39
37
Atlanta
$36,691
$36,060
40
38
Memphis
$36,501
$35,470
44
39
Tampa-St. Petersburg
$36,260
$35,541
43
40
Portland
$36,131
$36,845
35
41
Buffalo
$36,091
$33,803
48
42
Norfolk (Virginia Beach metropolitan area)
$35,418
$34,858
46
43
Raleigh
$35,087
$37,221
32
44
San Antonio
$34,913
$32,810
50
45
Providence
$34,690
$37,040
34
46
Austin
$33,832
$36,328
37
47
Phoenix
$33,809
$34,215
47
48
Sacramento
$32,750
$37,078
33
49
Los Angeles
$32,544
$39,880
18
50
Orlando
$32,095
$33,092
49
51
Riverside-San Bernardino
$25,840
$27,936
51
Source:
http://www.bea.gov/scb/pdf/2008/11%20November/1108_spotlight_parities.pdf



Purchasing Power Parity: Things change rather dramatically when purchasing power is factored in. Some years ago, international economic organizations, such as the Organization for Economic Cooperation and Development, the World Bank and the International Monetary Fund began using costs of living by nation to compare national economic performance, rather than currency exchange rate. This practice, called "purchasing power parity" is based upon the recognition that there may be substantial differences in the cost of living between nations.
This can be illustrated by comparing Switzerland and the United States. For years, Switzerland has had a higher per capita GDP than the United States on an exchange rate basis. Switzerland's gross domestic product per capita was $53,300 in 2006, nearly 30% above that of the United States ($42,000). However price levels in Switzerland are so high that incomes do not go nearly as far as the exchange rate would suggest. Once adjusted for purchasing power parity, the Swiss GDP per capita in 2006 drops to $39,000, well below that of the United States. Much of the difference has to do with regulation. The more liberal economy of the United States produces a lower cost economy than in Switzerland, or for that matter most of Western Europe. The US economic advantage would be even greater measured on a household basis, since US households include nearly 10% more members (generally children) than those in Western Europe.
The same concept was applied by the Department of Commerce Bureau of Economic Analysis researchers in their review of purchasing power parities between US metropolitan areas in 2006. When purchasing power is factored in, five of the top metropolitan areas in nominal per capita income (not adjusted for purchasing power) drop out and are replaced by other metropolitan areas rarely thought of as among the nation's most affluent.
Among the three west coast nominal leaders, San Francisco remains as #1, in both nominal and purchasing power adjusted per capita income. Seattle dropped from 6th to 11th position. However, the real surprise is San Jose, which dropped from 2nd position to 28th.
The east coast regions ranked among the top 10 metropolitan areas in nominal income also were decimated by their high costs, with only Washington (which rose from 3rd to 2nd) and Boston (which fell from 4th to 6th) remaining. New York fell from 5th to 21st, Hartford from 7th to 13th and Philadelphia from 10th to 16th.
The two non-coastal metropolitan areas in the nominal top 10 remain, with Denver rising from to 3rd and Minneapolis-St. Paul rising from 9th to 4th.
It can be argued that Middle-America replaced the five metropolitan areas dropping out of the top ten. Houston, long one of the most disparaged metropolitan areas among urbanists, occupies the 5th position (compared to its 11th ranking in the nominal list). Three of the new entrants are confirmed members of the Rust Belt: Pittsburgh (7th), St. Louis (8th) and Milwaukee (9th). Finally, there is a new east coast entrant, blue-collar Baltimore (10th).
The Impact of Taxes: But that is just the beginning. Taxes also diminish the purchasing power of households. Unfortunately, there is virtually no readily available information on state and local taxation by metropolitan area. There is, however state and local government taxation data at the state level. If it is assumed that this data is representative of metropolitan differences (weighted proportionately by state in multi-state metropolitan areas), there would be changes in rank among the top 10. Denver would displace Washington in the number two position, closing more than one-half the gap with San Francisco. Even more surprisingly, St. Louis would move ahead of both Boston and Pittsburgh to rank 6th. Kansas City would leap over #11 Seattle, Baltimore, Milwaukee and Pittsburgh to rank 8th, trailing #7 Boston by $25, not much more than the price of a Red Sox standing room ticket. Pittsburgh would occupy the #9 position and Milwaukee #10 (See Figure).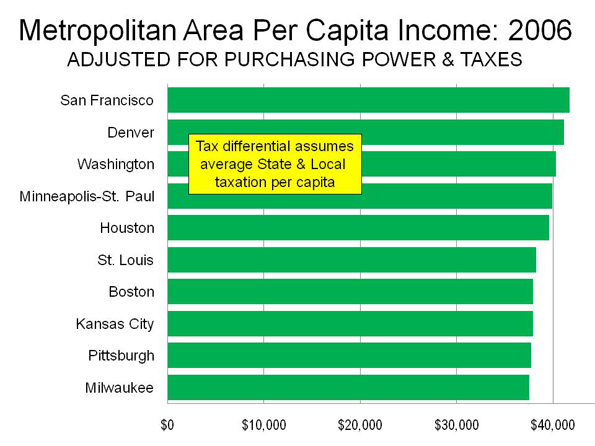 More than Housing: The largest differences in purchasing power stem from housing, with east coast and west coast metropolitan areas having generally higher housing costs. As a result of the housing bust and the larger house price drops in those areas, purchasing power adjusted incomes could recover relative to those of Middle America. However, the high cost of living on the east and west coasts extend to more than housing prices. Generally, according to proprietary (and for sale) ACCRA cost of living data, the west coast and east coast metropolitan areas have higher costs of living even without housing. These differences are largely in grocery costs, which probably reflects the anti-big box store planning regulations and politics that exist in many of these areas. Grocery costs in the more affluent middle-American metropolitan areas tend to be lower.
Other Surprises: Outside the top 10 most affluent metropolitan areas, there are other surprises. Urban planning favorite Portland ranks 40th, just above Buffalo. Rust Belt Cleveland ranks 17th, a few positions above New York. Kansas City, with its highly decentralized civic architecture, ranks 12th, just behind Seattle. Indianapolis (17th) is more affluent than Chicago (18th) and both are more affluent than New York.
Five of the bottom 10 metropolitan areas are in the south, including Virginia Beach, Raleigh, Austin, San Antonio and Orlando. But perhaps the biggest surprise of all is that four of the five lowest ranking metropolitan areas are in the southwest: Phoenix (47th), Sacramento (48th), Los Angeles (49th) and Riverside-San Bernardino (51st).
The Dominance of Middle America: But among the 10 most affluent metropolitan areas in the nation, six or seven may be counted as Middle-America (depending on how Baltimore is classified). Only three are from the original group that supplies 8 of the top metropolitan areas when purchasing power is not considered.
---
Related articles:
Gross Domestic Product per Capita, PPP: World Metropolitan Regions
Gross Domestic Product per Capita, PPP: China Metropolitan Regions
Photograph: Pittsburgh
Wendell Cox is a Visiting Professor, Conservatoire National des Arts et Metiers, Paris. He was born in Los Angeles and was appointed to three terms on the Los Angeles County Transportation Commission by Mayor Tom Bradley. He is the author of "War on the Dream: How Anti-Sprawl Policy Threatens the Quality of Life.
"