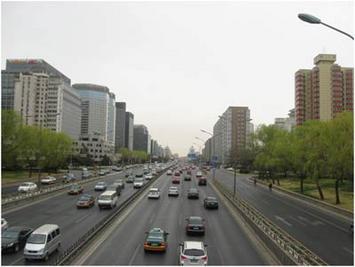 In Downtown: It's Rise and Fall, 1880-1950, Robert M Fogelson says that downtowns are a uniquely American phenomenon. He refers to downtown as the commercial cores with high building densities that form "canyons" that, in some smaller urban areas, might be only a block long to a mile or more long.  Fogelson demonstrates that downtowns in the United States are largely a creation of rail transit (subways or metros, street cars and their predecessor horse cars). American urban areas grew at the same time that this mode of transport was reached its zenith.    
This pattern was also evident in the pre-automobile cores of large urban areas in Canada, Australia and New Zealand.
Since then, the downtown has been losing its preeminence. As late as 1950 virtually all of the nearly 50 US urban areas with more than 250,000 people had concentrated downtown areas of varying sizes. The unifying factor was the access to this one point in the urban area by transit from most or all of the rest of the urban area.   Smaller urban areas, after transit's golden age, never developed downtowns as well-developed as those which grew during the transit oriented urban areas of the pre-World War II era.
China's emerging commercial cores bear little resemblance to these older American downtowns. Generally, what might be termed as downtown in the urban areas of China is far more dispersed. The tallest buildings do not stand across narrow streets from one another. You see little of the often spectacular high-rise canyons seen in great American downtowns such as Chicago and New York or even smaller ones, such as Pittsburgh and Seattle and many others.   
Dominant Pattern: The Dispersed Central Business District: The most pervasive form of downtown China is a larger central business district consisting of dispersed high-rise buildings superimposed on lower rise residential buildings, the latter often being five floors or less.
Perhaps the best example is Guangzhou, capital of Guangdong (12 million population) that now engulfs adjacent Foshan. The skyscrapers of central Guangzhou, some among the tallest in the world, are spread around an area of between 10 and 15 square miles (26 to 39 square kilometers). The largest concentration is near the Guangzhou East Railway Station, where the trains of the former Kowloon – Canton Railway terminate. Even so, this concentration is more sparse than would be expected in even a smaller US Pre-World War II transit oriented downtown.   Other, smaller concentrations of tall commercial buildings or skyscrapers are virtually isolated. The Guangzhou International Finance Center, the tallest building in Guangzhou and 10th tallest in the world dominates its generally low rise surroundings, soon to be joined by an even taller 116 floor building that is under construction.
The pattern of dispersed and large central area development is also obvious in nearby Shenzhen, Guangdong (population 15 million, see Note), which rose from being fishing village to megacity status in less than 30 years. The central core occupies at least as much space as central Guangzhou. However, unlike Guangzhou, part of the Shenzhen central area has relatively dense high-rise buildings. This eastern section has a number of very tall buildings, and of the world's second tallest skyscraper (and China's tallest) is now under construction in this area (the Pingan International Financial Center).
Other Chinese urban areas with generally dispersed core commercial development include Chengdu, the capital of Sichuan (5 million), Changsha, capital of Hunan (2.5 million), Taiyuan, capital of Shanxi (3 million), Kunming, capital of Yunan (3.2 million) Guiyang, capital of Guizhou (2.3 million), Ningbo, Zhejiang (3.2 million) and Tianjin (7 million), a provincial level municipality.
Changsha and Taiyuan are near duplicates, with the core development in a wide area extending from the main railway station over a mile westerly to north-south rivers that dissect each urban area.
Dongguan, Guangdong (12 million, see Note), like Shenzhen became a megacity (from a rural area) in less than two decades. Dongguan is located between Guangzhou and Shenzhen, and may have the most dispersed central business district in China, with little concentration except for an "edge city" development with comparatively large distances between buildings. Dongguan is unique for being the largest urban area in the world without an international airport (Dongguan is served by the nearby Shenzhen and Guangzhou international airports).
Dual Cores Superimposed on Dispersed Central Areas: There is also a variation on this dispersed pattern in which the core commercial area includes two unusually high concentrations of buildings.
The best example of this is Beijing (14 million) where an older concentration of high-rise buildings is to the west of Tiananmen Square and the Forbidden City in a corridor along the Second Ring Road (one of Beijing's five freeway rings or beltways), and a sixth is under discussion. The newer concentration is to the east, in a corridor along the Third Ring Road. This area includes the CCTV Headquarters and the tallest building in Beijing, the 74th floor China World Trade Center III, on the other side of the Third Ring Road. These concentrations along the ring roads resemble more the post-World War II corridor form of Central Avenue in Phoenix than Manhattan, Seattle or Pittsburgh.
Shenyang, in Manchuria, capital of Liaoning (5 million) also has two cores in the midst of a less concentrated central area.  The larger and newer core is adjacent to Shenyang North Railway Station, while the smaller and older core is near Shenyang Railway Station.
Suzhou, in Jiangsu (3.3 million) is well known for its canals, as the Venice of the Orient. Suzhou too has two comparatively concentrated cores on either side of the older smaller low rise core. The largest concentration is to the west, adjacent to the Grand Canal, built between 1,500 and 2,500 years ago to connect Hangzhou with Beijing (1,100 miles or 1,700 kilometers), The smaller concentration is to the east. Even so the pattern of dispersion is dominant. The urban area's tallest building, the Henghe Tower (photo) is well away from any other buildings of significant height.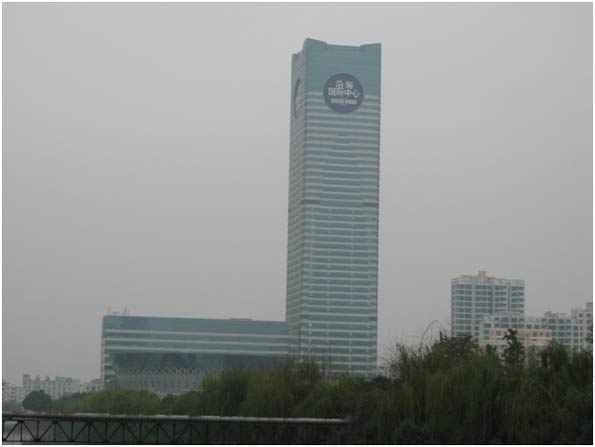 In Xi'an (5 million), capital of Shaanxi (and a historic capital of China known as Chang'an), the two more concentrated areas sit along a north-south spine on either side of the historic walled city, which includes an older, even less concentrated business district.
Wuhan, capital of Hubei (5 million) also fits the dual model, but this is partially due to the post-war amalgamation of three cities (Hankow, Wuchang and Hanyang), the first two of which have large and dispersed core areas, with some concentration.
Hanghzou (capital of Zhejiang, 5 million) and Zhengzhou (capital of Henan, 2.3 million) exhibit a somewhat different pattern of the dual core superimposed upon the typical commercial dispersion. In Hangzhou, a new central business district is under development, well to the east of the older core area. A new central business district is also being developed, with major parts completed, on the periphery of Zhengzhou (the Zhengzhou "New Area"). This area was inaccurately characterized as China's largest Ghost City by The Daily Mail (London).
Shanghai: Shanghai (19 million) deserves special mention. A business center since the 1920s, Shanghai boasts one of China's more concentrated central business districts, west of the Pu River (Puxi) as well as perhaps the world's largest edge city development, across the river in Pudong. Puxi includes the famous Bund area along the river with its classic western architecture. The central business district continues westerly and to the south to beyond the north-south elevated freeway. This district has tall buildings widely dispersed throughout. Some of Shanghai's tallest buildings are here, though few are close to one another. Pudong includes the Pearl of the Orient Tower (either loved or hated by architectural critics), the 101 story Shanghai International Financial Center and a number of other tall and unique skyscrapers (photo). This concentration, however, is separated by large streets and plazas and does not resemble the concentrated central business districts of the United States. Soon, this area will add a 128 story building, which will be the third tallest in the world (measured in feet or meters).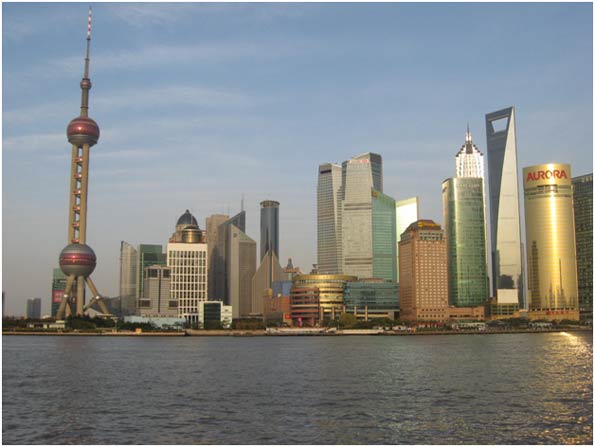 Nanjing: Nanjing, the capital of Jiangsu (4 million) has a more American looking central business district, by virtue of a number of tall buildings located close together at or near the Xinjieko intersection. Yet, Nanjing's tallest building and seventh the tallest in the world (Nanjing Greenland Financial Center) sits well to the north of Xinjieko, while the other tallest buildings are a subway stop to the east.
Chongqing: Chongqing, a provincial level municipality, has an urban area population of 7 million. Chongqing breaks the mold, with a central business district that would be familiar to urbanites in the United States (photo). The core of Chongqing sits on a peninsula formed by the confluence of the Yangtze River and the Jailing River. It bears a resemblance to Pittsburgh, down to a plaza similar to the Golden Triangle. Close by and up a hill may be China's only US style-central business district. Here, the streets are narrow, the buildings are tall, and there are canyons like those of pre-World War II Pittsburgh, Seattle or even Manhattan. Much of this anomaly is probably due to the constrained geography of the central area. At the same time, commercial development is crossing the Yangtze River and spread to formerly rural areas west, such as Daping and Shapingba . These areas are up to forty-five minutes from the core.
None of this, of course, is surprising, since China, like America and elsewhere, is like nowhere else in the world.

---------
Note: The population figures shown for Shenzhen and Dongguan are based upon unofficial estimates that include the non-permanent (migrant) population. Official figures in these two prefectures generally include only permanent residents, who may represent 50 percent or less of the population.
Wendell Cox is a Visiting Professor, Conservatoire National des Arts et Metiers, Paris and the author of "War on the Dream: How Anti-Sprawl Policy Threatens the Quality of Life"
Lead photo: Second Ring Road Corridor, Beijing (by Author)
All photos by author.