When the Base Realignment and Closure Commission was drawing up its list of military installations to close back in 2005, consultants assured the city of Grand Forks, North Dakota, that its Air Force base would be spared. Days before the list was made public, though, word leaked out that Grand Forks was on the chopping block, after all.
North Dakota's Congressional delegation swung into action and managed to win the base a reprieve; its KC-135 Stratotankers would be reassigned, but they would be replaced by unmanned aerial vehicles (UAVs). Earlier this month, in a ceremony that drew local dignitaries, industry executives, and military brass, Grand Forks Air Force Base marked the arrival of its first Global Hawk aircraft.
Gunmetal gray, with long, white wings stretching out from the fuselage, the Global Hawk can stay aloft for 30 hours at a time, transmitting sensor data back to operators on the ground. The plane, manufactured by aerospace giant Northrop Grumman, has become a staple of the Air Force's intelligence, surveillance, and reconnaissance efforts in Iraq and Afghanistan. Eleven Global Hawks will eventually be stationed at Grand Forks, along with 450 additional base personnel.
"The base is our second largest economic engine," said Eric Icard, senior business development officer at the Grand Forks Region Economic Development Corporation. "To have a new mission with a new technology solidifies the Air Force's commitment to the Grand Forks region."
Sgt. Joseph Kapinos couched the plane's arrival in more personal terms: "I think people are excited, because they feel like we have a mission again."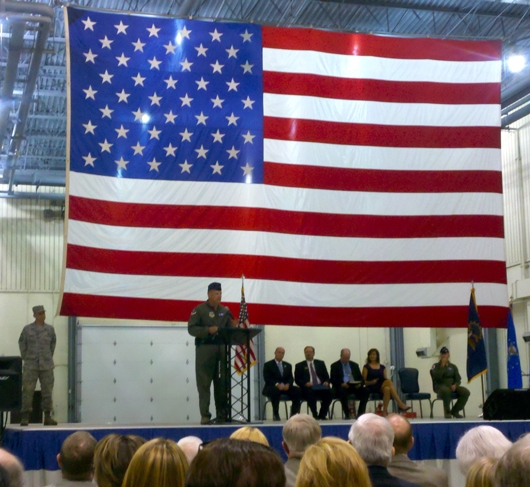 Col. Don Shaffer, Commander of the 319th Air Base Wing at Grand Forks Air Force Base, told a crowd of dignitaries that the arrival of the Global Hawk marked a transition for the base to a "global vigilance mission." Photo by Marcel LaFlamme
The ceremony came on the eve of the fifth Unmanned Aircraft Systems Action Summit in Grand Forks, which was sponsored by the Red River Valley Research Corridor. With military procurement of unmanned aircraft projected to double over the next decade, North Dakota has worked to position itself as one of the nation's hubs for UAV research and training. Last month, the University of North Dakota (UND) awarded degrees to the first five graduates of its unmanned aircraft operations program. At the Summit, Northrop Grumman presented Minnesota's Northland Community and Technical College with a full-scale model of a Global Hawk for use in its UAV maintenance and repair shop.
It's too soon to say whether the Upper Great Plains will emerge as a new powerhouse of the military-industrial complex, a new buckle on what regional planners have dubbed the Gunbelt. Participants at the Summit said that the real economic boom would come as UAV technologies begin to find commercial applications. One major impediment is the ban on flying UAVs in the National Airspace System; North Dakota Congressman Rick Berg has pushed for the creation of test sites where UAVs could fly (and it's no secret that North Dakota is angling to be one of them), but the FAA reauthorization bill that would make that possible is currently mired in conference committee.
North Dakota has been riding a wave of media adoration as of late, buoyed by low unemployment numbers and a massive oil strike. But 42 of its 53 counties still posted population losses in the 2010 Census.
How, the question remains, do rural communities stand to benefit from the burgeoning UAV industry? Are all of these "knowledge economy" jobs bound to spring up in Grand Forks
and Fargo, even as the state's struggling farm communities continue to wither away?
Not if Carol Goodman has anything to say about it. Goodman heads the Job Development Authority in Cavalier County, up by the Canadian border; the county lost 17% of its population between 2000 and 2010, dipping below 4,000 people for the first time in over a century. She's working to redevelop an abandoned missile base from the Cold War era as a UAV testing site, which could create as many as 670 jobs in the county.
"Tell them to send some of those UAVs over here," said Bob Wilhelmi, owner of the lone bar in the wind-blown town of Nekoma. A man from neighboring Walsh County said that, the year after next, his school district will not have a single child enrolled in kindergarten.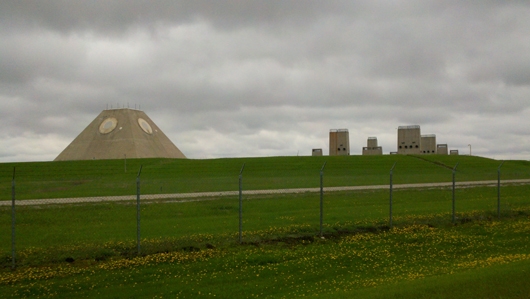 The Stanley R. Mickelsen Safeguard Complex: once an antiballistic missile site with its eyes on Moscow, now a potential test bed for unmanned aircraft. Photo by Marcel LaFlamme
The unmanned aircraft industry in North Dakota is a sort of test case for what happens when a traditionally agrarian state decides to pursue high-tech growth. It's still not clear whether the state will succeed. But to watch those airmen jostle for a picture with their base's newest piece of hardware, or to hear a recent UND graduate pitch the start-up company that will keep him in Grand Forks, or even to look up for a while at the clear, empty Dakota sky, you start to think that the state's drone charmers may just have a shot.
This piece originally appeared at Daily Yonder.
Marcel LaFlamme is a graduate student of the Department of Anthropology at Rice University in Houston.
Lead photo: Official U.S. Air Force