Hefei, the capital of historically poor Anhui province emerged as China's top growth center among major metropolitan areas over the past 10 years. Metropolitan areas from the interior, the Yangtze Delta and the central and northern coast were the fastest growing, displacing Guangdong's Pearl River Delta, long the growth center for the country.   (Figure 1).
China's Trends in Context: China's growth rate has fallen substantially and the United Nations has projected that the nation will experience population decline starting between 2030 and 2035. However, China's urban areas have grown strongly as people have continued to move to cities for better opportunities. According to World Bank research, China's economic progress since 1981 has lifted more people out of poverty than ever before in the world.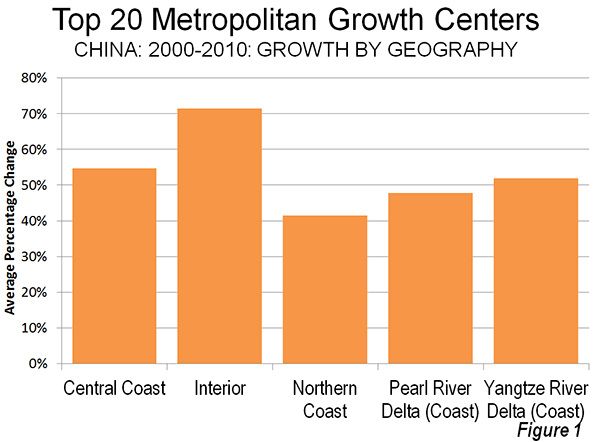 Never before in history have so many people moved to urban areas in such a short period of time.
Since the reforms began in approximately 1980, all of China's population growth has been urban. Rural areas lost approximately 110 million people between 1980 and 2010. That is approximately equal to the population of Mexico and more than each of the nations in the world except for 11. Over the same three decades, 470 million people were added to the urban areas. That is more than 1.5 times the population of the United States.
China's Metropolitan Areas: This article provides an analysis of the urban districts (qu) of Chinas urban regions (routinely mislabeled "cities"). These districts are designated by regional officials as urban for urban development. Since the peripheral urban districts are principally rural, the combination of urban districts (Shi Shixiaqu)in a region are akin to a metropolitan area (labor market area).
Among the metropolitan areas that began the decade (2000) with more than 1,000,000 inhabitants, the slowest 10 year growth rate was 36 percent. In comparison, among the 51 US metropolitan areas with more than 1,000,000 population, only three (Las Vegas, Raleigh and Austin) would have placed in China's top 20, and not higher than 14th (Table). As in the US, the most rapid urban growth is taking place in smaller metropolitan areas with less than 5 million in 2010.  







Top 20 Metropolitan Growth Centers in China: 2000-2010
Rank
Metropolitan Area
2000 Population
2010 Population
Change
%
Geography
1
 Hefei, AN 
      1,659,000
   3,352,000
      1,693,000
102.0%
 I 
2
 Xiamen, FJ 
      2,053,000
    3,531,000
      1,478,000
72.0%
 C 
3
 Zhengzhou, HEN 
      2,560,000
    4,254,000
      1,694,000
66.2%
 I 
4
 Suzhou, JS 
      2,473,000
    4,074,000
      1,601,000
64.7%
 Y 
5
 Wenzhou, ZJ 
      1,916,000
    3,040,000
      1,124,000
58.7%
 Y 
6
 Ningbo, ZJ 
      2,201,000
    3,492,000
      1,291,000
58.7%
 Y 
7
 Urumqi, XJ 
      1,753,000
    2,744,000
         991,000
56.5%
 I 
8
 Weifang, SD 
      1,380,000
    2,044,000
         664,000
48.1%
 N 
9
 Shenzhen, GD 
      7,009,000
  10,358,000
      3,349,000
47.8%
 P 
10
 Hangzhou, ZJ 
      4,243,000
    6,242,000
      1,999,000
47.1%
 Y 
11
 Beijing, BJ 
    12,874,000
  18,827,000
      5,953,000
46.2%
 N 
12
 Changsha, HUN 
      2,123,000
    3,094,000
         971,000
45.7%
 I 
13
 Chengdu, SC 
      5,268,000
    7,677,000
      2,409,000
45.7%
 I 
14
 Shanghai, SH 
    15,758,000
  22,315,000
      6,557,000
41.6%
 Y 
15
 Hohhot, NM 
      1,407,000
    1,981,000
         574,000
40.8%
 I 
16
 Nanjing, JS 
      5,098,000
    7,166,000
      2,068,000
40.6%
 Y 
17
 Shijiazhuang, HEB 
      1,970,000
    2,767,000
         797,000
40.5%
 N 
18
 Fuzhou, FJ 
      2,124,000
    2,922,000
         798,000
37.6%
 C 
19
 Qingdao, SD 
      2,721,000
    3,719,000
         998,000
36.7%
 N 
20
 Tianjin, TJ 
      8,146,000
  11,090,000
      2,944,000
36.1%
 N 
 Metropolitan areas with more than 1,000,000 population in 2000.  
 Metropolitan areas consist of urban districts (qu) 
Geographical Codes
 C 
 Central Coast 
 I 
 Interior 
 N 
 Northern Coast 
 P 
 Pearl River Delta (Coast) 
 Y 
 Yangtze River Delta (Coast) 
 Data from National Bureau of Statistics of China 
The Interior: Six of the top 20 gainers were in the interior, including fastest growing Hefei. This reflects the appeal of   lower labor costs and perhaps also that rural migrants often prefer to work in regions   closer to their homes and families in agricultural regions. These six metropolitan areas had an average growth rate of 71 percent, the largest rate of any geographical grouping.
The capital of Anhui province, Hefei (photo), had the largest gain, at 102 percent. Hefei grew from 1.659 million to 3.352 million. Hefei is developing one of the most dispersed urban forms among China's metropolitan area and there continues to be considerable construction. Hefei's population growth rate was nearly one-half more than of second place Xiamen. Anhui is one province removed from the coast and Hefei is only 115 miles (185 kilometers) from the Yangtze Delta's Nanjing.
The third ranked metropolitan area was Zhengzhou (photo), the capital of Henan province (also separated from the coast by one province), which experienced a 66 percent population gain.
Urumqi, the capital of China's large northwestern province of Xinjiang ranked 7th with a gain of 57 percent. Urumqi is by far the most remote from the East Coast of the large gainers (2,000 miles or 3,250 kilometers from Tianjin, near Beijing).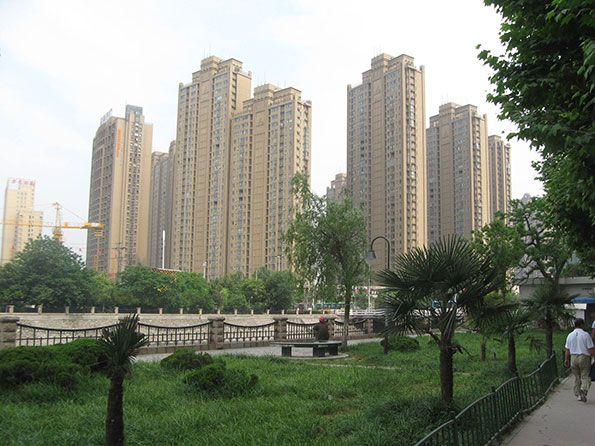 Hefei

Zhengzhou
Central Coast: Xiamen (photo), one of the first special economic zones designated after Shenzhen and placing 2nd in growth, added 72 percent to its population. This metropolitan area is centered on an island in Fujian province on China's central coast, less than 10 miles from to Jinmen (Quemoy), an island controlled by Taiwan. Fuzhou, the capital of Fujian province was another central coastal metropolitan area among the top 20 growth centers (18th, at 38 percent). The average growth rate of these metropolitan areas on the central coast was 55 percent.

Xiamen
Yangtze River Delta: Like the interior, the Yangtze River (Changjiang) Delta also placed six metropolitan areas among the top 20 growth centers. The average growth rate was 52 percent. The Yangtze River Delta is a large area with a population greater than that of the Pearl River Delta, but with urban regions that are separated from one another by considerable rural territory (unlike the Pearl River Delta). The exception is the Shanghai-Suzhou-Wuxi corridor (Note), where the urbanization is continuous in limited corridors.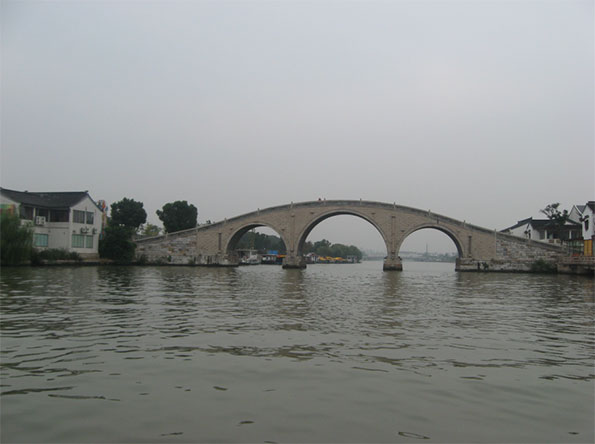 Suzhou

Wenzhou
Northern Coast: Five northern coastal metropolitan areas were among the top 20 metropolitan gainers, with an average growth rate of 42 percent.
Weifang, in the province of Shandong ranked 8th in growth, the highest rating among metropolitan areas in the northern coastal area. Weifang added 48 percent to its population.
Beijing ranked 12th in growth, at a 46 percent rate. Beijing's numeric growth was second only to Shanghai, at 6 million.
The other northern coastal growth centers were Shijiazhuang, the capital of Hebei (17th, at 41 percent) and 175 miles (280 kilometers), south of Beijing. Qingdao, of brewing fame ("Tsingtao" beer) ranked 19th, with a growth rate of 37 percent, while Tianjin, which is close enough to be Beijing's port, ranked 20th, with a growth rate of 36 percent.
Pearl River Delta: In contrast the Pearl River Delta, the home of so much urban growth over the past 30 years, placed only one metropolitan area among the top 20 growth centers, Shenzhen. Shenzhen placed 9th, with a growth rate of 48 percent. This is in stark contrast to 1990 to, when Shenzhen and adjacent Dongguan both more than doubled in population.
Missing Giants: Chongqing was not among the top growth centers. Chongqing has been routinely mischaracterized as China's largest metropolitan area (because of semantic confusion over the word "city"). Chongqing's metropolitan districts grew only 22 percent and the region (a provincial equivalent) lost population. Neighborhood rival Chengdu, capital of Sichuan province from which Chongqing was separated in 1996 more than doubled its growth rate. Manchuria, China's "Dongbei" (Northeast) also failed to place any areas among the fastest growing. Shenyang, the center of China's Rust Belt, grew less than 10 percent, though Harbin, capital of Helonjiang grew nearly 30 percent.
More Growth to Come: Despite an overall population that is just peaking, urban population growth is expected to be substantial. In addition to the 470 million people that have moved to urban areas since 1980, the United Nations projects that another 340 million people will be added to the urban areas by 2045 (after which a modest decline is expected). Over the same 35 years, China's rural population is expected to fall by 387 million (Figures 2 and 3). Where these new migrants move and how they make do will be among the most important urban stories of the next decade.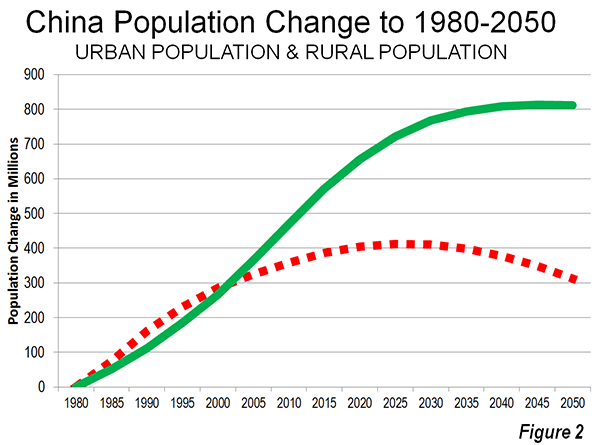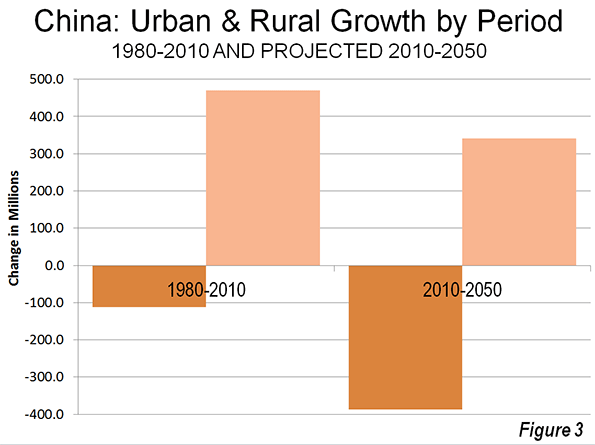 Wendell Cox is a Visiting Professor, Conservatoire National des Arts et Metiers, Paris and the author of "War on the Dream: How Anti-Sprawl Policy Threatens the Quality of Life".
-------
Note: Includes Kunshan, part of the Suzhou metropolitan area, but a separate urban area (between the Suzhou urban area and the Shanghai urban area).
Note: Corrected Hefei data on 6/3/2012.
Top photo: Hefei: All photos by author.