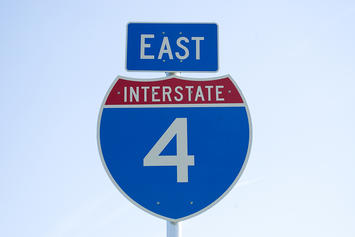 Overheated presidential politics have done few favors to Florida, except to put 132 miles of hot asphalt on everyone's lips:  Interstate 4.  Completed in the late 1960s, this interstate (in fact, the only interstate highway to be entirely contained within one state) is known by millions who have  visited there at least once on vacation.  But the social and political reality in the world  around Interstate 4 is little known outside of Central Florida.  Like Ypres, the Flemish town continually under assault during World War 1, I-4 will receive the brunt of both side's forces.  It deserves to be known a bit for its quirky uniqueness,   even if, like Ypres, it will recede to obscurity once the election is over.
America's other single-digit interstate, I-5 in southern California, has such a singular personality that its users refer to it as "the five." Not so I-4, although many users spit when they say it. With the third highest accident rate in the nation with 1.58 fatal accidents per mile 2004-2008 , Interstate 4 is notorious   for its congestion, dangerous drivers and bad karma. A section of it is even rumored to be haunted.
I-4 begins rather inauspiciously in Tampa, at a highway interchange with I-275 that even the state Department of Transportation calls "malfunction junction."   Tampa itself is a brew of German, Italian, Spanish, and Cuban immigrants largely supplanted in the 1980s by in-migration from other states. With a port poised to take advantage of Tampa's proximity to the Panama Canal, Tampa, and its sister city, St. Petersburg, offer a fantastic coastal setting for urban development. 
Unfortunately, the two cities now squabble eternally over what has recently been diminishing economic opportunity, often leaving their geography a large, low-grade commercial wasteland. With little to offer except beaches and waterfront real estate, Tampa and St. Pete struggle for their existence. Their airport,  considered the world's best in the 1980s and 1990s, has been overtaken by newer, better facilities in Orlando, Denver, and other international cities, and like Tampa in general, it suffers as a has-been. No matter; Tampa's feisty nightlife has turned Ybor City from a quaint, vacant historic district into a wet-zoned bar district that still houses the best music scene in Central Florida.
Over the bay, St. Petersburg features lovely waterfront sidewalk life with delightful galleries and museums, but it remains "God's waiting room" with shuffleboard courts and early bird specials at local diners. Beautiful older neighborhoods surround both downtowns, but the outer-ring growth that reaches out beyond these prewar suburbs seems unremarkable and bland. The area, once a diverse mix of blue-collar industry and office workers, has lost a lot of both.
St. Petersburg is set in Pinellas County, a peninsula that reaches downward just as the San Francisco bay area's peninsula reaches upward.  But as San Francisco took off  Pinellas did not.  Even the gulf coast of Pinellas County, with beautiful beaches, fails to reach its potential, housing gritty, second-rate motels and paint-peeled condos catering to vacationers unable to afford Sarasota further on down the shore.
Downtown Tampa these days possesses the sad, romantic air of places once important but now in a state of vanished grandeur. The sidewalks are harsh, bricky, and hot; almost no one traverses the sun-grilled open space at noon. Vacant, boarded-up storefronts are prevalent, punctuated by sleazy, vacant eateries. Channelside, a redeveloped area between downtown and the historic district, has suffered the blight of new, cheesy-looking condominiums built over storefronts, awaiting the throngs of young singles seeking an urban lifestyle but never quite arriving. Channelside looks like an empty stage set, et, "for lease" signs flapping in the breeze.
Beltways like Interstate 4 can be dividers or uniters, and this one is both and neither at the same time.  East of Tampa, it makes little difference which side of I-4 you reside on; north of Interstate 4 is Temple Terrace and the University of South Florida, and south of Interstate 4 lies Brandon, an unincorporated town. Interstate 4 presents no barrier between the two sides, with fluid movement suggesting that in this section, I-4 presents no obstacle or defining boundary.
Further east, however, one encounters the city of Lakeland, hanging like a pendulous fruit just south of the freeway. There is a rather fascinating notion that Florida's urban areas are all aspects of one very large, complex web of urban settlement most of whom are net consumers, taking in more than they produce. Unlovely Lakeland, the agro-industrial capital of central Florida, is just the opposite. Rich with phosphate, one of Florida's only natural resources, Lakeland mines and processes this mineral for fertilizer and soap additives. It sends the phosphate by truck and by rail to the Port of Tampa for export.  Lakeland also processes orange juice and a variety of Florida's agricultural products, and has clusters of food-packaging industries to support this activity. Lakeland, in the heart of what locals call "Florida Cracker country", works hard and is definitively blue collar.
North of I-4, Lakeland quickly fades into suburbs and ranchlands. Here, one passes through the Green Swamp, a wetlands that remains undeveloped and remote. An aviation museum reminds you that you are in Central Florida indeed, but little else of man's handiwork is evident until US 27, an old, pre-war highway that runs along a nice, high ridge which brought so many people to Florida before the interstates came.
As a boundary, Interstate 4 here is still largely symbolic, with a truck-stop cluster of gas stations and fast-food restaurants that eke out a living. On either side, however, the population remains rural and at this juncture, US 27 unites both sides of I-4, negating its myth as a boundary between red and blue Florida. By now, the alert traveler may have noticed that he is trending more northerly than easterly, and indeed Interstate 4 is slowly turning one to the north into the fringes of greater Orlando.
At one time, Interstate 4 had seasonally fluctuating traffic. In the late summer heat, one could hit stretches of I-4 where no other cars could be seen on the horizon. Today, however, it frequently slows to parking-lot crawl on the outskirts of Lake Buena Vista. For this is the pleasantly named region in which Disney resides, and I-4 straddles this region. On the left side is Walt Disney World.  On the right side, Celebration:  Disney's tribute to high-design community living.  Both sides lie within the Reedy Creek Improvement District, a self-governing singularity cleverly established by Walt Disney to prevent annoying regulation.
The first time one arrives to this section of I-4, no matter what age, is special.  Little things like the power line pole artfully shaped like a Mickey Mouse or the words "Magic Kingdom" on the big green signboards.  Here, I-4 is a conduit of anticipation, a rim from which one anxiously departs to plunge into  a fantasy world.
Flipping conventional wisdom on its head, cosmopolitan Orange County is mainly to the north of I-4, while Osceola County to the south is pretty much…well, country, in a Silver Spurs Rodeo sort of way. Osceola County houses a great deal of the service industry that maintains the machines of tourism. It also contains a large immigrant population, and the mix has raised tensions in this region. Presidential politics must intimately understand the problems of this county, or risk alienation of its voters over gaffes.
As I-4 finally turns due north you pass through an area once considered Orange County's back door, the county jail, large sewage treatment facilities, and Lockheed Martin all sit, surrounded now by development pressures and the occasional stray theme park. Universal Studios is surrounded by residents so close they can hear the screams from the roller coasters in their back yards. Holy Land is isolated, crammed against I-4's huge wall; and the spectacle of International Drive, one of the most interesting and unstudied urban conditions ever, is visible from much of I-4 as one trends northward towards downtown.
After twisting and turning through more blah suburbia, I-4 finally ascends to an elevated, straight bridge and threads its way past downtown Orlando.  This is actually, when traffic is flowing, a terrific urban experience, especially at night. To the right, Orlando's small collection of meek towers, marked by the Captain Crunch hat of a failed condominium; to the left, the Magic's basketball arena.  This drive continues northward through Orlando's mosaic of adjacent towns. Younger than Florida's average population, and largely from somewhere else, this region seems to be perpetually seeking itself, but never quite finding it. The allure of New York and Chicago seem to pick off the best and the brightest, but these folks are always backfilled with newcomers. With the leftist firebrand Alan Grayson   counterbalanced by the Tea Party's right wing voice, Daniel Webster, the area will be critical in  this election season.
Past Orlando's heat and light, Interstate 4 traverses one last stretch of Florida's untamed wilds, the Tomoka wetlands. This is the stretch that is rumored to be haunted, for traffic fatalities seem more common than normal as one traverses through region here. Perhaps the proximity of Cassadega , home to many spiritualists, has something to do with it, or perhaps the vengeful souls from a graveyard supposedly under the roadbed are to blame. Either way, one is relieved to see signs of civilization when one finally reaches the end of Interstate 4 as it tees into I-95 near Daytona, Florida.
One of many cities trying to reinvent itself, Daytona's allegiance to Nascar and motorcycles is legendary, but it has suffered heavy joblessness and unsettlement in this Millennial Depression. With its share of overbuilt beachfront condos, an unusually blighted amusement park in the center of town, and a restless, angry inner-city population, Daytona's dire straits resembles, in some ways, Detroit or other hard-hit areas. 
And so, Interstate 4 begins and ends. Like Ypres, it may come to represent the battleground of an ugly war. The front at one end of I-4, St. Petersburg, represents genteel poverty, at the other the angry poor are looking for answers. In the middle, Orlando has the two extremes of political viewpoints personified by real candidates with passionate followers. Interstate 4, in the Orlando area, was a recipient of a new congressional district, thanks to population growth that continues into the state. What this population growth brings, and how it changes the character of this interesting, complex corridor, will be revealed after the election in November.
Richard Reep is an architect and artist who lives in Winter Park, Florida. His practice has centered around hospitality-driven mixed use, and he has contributed in various capacities to urban mixed-use projects, both nationally and internationally, for the last 25 years.
Interstate 4 sign photo by Bigstockphoto.com.