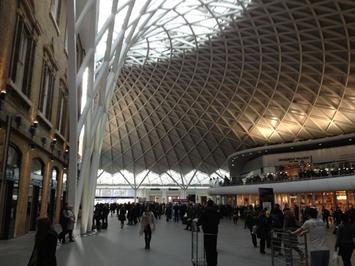 London's goal — admirable for any city of medieval invention — is to drive the private car underground and replace it with a web of mass transit, suburban trains, bike lanes, taxi stands, and walkways. All of those are well calibrated to an urban grid that consists of mews, squares, and quirky side streets with names like Shoulder of Mutton Alley.
Despite the winds and rains, I recently pedaled all over London and came to the conclusion that it has an excellent chance to get past the automobile era. It could be Europe's city of tomorrow, one that moves forward with its work/life balance on a human scale. Its future as Europe's finance center, though, and its real estate forecast, as well as the outlook for its pubs, remain open questions.
I enrolled in Mayor Boris Johnson's shared bikes — it took a few credit card swipes — and headed off to the City, London's financial district, which lies north of London Bridge.
Will London remain one of the world's top finance centers? The continuing economic crisis, the threat of the U.K. pulling out of the European Union, Scottish independence, and strict new regulations could all spell doom for its merchant banking.
The City's accommodating genius is that while it is as established as the House of Lords or the East India Company, it is, among other things, a go-go offshore financial center — the Cayman Islands with bowler hats.
Neither continental European nor American nor Asian, London straddles all three markets, funneling money from one part of the globe to another. By comparison, Frankfurt, Paris, Zurich, and Amsterdam are staid regional financial centers. Only New York can give it a run for its money.
At G8 meetings Prime Minister David Cameron bemoans corporate-shell tax dodging and come-by-chance balance sheets, but when he gets home he might as well don a visor and leather sleeves. London is a casino cashing in the chips of a capital-intensive world.
During the Crimean crisis, London has been all for economic sanctions, provided, however, that they don't hurt the City, where Russian oligarchs still get their phone calls returned.
While I was there, London experienced its wettest January since 1670. But one of the city's virtues is that it copes well with bad weather. Houses and hotels are short walks to shops and trains. In most London neighborhoods you will pass many restaurants, drug stores, newsstands, and pocket supermarkets. On television, England was sinking; in London, it was business as usual.
The pleasure of London on a bike is that its very quickly reduced to an overlapping series of small towns, with such well known names as Chelsea, Fulham, Soho, Sloane Square, Lancaster Gate, and Hampstead Heath.
Fewer pubs were in evidence. I read later that about 1400 have been closing every year around England, victim to archaic licensing laws and restrictive franchising, not to mention the iPhone culture that does not cozy up with a pint to dank interiors with ersatz slot machines and pinball games. Industrial Britain has become a service economy, and the servers prefer bistros, bars, and Pret A Manger.
A downside to London is that the world's happy money has made its property market an international savings bank, where apartments routinely sell for $6 million and some hotels (not mine) cost $700 a night.
Nevertheless, the excellent Tube, buses, commuter trains, and Boris bikes make it easier to stay in less fashionable quarters and connect to the bright lights. London has spent billions on upgrading its railroad stations, which soon will be the iron standard in Europe. By contrast, Moscow is choking on its gridlocked exhaust fumes, Paris prefers tourism to trade, and Berlin still has a hole in its heart.
When I lived in London in the 1970s, King's Cross had the air of New York's Port Authority bus terminal, and St. Pancras appeared only to offer connecting service to The Slough of Despond. The renovated St. Pancras International, where Eurostars depart for Paris, Brussels, Lille, and Avignon, is alive with spoken French, fresh croissants, trendy restaurants, and a five-star hotel. With a soaring glass interior, King's Cross could be an Asian airline terminal.
The East End and Canary Wharf still feel like warehouse districts, although now the only cargoes are winking screens in trading rooms. Nevertheless, it is easy to imagine in the next fifty years a second London growing up around the Thames docklands. It has the infrastructure in place — trains, an airport, businesses, nearby housing stock, and open spaces — to support a major city, one part Venice with canals, another part Shanghai with skyscrapers.
The risks to London's future are political. Insular Tories could lead Britain out of the European Union, the British pound could become a second-tier currency, and the city's cost structures could make it only an amusement park for Russian oligarchs and Arab sheiks, not the working or middle classes. Call it the Monaco Model.
Still, I would bet on London's sustainability at all levels of a city's food chain… if only because it is so eccentrically welcoming to bikes, banks, brokers, and bookstores.
Matthew Stevenson, a contributing editor of Harper's Magazine, is the author of Remembering the Twentieth Century Limited,
a collection of historical travel essays. His new book, Whistle-Stopping America, was recently published.
Photo of King's Cross by Matthew Stevenson