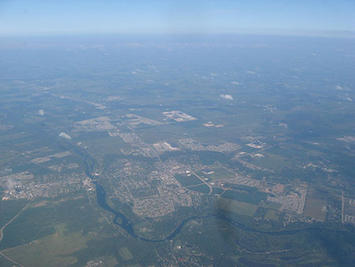 I previously talked about Connecticut becoming a suburban corporate wasteland as well as the rise of the executive headquarters in major global city downtowns. What we see is that high end functions have shown anecdotal signs of re-centralizing, while the more bread and butter – though still often well-paying – jobs are heading to less expensive suburban locales in places like Austin, Charlotte, and Salt Lake City. These leaves expensive and business hostile suburbs around global cities, like most of those in Connecticut, in a tough spot.
Suburban Chicago isn't as expensive or business hostile as say Connecticut or New Jersey, but there are so many stories about businesses leaving it that I can't help but wonder if something is seriously wrong there.
First, downtown Chicago has attracted a number of marquee executive headquarters locations like Boeing, MillerCoors, and now ADM. The suburbs have only picked up a handful of smaller operations, like Mead Johnson Nutritionals.
Second, a number of suburban companies have relocated (or announced relocations of) headquarters to downtown. This includes a Sara Lee spinoff, the old Motorola cell phone division, United Airlines, and Gogo Internet. What distinguishes this from the executive headquarters relocations is that some of these involved big numbers of jobs. I believe there were about 3,000 United Airlines employees and about 2,500 Motorola ones.
Third, even companies that haven't moved their headquarters have opened downtown offices or relocated operations there. Walgreens moved its e-Commerce operations to the Loop and BP relocated some employees, for example.
Fourth, some suburban based companies have simply abandoned the Chicagoland area outright. Office Max comes to mind, which is moving 1,600 jobs to Boca Raton. Sears is having a slow-motion going out of business sale.
Two recent news articles this week reinforce to me the lack of competitiveness of Chicago's suburbs. First, when Toyota announced it was relocating its headquarters from Los Angeles and Cincinnati to suburban Dallas, Greg Hinz at Crain's Chicago Business asked why Chicago wasn't even on the list of candidate cities for this operation.
I believe Toyota wanted to be in the South. But if you look at where they located, namely the suburb of Plano, you'll see that this is why Chicago is off the list. Chicago's suburbs have been losing these types of corporations, not gaining them. If you're going to choose a suburban location, why would you pick Schaumburg over Plano? You probably wouldn't unless you had a major reason to be in Chicagoland, such as having a primarily Midwest presence or if your company was founded in the area.
What this shows is that while Chicago's stellar Loop environment is great for executive headquarters type operations, the suburbs lack appeal to people looking to build a greenfield operation from out of town. This hurts the region's ability to attract large scale employers like Toyota.
Then yesterday Crain's reported that Walgreens is looking at relocating its entire headquarters downtown in the old Main Post Office building. This isn't a done deal by any means, but the fact that a company I'd always considered dyed-in-the-wool suburban would consider this is incredible. (Investors have been pressuring Walgreens to move its HQ overseas, but like Aon's re-domicle to London, even if it happened it might not involve many jobs, especially since the pharmacy business in the United States is so radically different from that in the rest of the world).
So unlike in even other global cities, Chicago's suburbs can't even seem to hang on to large scale employers within the region. I don't want to overstate a trend here, but this would be at least the third company moving thousands of jobs downtown. That's huge and I don't see it happening anywhere else at this scale.
Which raises the question of what might be wrong with Chicago's suburbs. They can't seem to be competitive for greenfield operations like Toyota, and they are losing some marquee established employers. I took a quick peek at suburban vacancy rates, and it looks like at first glance every major sub-market is over 20% and there was net negative absorption last year (do some further research before quoting me on that). Is there a big problem going on out there?
I've long observed that while Chicago has some great residential suburbs, its business suburbs are weak. Places like Schaumburg and Oak Brook are just generic, unattractive edge cities of a typology that, like the enclosed mall, appears falling out of favor. Chicago seems to lack the kind of suburb that combines residential appeal with a strong business presence and a significant regional amenity draw. Only Naperville would seem to fit the bill here.
So while Chicago's suburbs are not super-high cost by global city standards, and Illinois isn't the worst when it comes to taxes and a poor business climate by any means, those suburbs appear to have a serious competitiveness issue. It's a major concern that regional suburban business centers should look to address. As other edge city environments around the country like Stamford (one part of Connecticut I would say has significant strengths) and Tyson's Corner upgrade themselves, Chicago's suburbs are only going to fall further behind.
Aaron M. Renn is an independent writer on urban affairs and the founder of Telestrian, a data analysis and mapping tool. He writes at The Urbanophile, where this piece originally appeared.
Photograph: Outer suburbs of Chicago (by Wendell Cox)