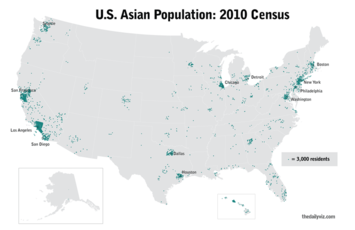 California, our beautiful, resource-rich state, has managed to miss both the recent energy boom and the renaissance of American manufacturing. Hollywood is gradually surrendering its dominion in a war of a thousand cuts and subsidies. California's poverty rate – adjusted for housing costs – is the nation's worst, and much of the working class and lower middle class is being forced to the exits. Our recent spate of high-tech growth has created individual fortunes, but few jobs, outside the Bay Area. The agricultural heartland is suffering not only from drought, but from green policies that allow a torrent of unused water to flow into the Sacramento Delta and San Francisco Bay while huge parts of the Central Valley go fallow.
But California retains one powerful trump card that our leaders in Sacramento have not yet found a way to squander: Its link to Asia. True, the state's growth-restrained ports are increasingly tied up, and, over time, much of our trade with China and other Asian countries might pass, instead, through the Panama Canal en route to Houston and other ports. But geography, culture and family ties have a way of overcoming even the most deluded policy environments.
In the 19th century, many in California railed against the "Asian invasion," and led the drive to restrict Asian immigration to America. As early as 1850, Asians accounted for one-tenth of the state's non-native American population. Early on, Chinese, Indian and Japanese immigrants showed remarkable ingenuity, largely as farmers and merchants, which only made whites more antagonistic. "Indispensable as the Chinese are," one grower report admitted, "they must go, as gradually as possible."
Read the entire piece at the Orange County Register.
Joel Kotkin is executive editor of NewGeography.com and Roger Hobbs Distinguished Fellow in Urban Studies at Chapman University, and a member of the editorial board of the Orange County Register. He is also executive director of the Houston-based Center for Opportunity Urbanism. His newest book, The New Class Conflict is now available at Amazon and Telos Press. He is also author of The City: A Global History and The Next Hundred Million: America in 2050.  He lives in Los Angeles, CA.
Wendell Cox is principal of Demographia, an international public policy and demographics firm. He is co-author of the "Demographia International Housing Affordability Survey" and author of "Demographia World Urban Areas" and "War on the Dream: How Anti-Sprawl Policy Threatens the Quality of Life." He was appointed to three terms on the Los Angeles County Transportation Commission, where he served with the leading city and county leadership as the only non-elected member. He was appointed to the Amtrak Reform Council to fill the unexpired term of Governor Christine Todd Whitman and has served as a visiting professor at the Conservatoire National des Arts et Metiers, a national university in Paris.
Map courtesy of U.S. Census.