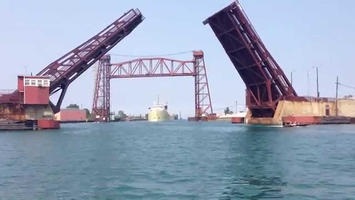 If you've been reading my stuff here long enough, you probably know that cringe when I hear people talk about Chicago's South Side as a monolith, as code for black and poor.  The truth is, there are many facets to the South Side.  It is largely black, but not exclusively so; it is less wealthy than other parts of the city and region, but with pockets of wealth also.  It has its very troubled spots, but it has places of promise.  I've written about one part of the South Side here, and recently wrote about a nearby but very different part of the South Side too.  With that in mind, I'm adding another entry into my "Welcome To" series.  Today, I'll talk about one of the oldest parts of the South Side, and indeed Chicago -- the neighborhood of South Chicago.
Others in the "Welcome To" Series:

Welcome To Mount Greenwood

Welcome To Rosemont

Welcome To The South Side, JRW Style
South Chicago does indeed fit one image of the South Side: it is a classic late 19th/early 20th century industrial neighborhood, and that sense is captured in the image above.  Virtually from its inception, steel production, port activities and rail transportation defined the community.  Situated at the mouth of the Calumet River as it enters Lake Michigan, the neighborhood was well suited to produce manufactured goods and deliver them to the entire nation. 
Had things gone a little differently, South Chicago could've been at the center of Chicagoland, rather than on the periphery.  The Calumet is in fact a larger river than the Chicago River, closer to the centerpoint for today's metropolitan area.  There are historical reports that suggest that the early U.S. government nearly established Fort Dearborn where the river empties into Lake Michigan, but later opted for the less flood-prone area further north. 
The swampy areas around South Chicago may have inhibited early development but never diminished its importance.  Settlement of the area began in the 1830's, and happened independently of Chicago's settlement and growth, ten miles to the north.  The Chicago Fire (1871), the establishment of the South Works steel mill (1880), annexation into Chicago (1889), the acquisition of South Works by U.S. Steel (1901), and the creation of the Calumet Harbor/Port of Chicago (1921) all served as catalysts for growth that started in South Chicago and spread to its surrounding communities.   
South Chicago has a unique physical and demographic character derived from its growth independent of Chicago and relative isolation because of the surrounding swampy land.  To the north, west and south of South Chicago, most residential and commercial development consists of structures built between about 1925-1955.  But within South Chicago itself, you can find plenty of blocks that look like this:
92nd and Brandon, South Chicago


or like this:



90th and Houston, South Chicago


that have much more of the 1890's/1900's/1910's-era construction that could be found in places much closer to the Loop, like Bucktown or Bridgeport.  When driving into the area, it gives a sense of stepping back in time. 
South Chicago's commercial heart, the aptly named Commercial Avenue, also has the rather dusty appearance.  Here's the primary commercial intersection of 91st and Commercial (presumably scrubbed of all cars and pedestrians just for this Google Earth pic):


South Chicago is also served by a spur of the Metra Electric line that provides transit service to much of the South Side.  The South Chicago branch begins (or ends, I guess, depending on your perspective) at 93rd and Baltimore, just east of the Commercial Avenue view you see above.  The only electrified train line in Metra's transit system, and the only one that does not share its tracks with freight lines, South Chicago has regular service that connects it to the Loop within 35 minutes.
I had the pleasure of working with the South Chicago Chamber of Commerce during my time with the City of Chicago about 25 years ago.  It was then that I found out another unique characteristic of the community -- a substantial and long-established Latino community, mostly Mexican, that's been based in South Chicago for more than 100 years.  Significant Mexican immigration to Chicago began around 1910, with immigrants drawn (or recruited) to the city to work in steel plants and packinghouses, and also pushed by the upheaval of the Mexican Revolution that began around the same time.  Steel mill jobs were plentiful at the time, but so were worker strikes.  Mexican workers were often cast as strike breakers, putting them at odds with recent European immigrants.  By 1960 Latinos made up more than one-third of South Chicago's population, even as it was less than ten percent citywide.  Today, blacks are the largest racial/ethnic group in the community, but Latinos still make up nearly one-fourth of the population there.
Developers are trying to bring South Chicago into the 21st century by parlaying its lakefront location into new development.  The former U.S. Steel South Works site, closed in 1992, is the single largest vacant site on the Chicago lakefront.  A development team is working out the details of a purchase of the 430-acre site to build as many as 12,000 residential units and new retail on the site.  This effort comes on the heels of a failed joint venture attempt by U.S. Steel and a developer that fell apart in 2004, and considerable infrastructure investment by the city into the area (remediation of the U.S. Steel site, an extension of Lake Shore Drive, and the creation and upgrade of lakefront parks). 
I'm guessing that there will come a time when South Chicago sheds its industrial past and embraces its potential.  A key lakefront location, with nearby parks and excellent transit options, and a funky, authentic building stock that might appeal to urban pioneers might mean that South Chicago could get discovered.  We'll see.
Pete Saunders is a Detroit native who has worked as a public and private sector urban planner in the Chicago area for more than twenty years.  He is also the author of "The Corner Side Yard," an urban planning blog that focuses on the redevelopment and revitalization of Rust Belt cities.
Lead photo: A freighter leaves Lake Michigan and enters the Calumet River Turning Basin in South Chicago, near 95th Street and Lake Shore Drive.  Source: still from youtube.com