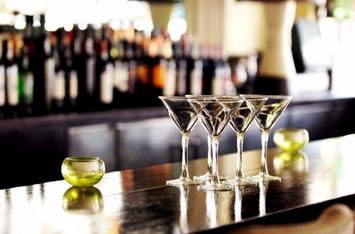 Our Central Wisconsin delegation journeyed to Finland in October, 2008. We definitely learned a few lessons that we'll apply here at home, with the hope of moving our ability to compete globally to a much higher level.
"Finland is not a country, it is a club" stated one of the many presenters we heard during our study tour. This perspective of how Finns see themselves says something valuable about what they believe it will take for them to compete in the changing global economy: a whole lot of cooperation, strong relationships and inter-connectedness!
The notion of a "club" is that a group comes together around a common interest and finds value in the network, which the club provides by further fostering that common interest. This is what we found was happening in Finland. Similar in size to Wisconsin, the country rallies together to be competitive on a global scale. They view themselves as a club, in the context of bringing bright people together as a key to innovation and commercialization. They have developed, and continue to further develop, systems in their "club" to allow this to happen.
Although Nokia is definitely the poster child in Finland's quest to become a top performer in global competition, the country's business community is not resting on its laurels. Instead, there's a very clear, shared vision of the future of the country, with a focus on the investments that can make this future a reality.
One example is the Oulu region's concept of a Triple Helix to foster business development and innovation. The Triple Helix intertwines business, education and government in cooperation and collaboration to deliver a support system that fosters innovation for business development. We heard presentations from about 15 agencies, government departments, educational institutions, and business associations. Each one succinctly communicated the common vision of the Triple Helix and the plan for the region to compete globally and grow its economy. Within this shared vision, everyone understood their particular agency's role, and knew what role others played.
Our small, rural Central Wisconsin community has had a Finnish connection since 2000, when Stora Enso Oy purchased the Fortune 500 Wisconsin Rapids-based paper company conglomerate, Consolidated Papers. This sale shook up the century-long paternalistic culture and insulated economy. And the loss of more than 4,000 jobs made the community immediately face the reality of global competition.
In response to the crisis, the Heart of Wisconsin Business & Economic Alliance, in partnership with the Community Foundation of South Wood County, kicked off the Community Progress Initiative, which incorporates systemic approaches similar to the Triple Helix model, and uses common vision as a compelling inspiration to actively engage the community in moving forward collaboratively, kind of like a "club." The approach has had some proven success, with opportunities for bigger breakthroughs yet to come. Our Study Tour Team is comprised of representatives from business, government, education (K-12, technical college and university levels), engineering, sustainability, philanthropy, and economic development. We are all focused on implementing the concepts on innovation and project learning gained on the tour.
Outaniemi Technology Hub, in Espoo, provides another example of a "club" type of approach to fostering innovation to compete globally. It bridges innovation and business, uniting academia, startups, SMEs (Small and Medium Enterprises) and anchor businesses in a meaningful way to market and promote technology business development. Outaniemi comprises the biggest concentration of R&D (research and development) and innovation services, facilities and hi-tech infrastructure in the Nordic Region. It links these entities together to create cooperative productivity that is greater than the sum of its parts. The Outaniemi linkage of 32,000 people – 16,000 students, 16,000 hi-tech professionals – 600 companies, and several world headquarters, together with world class research, has resulted in a highly functioning and successful "innovation club."
How did Finland develop this "club" culture? In the 1990's, after suffering a serious recession, Finland applied Michael Porter's industry cluster theory to look at their industries and areas of potential competitive advantage. In Porter's book, Competitive Advantage of Nations
, he had argued that successful firms are seldom alone. Frequently, a company's dominant market share and accelerated growth are supported by a unique combination of firms tied together by knowledge and production flows. According to Porter, competitiveness originates from these unique combinations, clusters or development blocks. Their typical features are numerous interconnections between firms, technological spillovers, and externalities.
While many of the connections are of an economic nature, social and environmental benefits are important as well. Defining formal boundaries for these clusters may be cumbersome and even irrelevant; the main feature of a cluster is interaction and interplay among the participants. The Finnish refer to this as "co-petition." Through cooperation — working together in industry micro-clusters that interface with other micro-clusters — they become more effective at competing in a global marketplace. The "club" concept cross pollinates the clusters to inspire innovation.
Here in Wisconsin, our Community Progress Initiative integrated a comprehesive system of community and economic development programs to develop relationships and a synergy across the community. This sparked interest in developing an entrepreneurial and small business support system and in forming industry cluster networks. Spinning out of the industry clusters has been the Ideas Incubator and Innovation Think Tank as vehicles through which to foster innovation for business applications. We are still at the infant stage in this process, although, with the foundation set, we are poised to advance our efforts. Lessons from Finland's experience are guiding us to results. We've learned to grab that low hanging fruit and take steps towards long-term gains and bold innovative wins for our "club."
A successful club has the belief and willingness to invest in making itself better. Finland is doing this, supporting innovation and entrepreneurship in public policy, and investing in R&D to the tune of more than $3200 Euros (that's over $4,000 USD) per capita in some regions. The government investment arm, TEKES, grants money to private firms exploring innovation with good business model applications. Finland invests in its bread and butter, small business, concentrating on growth sector businesses of 20-100 employees. Some of the firms receiving investment from TEKES are not Finnish owned. For example, a Wisconsin Rapids-area firm could set up a Finnish branch office and apply for TEKES R&D funding. Hmmm, I think this could be worth exploring….
The business of fostering innovation is long-term work. Finland has been successful at fast-tracking the moves that hold the competitive edge in technology innovation, and at applying the results to build economic prosperity. The country's innovation system successfully converts R&D and educational capacity into industrial strengths.
By applying some of these lessons learned in Finland to the impressive foundation we have laid through the Community Progress Initiative in our region, we hope to be as successful as they have been. We, too, are now working to foster innovation that assists our businesses, to work together in co-petition, and to grow our region's economy.
Anyone want to come join our club?
Connie Loden is the Executive Director of the Heart of Wisconsin Business & Economic Alliance that coordinates community economic development projects in Central Wisconsin. An internationally recognized leader in rural development, she holds leadership roles with the Community Development Society and National Rural Development Partnership.