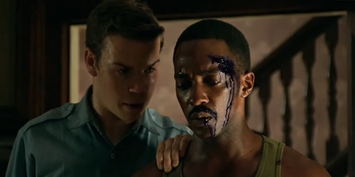 I guess there was always going to be a difference between the Detroit film I wanted and the Detroit film that was produced.
"Detroit", the new big-budget exploration by director Kathryn Bigelow that goes into the details of one of Motor City's most defining events, came out this weekend to strong critical acclaim but less than outstanding popular success. As a native Detroiter I was intrigued from the outset about the film's premise and how it would present such a tense and difficult subject -- and if the film could offer any potential for resolving the issues that still plague the city 50 years later. In an attempt to connect 1967 Detroit to present-day concerns over police brutality, the film succeeds in making us feel brutality, but fall just short of explaining how it became a tool of oppression and how it can be undone.
As someone whose absolute earliest memory is of watching National Guardsmen drive down residential streets in fatigues and pointing rifles, while in my mother's arms, I had envisioned a film that would provide context for the uprising. One that would provide meaning. I envisioned an epic, sweeping, panoramic film that would establish the economic and social roots of the riot. Possibly develop the perspectives of people on multiple sides of the uprising -- police, looters, white and black riot resisters, dispassionate suburbanites. Something that would acknowledge that before 1967, there was 1943, there was 1941, there was 1925, and a host of other indignities large and small. The film begins with that potential, but loses it along the way.
The film starts with a well done animated montage that describes, basically, how the cauldron that would eventually explode was built. But it does so in a way that doesn't convey the sense of desperation felt by many blacks, nor is particularly specific to Detroit. Blacks moved up from the South for jobs. They were confined to the worst neighborhoods and the worst jobs. Efforts by blacks to gain better housing and better economic opportunity were met with resistance -- sometimes procedural and administrative, others visceral and violent -- by the white majority. That's the case in hundreds of cities nationwide, but I feel as if Detroit still needs more context.
The film then moves into the event that spurred the riot itself -- the police raid of a Vietnam War veteran's welcome home party at a "blind pig", or unlicensed after-hours club. The montage may seem sanitized, but the raid itself and the start of the riot seems very real.
We then see the first three days of the disturbance played out. Looting, buildings burning, exasperated black residents in conflict with overwhelmed, but quite angry, Detroit police officers, state police, and National Guardsmen. Perhaps as a metaphor for dreams dashed and never realized, we're introduced to a group of young black singers known as the Dramatics (a real group, dramatized) hoping to make it big with a performance to Motown executives at Detroit's Fox Theater, but police tell guests to evacuate the theater just prior to their performance.
Then the film sharply narrows its focus to its depiction of events at the Algiers Motel. In fact, a strong case could be made that the film should have been named "Algiers" instead of "Detroit", because of its focus. But any film that would try to tackle a topic as significant as Detroit's 1967 conflict would have to have the city's name in it. Spoiler alert for those who wish to see the film (but the film is based on actual and easily found events): the Algiers Motel incident was a deeply tragic and brutal injustice in which police officers killed three young black men and severely beat five other men and (white) women. Police respond to a perceived sniper attack coming from the motel by seizing it, gathering its occupants and then engaging in truly evil torture and intimidation. Police were later acquitted on all charges in the murders and beatings, but never served on the Detroit police force again.
The Algiers Motel scenes, making up almost half of the film, extremely violent, claustrophobic, and visceral. It is hard to watch. Without question, if one wants to see what it looks like to be under the control of a deranged sociopath, this is the film. But is this what racism is? Or all that racism is? Did it require hundreds of thousands of similarly deranged people to terrorize Detroit's black community? Not at all. And that's where the film fails. It reduces racism to the violent actions of deranged individuals, who have no regard for the lives of the people they're supposed to protect.
The racism that led to the conflict in 1967 was far more subtle, until it wasn't. Redlining, urban renewal, interstate highway construction, job and educational disparities, and more -- they weren't practices explicitly tailored to diminish black progress, but those who supported them knew they did the trick. And all it took to support them was a nod of agreement.
In an attempt to find a connection between the tragedy of Detroit then and recent police killings, from Ferguson to Baltimore to St. Paul, we lost out on a chance to develop greater meaning and understanding of what happened 50 years ago.
For what it's worth, it seems the film, or the process of completing the film, or the healing powers of time itself, has had a redemptive impact for residents of metro Detroit. The 1967 conflict kicked off a decade of controversy in Detroit -- the Algiers Motel trials, a contentious mayoral race for control of the city, tense fights over metro-level school busing, all while the auto industry slipped into decline and violent crime moved steadily upward. Many white residents fled the city during that time and afterward, believing "one day our city was fine, and the next it was on fire", and never looked back. But more are beginning to acknowledge a sense of pain and loss from their dislocation from the city. If the film has that effect on Detroiters, then it's succeeded despite its flaws.
This piece originally appeared on The Corner Side Yard.
Pete Saunders is a Detroit native who has worked as a public and private sector urban planner in the Chicago area for more than twenty years.  He is also the author of "The Corner Side Yard," an urban planning blog that focuses on the redevelopment and revitalization of Rust Belt cities.
Photo: Actors Will Poulter (left) and Anthony Mackie in a scene from "Detroit". Source: parlemag.com