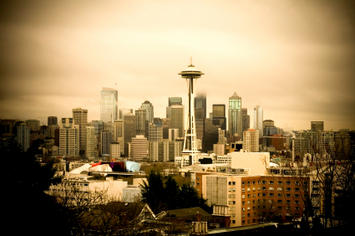 At the time of the election, less than 3 months ago, Seattle seemed to be riding above the fray, escaping the worst features of the recession, such as mass layoffs, even despite weakness in the housing market. Seattle area voters even approved a series of huge tax measures, including $30 billion for rail rapid transit, befitting what folks here like to consider a world-class city.
The story recently is much more somber, reeling somewhat from a series of high-level hits to the economy. In contrast to neighboring Oregon, unemployment is not yet severe, about 6.3% for the metropolis, but there remains a degree of denial that the Emerald City is in for an actual decline! Giant Amazon actually did well over the holiday season and Costco reasonably well, considering its dependence on national consumption.
The largest layoff, reminiscent of past recessions, was to Boeing which might drop as many as 10,000 jobs, and a yet unknown number to PACCAR, maker of Kenworth and Peterbilt trucks and the stalwarts of Seattle's unionized and well-paid manufacturers. Starbucks is closing many stores and contracting at the headquarters. Mighty Microsoft will not occupy expected space, as it has also been hit by the recession and will experience selective layoffs.
The decline in the housing market and new construction, residential and commercial, has collectively impacted hundreds of firms in finance, architecture, and construction. The Seattle housing market, like that of Portland, which held up longer than California's now may experience serious declines.
Perhaps the biggest loss, however, is the collapse of WAMU (Washington Mutual), a pacesetter in the bad practices that brought on the recession. WAMU's demise is hurting many local investors, charities, tax revenues, as well as employment at all levels, probably leading to a downtown job loss of 20,000.
Another casualty is the port business. A substantial part of Seattle's growth and wealth is tied up in international trade. Container traffic has slowed markedly and is at further risk, especially if there is a rise in protectionism in Congress. Overall, the eventual losses in the in the finance, housing and perhaps even high-tech sectors of the "new economy" may be greater than the more visible problems of Boeing, PACCAR and even Starbucks, whose output and income will recover as the world economy recovers (but not until). Hard times are coming not just for Joe the Plumber, but the vaunted "creative class" as well.
Other soft indicators are that 30 percent of homes are selling at a net loss, and that the current forecast for the next three months is for a 3-percent decline in regional product and a loss of 50,000 jobs. The recession is viewed as having "officially arrived in Seattle" in December 2008, following the layoff plans of Seattle's iconic firms and recognition that construction employment has dropped like a "piece of concrete," in the words of Dick Conway, a well-known Puget Sound Economic Forecaster.
The imminent closure of the Seattle Post-Intelligencer fits into this bleak picture. This is the story of an economy that is decelerating after convincing itself it was all but recession-proof. In Detroit or even LA, they expect hard times. Up here we have all but forgotten that our economy is also cyclical, and has much vulnerability. The question is will we see again the famous billboard erected in the 1973 recession, which asked "Will the Last person leaving SEATTLE - Turn out the lights."
Richard Morrill is Professor Emeritus of Geography and Environmental Studies, University of Washington. His research interests include: political geography (voting behavior, redistricting, local governance), population/demography/settlement/migration, urban geography and planning, urban transportation (i.e., old fashioned generalist)