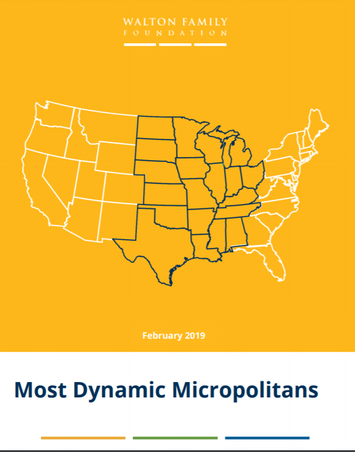 As American as baseball, hot dogs and apple pie, Main Street America - and its small towns - is a central component to understanding the economic forces at work across the United States. Dotting the U.S. map – in the Heartland and beyond – are 531 small towns, better known as micropolitan statistical areas, which comprise of one or more counties with at least one city with more than 10,000 but less than 50,000 in population. The Most Dynamic Micropolitan Index, which ranks the 531 micropolitan areas across the U.S., analyzes the economic performance and indicators that impact the social and economic fabric of America.
Our Most Dynamic Micropolitan Index attempts to bridge a gap in identifying which smaller communities are thriving and which are struggling to provide economic opportunity for their residents. Most Dynamic Micropolitans is an objective, outcome-based measure of the performance of micropolitan areas across the nation. The index permits economic development officials to monitor their micros' dynamism against others nationally or within their region and state. While international and national economic and geopolitical factors can influence growth patterns, the index provides a fact-based evaluation of whether development strategies have the desired effect. Further, Most Dynamic Micropolitans assists public-policy groups, elected officials, academics and other researchers and businesses in monitoring and assessing small community vitality across the nation.
Ross DeVol is a Walton Fellow, focusing on research on policies related to economic vitality of Northwest Arkansas and the American heartland.
Jonas Crews is a research associate in economics, supporting Walton Family Foundation Fellow Ross DeVol.