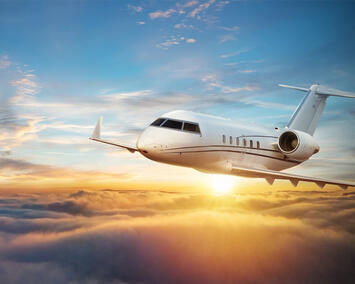 Amid the ups and downs of the post-Covid airline business, one disturbing constant has settled over the ever-changing route maps: In Flyover Country, we're still in danger of losing many of our aeronautic lifelines to one another and to the rest of the country and the world. Among other effects, countering that problem will be a big boon to private aviation.
As they contracted severely during the early days of the pandemic, U.S. airlines cut service to many small cities, especially across the heartland. Admittedly, these included some places that had been viable destinations only under what's known as the federal Essential Air Service program, which has ensured continuous air service to small communities that wouldn't normally see any commercial airlines.
"Middle America is going to lose regional jet service," Craig Picken, managing director of Northstar Group, a private-aviation executive-search firm, told me. Take a midmarket city such as Lincoln, Nebraska, he said. "Regional-jet service starts to get limited, which means it gets expensive. Flight schedules don't work."
Or Butte, Montana. In 2019, airline flights there were subsidized under the Essential Air Service program. But during Covid, airline access reportedly got restricted, and many fliers had to drop into Bozeman, Montana, 85 miles away by car.
The Need to Visit
This is proving a special strain for the business leaders who make the economy go across our region. "The interior of the country can be extremely difficult to travel, but there's a lot of manufacturing and heavy industry and agriculture where executives simply need to visit to pay attention to their operations," said Sean Lancaster, vice president of Bristol Associates, a private-aircraft broker and services outfit.
One symptom of reaction will be growth in business for NetJet and other private-aviation charter services that will pick up the airlines' slack. "Now," Lancaster said, "companies that flew private maybe once a year will be forced to do it five or 10 times a year. The CEO of a company in middle America may charter a jet only once a year. Now, if he can't get airline service and on a good schedule, and it may cost him a fortune, he might as well charter a jet and take a couple of people with him. Or buy an airplane."
Such first-time corporate private-plane passengers, high-net-worth individuals, and private-company owners have helped drive a late-covid boom in business aviation.
"With the challenges that come with using commercial aviation, it's only logical that U.S. companies are building or refurbishing their private fleets to carry executives from point A to point B as people are feeling more comfortable about having in-person meetings," said Pavel Chudzicki, aviation partner at the Miller Canfield law firm.
Read the rest of this piece at Flyover Coalition.
---
Dale Buss is founder and executive director of The Flyover Coalition, a not-for-profit organization aimed at helping revitalize and promote the economy, companies and people of the region between the Appalachians and Rockies, the Gulf Coast and the Great Lakes. He is a long-time author, journalist, and magazine and newspaper editor, and contributor to Chief Executive, Forbes, the Wall Street Journal, the New York Times and many other publications. Buss is a Wisconsin native who lives in Michigan and has also lived in Texas, Pennsylvania and Florida.
Photo: courtesy Flyover Coalition