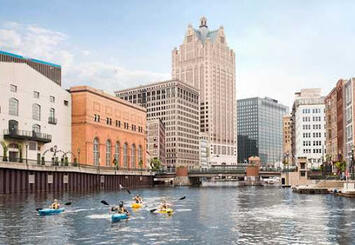 Here's a followup to the post from earlier this week about my experience at a "Restoring the Urban Middle Class" conference in Houston a couple weeks ago.
First, a quick recap of the earlier piece. The "Restoring the Urban Middle Class" conference left a lot to be desired, in my opinion. The conference had a few California natives there, mostly railing against the problems of the Golden State's high-cost economy and lifestyle. A smaller number of California expats who recently moved to Texas chimed in, touting the Texas urban growth model. A handful of East Coast people were also there. They generally agreed with the Californians on the negatives of coastal urbanism. And then there was me, from the nation's heartland, feeling mostly irrelevant in the discussions.
I think it's instructive to examine the routes taken by certain metros to raise their economic profiles, and determine if those routes are actually feasible to others. Those who said that Rust Belt metros should emulate what other successful Rust Belt metros are already doing, or worse yet, what other coastal and Sun Belt metros are already doing, aren't fully understanding the differences.
People tout Indianapolis, Columbus, Des Moines and Minneapolis as models for other Rust Belt cities to emulate. They're not. In my view they're employing the same model that metros like Nashville, Austin, Raleigh, even Atlanta, have used as well – capitalize on being either the commercial center, state capital and home of a major university within a given state, or some combination of the three. In fact, I'd argue that Indianapolis, Columbus and Minneapolis benefitted from this model before their Southern brethren; the Southern cities have managed to make it pay off far more for them because they've been far stronger migration destinations.
What all of these cities have in common, however, is that they do not carry the same manufacturing legacy that cities like those on the Great Lakes did. A look at Bureau of Labor Statistics data demonstrates this. In 1979 the U.S. hit its peak manufacturing employment, when 19.6 million workers, or 22 percent of the non-farming workforce, were employed in the manufacturing sector. By 2019 just 12.8 million workers, or nine percent, were employed in the manufacturing sector. At their economic peak in the 1960s and 1970s, it was not uncommon for Great Lakes cities like Buffalo, Cleveland, Detroit, Chicago and Milwaukee to have upwards of a third of their workforce employed in manufacturing jobs. Historically, cities like Indianapolis, Columbus and Minneapolis were perhaps more dependent on manufacturing jobs than comparable cities nationwide, but less so than the Great Lakes cities. When manufacturing jobs were lost, they were able to rely on assets – state capital locations, large public universities – that eased the transition into the next economic era.
But back to the sense of irrelevance. If you've read this site long enough you know I'm not down on the Rust Belt's ability to make a comeback. But I live here. Whether or not the Rust Belt makes a comeback depends more on people currently living outside of the region than inside. And I left Houston disheartened by what I viewed as the rest of the nation's failure to see that it indeed could happen. I think short-term thinking is at fault; the cheap land/warm weather/low taxes formula can only go so far and last so long. We're now approaching a time when demand in Austin, for example, is pushing housing costs to the same levels seen on the coasts. And while I don't view climate change as the ultimate catalyst that could spur revitalization around the Great Lakes, it's not unreasonable to think that coastal flooding, damaging hurricanes and storms, and lengthy droughts could cause a not-zero number of people to consider the region.
I always look at the South's ability to come back in the latter half of the 20th century as inspiration for the Rust Belt. Between 1900 and 1950, cities like Chicago, Detroit, Cleveland and St. Louis were the nation's fast-growing economic powerhouses. At that same time Southern metros were wondering what they needed to do to compete. They found their groove after World War II.
Read the rest of this piece at Corner Side Yard Blog.
---
Pete Saunders is a writer and researcher whose work focuses on urbanism and public policy. Pete has been the editor/publisher of the Corner Side Yard, an urbanist blog, since 2012. Pete is also an urban affairs contributor to Forbes Magazine's online platform. Pete's writings have been published widely in traditional and internet media outlets, including the feature article in the December 2018 issue of Planning Magazine. Pete has more than twenty years' experience in planning, economic development, and community development, with stops in the public, private and non-profit sectors. He lives in Chicago.
Photo: Downtown Milwaukee, courtesy travelwisconsin.com