A new Hoover Institution (Stanford University) report indicates that California continues to shed corporate headquarters locations to other states.
Hoover Institution Senior Fellow and UCLA distinguished professor of economics Lee Ohanian and Joseph Vranich, President of Spectrum Location Solutions, show that "In 2021, California business headquarters left the state at twice their rate in both 2020 and 2019, and at three times their rate in 2018. In the last three years, California lost eleven Fortune 1000 companies, whose exits negatively affect California's economy today. But California also is risking its economic future as much smaller but rapidly growing unique businesses are leaving, taking their innovative ideas with them."
Including companies outside the Fortune 1,000, Ohanian and Vranich indicate that California lost 153 corporate headquarters between in 2021. This is more than double the totals for each of the three years from 2018 to 2020.
They note that "Our count is almost certainly biased downwards significantly, because relatively small business relocations are difficult to detect, since most business relocations are not reported by the media, and relatively few relocations require filing state compliance reports that would trigger documentation of the exit."
And there is more than headquarters relocations. The report "does not take into account California businesses that are retaining their headquarters in California but who are making large facility investments in other states, such as Apple and Wells Fargo, who are building large campuses in Texas, and Disney, who is doing the same in Florida."
The report indicates a broadly based corporate exodus, "occurring across virtually all industries—including manufacturing, aerospace, financial services, real estate, chemicals, and health care—but perhaps most disturbing is the large number of high-technology businesses that are leaving." Noting that the "tech hubs of Silicon Valleyand San Francisco are among the most productive locations on the planet, they see the loss of firms like Hewlett-Packard Enterprises, Oracle, and Tesla have relocated, all to Texas, as concerning.
The business exodus is, not surprisingly, concentrated in the most populous parts of the state. The table below (from the report) shows that more than one quarter of the corporate migrations were in Los Angeles, County, with 80 out of the 352 from 2018 to 2021. San Francisco County accounted for one-seventh of the state figure, at 52.Orange, Santa Clara, San Diego and Alameda all had at least 20 corporate headquarter relocations.
Table: Top Ten Losses by California County
Rank
County
Total
Rank
County
Total
1
Los Angeles
80
7
San Mateo
12
2
San Francisco
52
8
Sacramento
10
3
Orange
39
9
Riverside
8
4
Santa Clara
38
10
San Bernardino
7
5
San Diego
26
10
Placer
7
6
Alameda
23
Based on population, San Francisco County had by far the highest proportional loss, at nearly 60 corporate headquarters lost per million population, well above the 8 per million loss in Los Angeles County (Figure 1). Alameda, Santa Clara and Orange counties have higher headquarter exit rates than Los Angeles County, but are also well below that of San Francisco.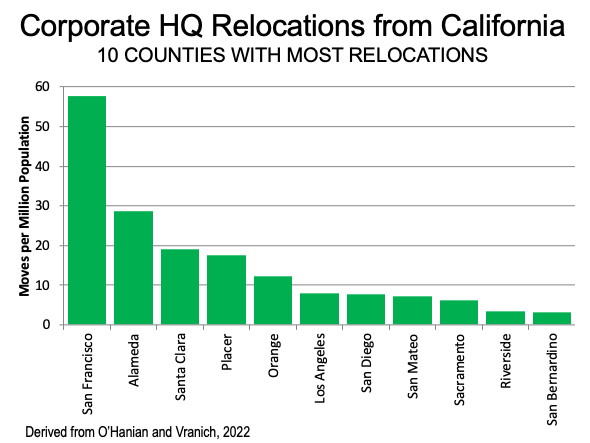 The exiting California headquarters have moved most to Texas, followed by Tennessee, Nevada, Florida and Arizona. Each of these states have consistently better rated business climates and lower costs of living than California.
The authors attribute the California's headquarters exodus to multiple causes. Certainly one of the most significant is California's business regulatory climate, routinely graded as worst or near worst among the 50 states.
"The Tax Foundation, a nonpartisan think tank focusing on state and national tax policies, ranks California 49thin its Business Tax Climate Index, far below Tennessee, Florida, Texas, and other states that are attracting California businesses. Annual surveys of business CEOs and small business owners invariably rank California 50th in terms of the quality of state business climates."
They also cite California's high tax rates, with the highest marginal income tax rates in the nation, now more than 20% above that of second highest Hawaii. This could be raised if voters approve another tax increase on the November ballot (Proposition 30).
Then there is California's "remarkably high housing costs," which Urban Reform Institute research identifies as the critical element in the cost of living crisis. It's not just companies, but people that are moving. The Hoover report reminds us that since 2015, California has experienced a net outmigration of nearly 700,000 people." A principal reason for these moves is the cost of living crisis, which makes it more difficult for firms to obtain sufficient talent.
The exodus continues even into 2022. "Lucas Oil, a large producer of specialty petroleum products that is moving to Indianapolis, and Aviatrix, a technology company specializing in cloud networking and security, whose valuation doubled recently to $2 billion" moved to Dallas-Fort Worth.
Aviatrix CEO Steve Mullaney stated that he plans on hiring many young people but noted that young people don't want to live in Silicon Valley anymore, because they cannot afford to buy a home.
O'hanian and Vranich note that losing so many people to other states "would have seemed ludicrous not so long ago."
However, the authors characterize the state's political leadership of dismissing the business exodus as an issue. seriously enough. They conclude:
"While California has many natural advantages, its state and local economic policies have created a business climate that is no longer competitive with that of many other states. Policies have driven business and housing costs so high that companies and people are leaving the state for more affordable, less regulated, and less taxed locations. This process will continue until the state's political leaders make very different policy choices that create a different future for California—one that honors its remarkable past."
The report can be downloaded here: Why Company Headquarters Are Leaving California in Unprecedented Numbers.
---
Wendell Cox is principal of Demographia, an international public policy firm located in the St. Louis metropolitan area. He is a founding senior fellow at the Urban Reform Institute, Houston, a Senior Fellow with the Frontier Centre for Public Policy in Winnipeg and a member of the Advisory Board of the Center for Demographics and Policy at Chapman University in Orange, California. He has served as a visiting professor at the Conservatoire National des Arts et Metiers in Paris. His principal interests are economics, poverty alleviation, demographics, urban policy and transport. He is co-author of the annual Demographia International Housing Affordability Survey and author of Demographia World Urban Areas.
Mayor Tom Bradley appointed him to three terms on the Los Angeles County Transportation Commission (1977-1985) and Speaker of the House Newt Gingrich appointed him to the Amtrak Reform Council, to complete the unexpired term of New Jersey Governor Christine Todd Whitman (1999-2002). He is author of War on the Dream: How Anti-Sprawl Policy Threatens the Quality of Life and Toward More Prosperous Cities: A Framing Essay on Urban Areas, Transport, Planning and the Dimensions of Sustainability.
Photo: Former corporate headquarters of Bank of America in San Francisco. Bank of America is now headquartered in Charlotte, North Carolina. Source: Wikimedia under CC 2.0 License for both building images