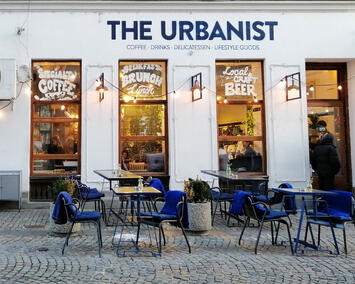 I've always believed that the way you find your path to a certain direction in life determines quite a bit to your approach once on the path. Like a kid who was bullied by classmates becomes a boxer or martial artist and believes that the mastery of physical and mental discipline is the key to a good life. Or an introverted child who learns about a vastly larger world through books and believes that libraries can restore your soul. Sometimes you find a way to transcend from one life plane to another and you want the world to follow you.
The same is true for urbanism and urbanists. How you were brought into the world of urbanism shapes what you believe should be done within it. And I think the shifting paths to urbanism that people are bringing to it leads to fascinating new ideas, but leaves behind old challenges that were never, ever fully addressed.
I tested this thinking last weekend when I conducted a very informal survey on Twitter. I posed the open question, "what took place in your life that eventually led you to identify as an urbanist, however defined?" The answers were varied, but there were definite themes. I'll get to those themes later, but let me start by explaining my path to being an urbanist.
When I was growing up in the '70s and '80s, no one really aspired to urbanism, no one called themselves urbanists. And for good reason. Except for a few very New York City-focused people like Jane Jacobs, Lewis Mumford and William Whyte, suburbanism had taken hold of America after World War 2 and didn't let go for a good five decades. In my teens and 20's living in Detroit, Muncie, IN and Chicago, I was a pro-city person in an era that was as anti-city – specifically anti-Rust Belt city – as any period our nation had seen.
I've run through the litany of events before – the assaults on perception – that plagued Detroit during my youth. Starting with the 12th Street Riot in 1967 and ending with the controversial landmark Milliken v. Bradley school desegregation case before the Supreme Court in 1974, no city had a greater fall from grace than Detroit. Strange as it may sound, I remember, as a nine-year-old, the tension across the entire Detroit metropolitan area as people grappled with the idea of metropolitan school desegregation – that not only Black children should be bussed to from Detroit to the suburbs, but that White children should be bussed from the suburbs to the city, if true integration was to be achieved. I could sense that people on either side of the debate were very tense.
It's probably fair to say I saw Detroit as being attacked from the outside, but also at war with itself. I never thought Detroit was "bad", or "wrong": it was home. There were too many things happening to my home that were keeping us from making it an even better place. My thinking was not unlike many nine-year-old kids in the '70s who saw escalating fights between their parents and wished they'd stop – before an inevitable divorce occurs and my life worsens.
In Muncie during the '80s, I saw a small manufacturing city in deep transition long before cities like it became fodder for national reporters to explain how Donald Trump was elected president in 2016. Factories like Warner Gear, AC Delco, and others shut down or dramatically reduced their workforce. There was faith among many residents that the jobs would someday return, but I didn't believe it. I became more focused on a college education than ever, to avoid the same fate.
I moved to Chicago as a recent Indiana University grad, about six months into the beginning of mayor Harold Washington's second term. I was aware of the "Council Wars" of his first term. However, his re-election brought some stability to Chicago local government. Two weeks after we moved, Mayor Washington died in his City Hall office. The city was in political chaos. The White alderpersons who had been his adversaries were invigorated; the Black and Latino alderpersons who were his supporters were divided. Me? I saw it as a distraction that kept a really good city from being great.
Read the rest of this piece at Corner Side Yard Blog
---
Pete Saunders is a writer and researcher whose work focuses on urbanism and public policy. Pete has been the editor/publisher of the Corner Side Yard, an urbanist blog, since 2012. Pete is also an urban affairs contributor to Forbes Magazine's online platform. Pete's writings have been published widely in traditional and internet media outlets, including the feature article in the December 2018 issue of Planning Magazine. Pete has more than twenty years' experience in planning, economic development, and community development, with stops in the public, private and non-profit sectors. He lives in Chicago.
Photo: courtesy Corner Side Yard Blog.