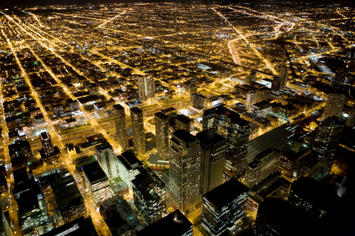 The Midwest has a deserved reputation as a place that has largely failed to adapt to the globalized world. For example, no Midwestern city would qualify as a boomtown but still there remain a diversity of outcomes in how the region's cities have dealt with their shared heritage and challenges. Some places are faring surprisingly well, outpacing even the national average in many measures, while others bring up the bottom of the league tables in multiple civics measures.
Let us examine the health of various cities, using population growth as a heuristic proxy for overall civic health. Looking at population change from 2000 to 2008, we will classify a city as "successful" if its metro area population growth exceeded the national average growth rate of 8% during that period, as "stable" if it had a population growth rate between 3% and 8%, and as "struggling" if its growth was less than 3%. Let us also put Chicago into its own category of "global city". It is simply one of a kind in the Midwest, a colossus of nearly 10 million people, and not easily measured against the other cities. Indeed, it is really three cities in one, a prosperous urban core, an archipelago of successful upscale suburbs and edge based growth to the west and north, with a sea of deteriorating city neighborhoods and stagnant to declining suburbs surrounding them. On our scale, Chicago would be "stable" – its inner core has grown but the city overall has lost population, while the outer ring has grown strongly. As a region, it has grown somewhat below the national average.
Here are the results of our tiering, including all cities in the Midwest* with metro areas exceeding 500,000 in population:
Global City
Chicago (5.2%)
Successful Cities
Des Moines (15.6%)
Indianapolis (12.5%)
Madison (11.9%)
Columbus (9.9%)
Kansas City (9.0%)
Minneapolis-St. Paul (8.8%)
Stable Cities
Cincinnati (7.2%)
Grand Rapids (4.9%)
St. Louis (4.4%)
Milwaukee (3.2%)
Struggling Cities
Akron (0.5%)
Detroit (-0.6%)
Dayton (-1.4%)
Toledo (-1.5%)
Cleveland (-2.8%)
Youngstown (-6.1%)
These tiers, based only on a single criterion and arbitrary boundaries, nevertheless basically conform to how these cities are performing both economically and in terms of perceptions.
A few interesting things emerge:
There are a surprisingly large number of Midwestern cities that are growing faster than the US average population. This indicates pockets of strength, in its larger metros at least, seldom associated with the Midwest.
The clear dominance of the successful list by state capitals. This is so pronounced that I have put forth what I call the "Urbanophile Conjecture", which is that if you want to be a successful Midwestern city, it helps to be a state capital with a metro area population of over 500,000. The only successful city on the list that is not a state capital is Kansas City.
The 500,000 barrier seems to be important as well. The state capitals below that threshold - Lansing, Springfield, and Jefferson City – would not qualify as successful on this list. Note too that the presence or absence of the major state university does not appear to be a decisive factor. Des Moines and Indianapolis are not home to their states' flagship universities. The home of the academic powerhouse that is the University of Michigan is the Ann Arbor metro area, which was not included in this list because its population is only about 350,000. Notwithstanding, its growth rate would have put it into the stable category.
In a region in which there is such divergence between the performance of cities, a diversity of city specific policies are required. There is no one size fits all for the Midwest. There may indeed be a base of pan-Midwest policies worth pursuing – improvements in education, attractiveness to migrants, better conditions for innovative entrepreneurship, etc – but successful approaches will be those most tailored to uniquely local conditions. For example, a state capital or University town may have different needs than a place that has neither.
Some suggested areas to investigate by city tier are:
Chicago. How can it ease the gap between the thriving global city of Chicago – largely located around the Loop as well as the northern and western suburbs – and the parts of the region that are falling behind, largely the western city neighborhoods and southern edge of metropolis? How do you do this without sacrificing its overall competitiveness? Can the policies appropriate to each be reconciled?
Successful Cities. Their policy focus should be on maintaining favorable demographic and economic conditions, and dealing with decaying areas of their urban cores and the potential for decay in some inner ring suburbs. Should the civic aspiration be desirous of it, tuning the engine to attempt to shift the growth rate into high gear to target a profile closer to the Sunbelt boomtowns would be a further focus area. Each city would need to examine which specific policy levers it could pull to attempt to do this. Clearly modernizing and expanding infrastructure to keep up with growth in these places and maintain their high quality of life is a clear imperative.
Stable Cities. Their challenge is to bring growth rates up to average or above average levels. It would be worthwhile for them to study the successful areas, and ask what policies and approaches might be adopted. Kansas City offers the best encouragement here. It has managed to maintain a strong growth rate despite not being a state capital and being part of a bi-state metro region. Kansas City features lows costs, high quality of life, a relatively stable housing marketing, and a pro-business culture. It is clearly a standout and worthy of further study for that reason. It may hold the key for moving the stable cities up into the successful tier. Geographically, it is notable that Kansas City is a border state on the far edge of the Midwest, and could arguably be called a Great Plains city. Is that a factor? Some type of peer city comparison with the successful cities, and especially Kansas City, might be warranted here.
Struggling Cities. Unfortunately, there isn't a magic bullet to solve the long festering problems in these places. All of them were heavily industrialized and have borne the brunt of globalization, particularly in manufacturing. This is especially the case in cities linked to the domestic automobile industry, which is clearly in a state of crisis. Until the automobile industry completes its restructuring, and out migration right sizes some of these areas, there does not seem to be a clear path to restart growth. Youngstown, which brings up the bottom of our league table, perhaps offers the best road forward. It is trying to right-size itself to a permanently smaller, but more sustainable, future population based on an aggressive controlled shrinkage plan that has received extensive national notice. This type of plan is likely something all of these cities need to be actively considering as the large fixed costs support a population base that no longer exists will become increasingly unaffordable as the population further shrinks. These cities likely also will need special state and federal help to back this shrinkage plan.
* The Midwest is defined as Illinois, Indiana, Iowa, Michigan, Minnesota, Missouri, Ohio, and Wisconsin.
Aaron M. Renn is an independent writer on urban affairs based in the Midwest. His writings appear at The Urbanophile.